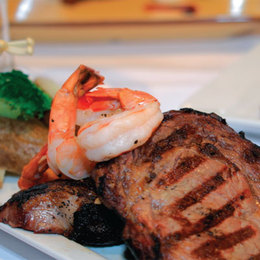 Savor the Moment
Getting to know the couple behind Le Gourmet European Bistro
Sometimes in life you meet truly fascinating people—people who seem to have such worldly experience, who've seen and done so many things that is hard to believe that you met them under such ordinary circumstances. Two such people are Chef Nadhir Moatemri and his wife, Deborah, of Le Gourmet European Bistro and Catering in North Wales.
Nadhir was raised in Tunisia, attended cooking school in Catania , Sicily and did his apprenticeship in France and Spain. When he came to America, he cooked in a well-known New York City establishment, studied administration at the Restaurant School of Philadelphia, then oversaw the opening of restaurants in Charleston, S.C., New Orleans and as far away as Fiji. Nadhir, who speaks five languages, doesn't just cook in a variety of cultural styles—he has lived them.
His wife, Deborah, has an equally impressive history. After earning a degree in interior design, she and her mother opened a home interior shop in Doylestown. They sold furniture and antiques, but it was the coffee and biscotti they offered that got rave reviews from customers. They eventually opened Café Classics, a blues and jazz club in Doylestown and hired Nadhir because of his impressive resume.
"Then," she says, "I fell in love with the chef."
Together they opened the Le Gourmet European Bistro and Catering in September 2008. Nadhir says they wanted to offer something fresh and new to the area.
They take advantage of their restaurant's location in a former bank building in the center of town, retaining the structure's original façade and much of the interior architecture. The restaurant's open kitchen sits just behind the bank's original teller counter. The vault is still there too. Deborah's interior design experience is evident in the restaurant's bright and casual decor.
"The thick walls buffer the sounds from the street outside," Nadhir says. "I tell people, when you come inside, it's like being in Europe's qualité de vie, quality of life."
Nadhir adds that he enjoys having an open kitchen so he can see the reaction on his customers' faces.
Many diners are former customers of the bank—some recall making mortgage payments there, Deborah says. And though the building may still look just like they remember, the menu is diverse and surprising. Le Gourmet offers cuisine from around the world—Tunisia, France, Spain and Italy.
Le Gourmet serves breakfast, lunch, dinner, Sunday brunch and homemade baked goods. Located near the train station, it is a popular destination for business people and commuters grabbing breakfast on the run. The space features wireless Internet, and is a great spot to meet for lunch or dinner.
Matthew Dupee is a regular customer who has lunch at the bistro at least twice a week. "I enjoy the variety of the menu," he says. "You don't expect international flavor in the heart of North Wales."
The restaurant also serves take-out orders to those returning home after work and offers catering on and off site. The restaurant seats 60-75 people but can accommodate more than 100 for events. As a full-service catering company, they provide tables, chairs, silverware and tents. Le Gourmet has a great set-up for business meetings, private parties, bridal showers, rehearsal dinners and even brunch the morning after the wedding.
The one thing Le Gourmet does not have is a liquor license. The restaurant is a BYOB, which Deborah says helps make dining out affordable. "Customers can splurge on a nice dinner and know that they have saved on their favorite bottle of wine," she says.
Nadhir says it is the daily menu of fresh foods that sets his restaurant apart. Le Gourmet relies on frequent deliveries and orders only what is needed regularly. "We have a compact menu," he says, "because we use what we have on a daily basis."
Nadhir refuses to use a freezer, so you can be guaranteed that all of the ingredients are fresh. That also means that the selection will vary with the season. The fish purveyor will call Nadhir to tell him what is coming in so he can plan accordingly.
"Each fish has its own traditional preparation methods," he says, from Branzino, or Mediterranean sea bass, baked in salt and grilled Mahi-Mahi over lobster risotto.
Le Gourmet is a world tour reflecting Nadhir's travels and training with authentic ethnic dishes. He serves falafel, Baba Ghanoush or couscous with lamb; Shawarma, which is thin slices of roasted or grilled leg of lamb served on pita for lunch or with rice pilaf and vegetables for dinner; and chicken Taormina, a seared chicken breast topped with eggplant mousse, sharp provolone and finished in the oven with homemade tomato sauce served as a pannino for lunch or with a potato and sautéed vegetables for dinner.
For Valentine's Day weekend, Le Gourmet will be offering foods from France so couples can enjoy a romantic Parisian experience in North Wales.
Visit Le Gourmet European Bistro and Catering at 115 S. Main St., North Wales, or call 267-613-8065. Sun.-Mon. for breakfast and lunch, Tues.-Thurs. all day until 9 p.m. and Fri.-Sat. all day until 10 p.m. You can view the restaurant menu at BistroLeGourmet.com or cateringdetails at ChefNadhir.com.
Sharon A. Shaw is a freelance writer living in Doylestown.
Rob Hall is a freelance photographer from Plumstead.