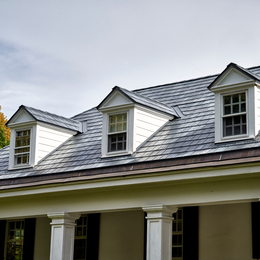 Global Appeal
Through metal slate roofing and other specialties, the professionals at Global Home Improvement preserve and enhance the value of clients' homes
Maintaining a home is often referred to as "keeping a roof over your head." Indeed, the roof is one of the most important aspects of any house, keeping its contents—and occupants—shielded from the elements. Feasterville-based home remodeling company Global Home Improvement understands the value of a home and a quality roof. As the area's leading installer of residential metal roofing, it is dedicated to protecting all that a home stands for.

The company has been family owned and operated for more than 15 years. It is ranked 88th in the nation among exterior home remodeling firms according to Qualified Remodeler magazine; it maintains an A+ rating with the Better Business Bureau; and it is a member of the National Association of the Remodeling Industry. "We are a full-service exterior remodeler, which means you can hire one company for all your exterior home improvement," says Adam Parnes, marketing manager for Global Home Improvement. "This is especially important when you are coordinating multiple remodeling projects as they relate to roofing, windows and siding."

Indeed, Global Home Improvement provides these services, including hundreds of options for metal roofing, seamless gutters, Marvin windows, entry doors and fiber cement and stone siding. It offers the widest selection of the most reliable products on the market, which are available from an 18,000-square-foot warehouse in Bucks County. "I love the fact that we offer better products with better value," Parnes adds.

One of the products Global Home Improvement specializes in is metal roofing. "We chose metal roofing because we offer a lifetime labor warranty on all of our jobs," Parnes says. "So we wanted a product that could stand up to the elements and that was proven to withstand the test of time." Metal roofing is a durable, efficient, environmentally friendly and beautiful choice in roofing materials. These factors make metal roofing a popular replacement alternative to asphalt roofing that are susceptible to algae and mold. Global Home Improvement's metal slate roofing is a particularly popular alternative to unreliable asphalt and expensive natural slate.

As a malleable material that can be pressed and shaped without breaking or cracking, metal roofs are not only extremely durable but also demonstrate superior resistance to damage from wind, hail, fire and other weather conditions. The metal slate roofing that Global Home Improvement uses is installed using concealed fasteners and is able to better withstand wind and ice better than asphalt shingles. Harsh weather causes asphalt shingles to expand and contract, especially in regions with warm summers or heavy rain falls. Heat-related contraction compromises the asphalt shingles shape and positions. The loose shingles and damaged seals also create gaps that become the passageway for water and pest infiltration. Having moisture and other uninvited elements entering a home can cause costly repairs and even interior damage.

"One of the main disadvantages of asphalt shingles is that they can stain and discolor in as little as three years. Metal slate will not only last a lifetime, but it comes with a paint finish warranty for 50 years," Parnes explains. "This means your roof will last a lifetime and look beautiful, too. Plus, with the look of real slate for less, metal slate roofing adds elegance and curb appeal to any home." This is especially important to the area's many owners of historic homes. Metal roofs can not only improve the energy efficiency of these buildings and preserve their structural integrity but also maintain their charm by mimicking the appearance of an age-appropriate material. Parnes notes, "Real slate is a very luxurious roof that all homeowners desire, but it can become very brittle over time and is extremely expensive. Metal slate gives you all the benefits of real slate at a fraction of the cost."

In addition to improving a home's curb appeal, metal slate roofing can also offer more tangible benefits. Homeowners who choose metal roofs can enjoy a 1 to 6 percent increase in the resale value of their homes. Also, because metal roofs are so durable and weather resistant, many homeowner insurance companies are also providing policy discounts of up to 35 percent on metal roof homes. "Metal roofing is great for any clientele who sees value in a better-looking and longer lasting-product," Parnes says. "If you plan on staying in your home for 10 or more years, metal slate is the way to go. And over the lifespan of the metal slate it will actually cost less money than your asphalt roof." These savings are due in large part to the enhanced energy efficiency of metal roofs.

Thanks to its ability to reflect the sun's ultraviolet rays, metal roofing can save homeowners up to 30 percent on home cooling costs. This contributes to stable indoor temperatures during the summer months, a value measured as solar reflectance index. A metal roof has one of the highest reflectance values in the roof industry. It can lower attic temperatures by up to 34 percent and reduce peak cooling demand by 10 to 15 percent.

Of course, lowering energy consumption is good for the environment, but metal roofs also offer other "green" benefits. The product is made using a minimum of 25 percent recycled materials and is 100 percent recyclable. Metal roofing materials contain no toxins and do not require tar or pollutants to be used during construction, so runoff from rain is perfectly clean; it can return to the soil without dragging any contaminants along with it that could potentially harm the local water cycle. On the other hand, asphalt roofing is petroleum based, and every year billions of tons of it winds up in landfills. Combined with their longevity—metal roofs can last anywhere from 50 to 100 years, three to four times as long as asphalt—and recyclability, metal roofs can greatly reduce landfill waste.

Often, when people think of metal roofing, they think of the shiny corrugated tin roofs seen on farms, but metal roofing comes in a wide variety of colors and styles. Global Home Improvement offers knowledgeable professionals and a wide variety of color and product samples, to help clients make the best choice for their needs. "All of our project managers come to your home with samples and an iPad full of before-and-after images that allow customers to visualize what their home would look like with any of the work completed. We pride ourselves on offering homeowners functional solutions for their home's problems all while enhancing the design of your home's exterior." These consultations are free of charge, as are the estimates Global Home Improvement provides to its customers.

Each member of Global Home Improvement's crews is factory trained, and the company has earned the designation of Owens Corning Platinum Preferred Contractor, a title held by only 1 percent of all roofers. But, what is more important, according to Parnes, is his team's experience. "Our roofing crews have completed close to 800 metal roof projects over the past five years, which provides the experience and expertise for even the most complicated roofs," he says.

"Everything we do is more detailed, from the initial consultation when we explain all your options, to the final install," he continues. "We make sure your roof is complete from underlayments to the actual roof and flashing around weak spots on your roof, like skylights and chimneys. We guarantee you will be 100 percent satisfied or we won't leave until you are."

Global Home Improvement
1680 Loretta Ave.
Feasterville, PA 19053
877-711-9850
www.globalhomeinc.com

Photography by Bob Graham Jr.