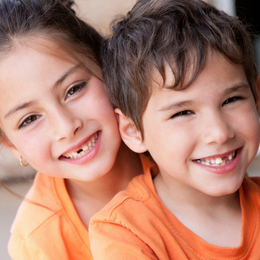 The Magic of Preventative Orthodontics
Through the magic of Preventative Orthodontics, the team at Infinity Dental Specialists helps patients avoid serious health problems and achieve healthy smile
According to the U.S. Public Health Service, 57 to 59 percent of the U.S. population presents with some degree of orthodontic treatment need. And, while many parents think that a child's teen years are the earliest time that orthodontic treatment can be implemented, Marianna Evans, D.M.D., a board-certified orthodontist and periodontist at Infinity Dental Specialists in Newtown Square, says this is not at all the case.

In fact, the American Association of Orthodontists recommends all children see an orthodontic specialist by the time they reach the age of 7. Seeing an orthodontist early on can help children avoid health issues later in life. This is especially true in cases wherein a child displays imbalance in facial growth, crowding of teeth, crossed or an open bite, protruded front teeth or an airway problem such as seasonal allergies, asthma, snoring, sleep apnea or chronic congestion.

Children can often be misdiagnosed with ADHD and given medication to treat the condition when, in fact, the problem is sleep apnea, a disorder characterized by the repeated stopping of breathing throughout the night. Sleep apnea has the potential to be quite serious, as it can lead to decreased oxygen flow to the brain and, thus, concentration difficulties during waking hours. This serious breathing disorder can often be linked to the underdeveloped jaw structures, which may impinge on airway function. Proper development of the jaws is essential to healthy breathing and thereby brain function.

"There should be a harmony between airway health, jaw structures, the teeth and the face," Dr. Evans explains, noting however that the face and the teeth can be used as "markers" for any of the aforementioned problems.

Braces may be of use positioning the teeth into aesthetically pleasing alignment, but they can do next to nothing to address more pressing issues affecting the face, jaws and even airways. As Dr. Evans says, "Straight teeth do not equal healthy teeth."

But why do teeth erupt into the misalignment in the first place? "We have yet to find genes that cause crowding," Dr. Evans says. "However, there is sufficient evidence today linking crowded teeth to underdeveloped jaws."

Dr. Evans explains that when jaw size is addressed early in life, before the baby teeth are lost, the permanent teeth may erupt straight and will require minimal if any orthodontic treatment with braces or Invisalign.

There are only certain windows in one's life wherein the three factors generally found to be the cause of crowding—the size, shape and spatial relationship of the jaw structures—can be changed with minimally invasive tactics.

Dr. Evans says that because in children, bones are still not fully formed, they are moldable and thus more likely to be directed into proper place—and stay there—without a great deal of strain.

This, however, is just one reason to seek out proper orthodontic care early on. Orthodontic jaw development at a young age also improves breathing function, often impaired in children with seasonal allergies, asthma, enlarged adenoids and tonsils.

"You want to diagnose and address crowding before the teeth erupt crowded," Dr. Evans says. "We have technology today that allows us to look at the development of the tooth buds and diagnose bite problems before the permanent teeth come in. … When you diagnose problems early, you can prevent complications later in life."

At Infinity Dental Specialists, for example, each child receives a comprehensive, individualized treatment plan.

"At our practice we use appliances to grow jaw structures three-dimensionally," Dr. Evans explains. "As long as the child is still growing, and has a lot of growth potential left, jaw correction is possible. This allows the teeth to grow naturally straight, in the proper position, with a good quantity of bone around them. More importantly, it also allows the child to have a healthy airway for the rest of their life."

Infinity Dental Specialists
Main Line Health Center
3855 West Chester Pike, Suite 225
Newtown Square, PA 19073
484-420-4643
www.infinitydentalspecialists.com


About the Doctors of Infinity Dental Specialists

Dr. Marianna Evans is a board-certified dual specialist in orthodontics and periodontics. The focus of her practice is to manage complex orthodontic and periodontal cases as well as prevention of dental problems utilizing state-of-the-art tools and methods. Dr. Evans, a graduate of the University of Pennsylvania School of Dental Medicine, is a diplomate of the American Board of Orthodontics as well as the American Board of Periodontology.

Dr. George Bandelac, a periodontist and dental implant surgeon, is Dr. Evans' colleague at Infinity Dental Specialists. He is also a diplomate of the American Board of Periodontology and lectures frequently on topics related to periodontics and dental implants nationally and abroad. His academic credentials include Doctor of Dental Surgery degrees from the University of Detroit Mercy and René Descartes University.

Together, Drs. Evans and Bandelac are founders of the OrthoPerio Institute, dedicated to providing professional development courses on periodontics, implant dentistry and orthodontics to clinicians and their staff members.