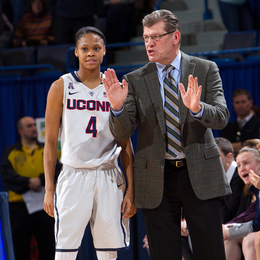 Taking Shots
How Geno Auriemma, the longtime head coach of the UConn Huskies women's basketball team, went from the neighborhoods of Norristown to the steps of the White House
Although he has been an invited guest at the White House more times than he can adequately remember, Geno Auriemma says it never gets old. He hopes to return to 1600 Pennsylvania Avenue yet again in 2015. "Hope," however, might not be the right word. Rather, he expects to be there.

Auriemma recently began his 30th season as head coach of the University of Connecticut women's basketball team, and it has been a remarkable 30 years. Just last season, for example, he coached the UConn Huskies to a 40-0 record—the program's fifth unbeaten season under his leadership—en route to besting another unbeaten squad, Notre Dame, in the 2014 national championship game in Nashville, Tenn. In all, Auriemma's teams have celebrated 15 Final Four appearances and nine NCAA championships. That's not too bad for an Italian immigrant who had no idea what he wanted to be when he grew up.

For those who don't follow college basketball—particularly, women's college basketball—the UConn program's accomplishments are, simply put, kind of a big deal. Look no further than Auriemma's multiple opportunities to rub elbows with the president at the White House, honors traditionally reserved for the athletes and coaches who have won hard-earned championships. The UConn program's success, however, didn't come easily—and it didn't begin till after Auriemma walked on campus with his unique way of doing things.

"When I first started coaching at Connecticut, we'd hope we'd have a winning season, and we'd hope we could make the NCAA tournament," he says. "We would have loved to be in the Final Four and, of course, compete for the championship. The expectations have completely changed—a total 180. Every year now, the expectation is the same: We're going to go to the Final Four and we're going to compete for the national championship. That's the standard, and we hold it."

Charismatic and bold, Auriemma is as well known for his confidence, which borders on swagger, just short of hubris, as he is for his tactics in bringing out the best in his players. He attributes this, at least in part, to having grown up in the Philadelphia area. Born in Montella, Italy, Auriemma spent most of his childhood in the gritty neighborhoods of Norristown. An alumnus of the since-shuttered Bishop Kenrick High School, he has "nothing but great memories of high school," calling his time there "four of the best years of my life."

He then moved on to West Chester University, where he "played a little ball," he says, and graduated with a degree in political science. Aimless as he was after graduation, he cut his teeth in the programs of multiple colleges and one high school, his alma mater. Ultimately, he found his way to a certain college campus in Storrs, Conn., where, for the past 30 years, he has been shaping very good basketball players into some of the most driven athletes in all of college sports.

In addition to the legacy he continues to build at UConn, he has prevailed on the international stage. He represented the United States at the 2012 Summer Olympic Games, for example, and he is now in his second term as head coach of the U.S. National Team competing in the FIBA World Championship for Women.

Successes on the hardwood aside, Auriemma is much more than a basketball coach. In fact, he insists he's "not one of those 24-7 basketball guys who get up in June or July and thinks about what offense or defense they're going to run." Off the court, he's a voracious reader who loves the beach—he and his family had a shore house in Avalon, N.J., for many years—as well as a generous philanthropist who has used his prominence and financial wherewithal to help people who need it most.

In 2012, for example, when the University of Connecticut created a memorial scholarship fund to honor those killed in the shootings at Sandy Hook Elementary School in Newtown, Conn., he and his wife, Kathy, made a gift of $80,000 to support the siblings and dependents of the victims who died in the tragedy. Also, for more than a decade, his "Fore the Kids'' Charity Golf Tournament has been raising funds for the Connecticut Children's Medical Center. In that time the golf event has yielded more than $1 million to fund research, equipment and quality-of-life improvements for patients.

We caught up with Coach Auriemma to discuss, among other things, how he helped put the UConn women's basketball team on the map, how he deals with the weight of seemingly crushing expectations, and why his reading habits virtually ensure the long-term employment of a generation of conspiracy theorists.

On turning around UConn's once-struggling program …
"Anytime you get into a new situation where an opportunity presents itself, there are a variety of things that get you there. If the program here had been super successful, I might never have had this opportunity. There are a lot of factors that go into a program either being successful or unsuccessful: support from the administration; the quality and level of the players; the expectations of the coaching staff. Once the culture is established, it just becomes self-perpetuating. All those things were in place here, so it was something we had to tear apart and start at the bottom and build back up. That's not always successful, so we were very fortunate.
"Looking back now, from 30 years ago, it doesn't seem that hard. I was coming from that area where I grew up, where I had a sense of knowing what I wanted and knowing how I wanted things done. I had the chance to be at the University of Virginia for four years, and that gave me a tremendous amount of perspective in terms of the ways to do things. In Philadelphia, everybody does things the same way, because that's the way you grow up. Going down to Virginia, I saw something being done completely differently, and it opened my eyes to see a basketball program that can compete at the national level. I had an idea, and then it was a matter of getting the right people. Getting Chris Dailey from Rutgers [as my associate head coach] was the most important thing I did, and that started the ball rolling."

On his journey toward becoming a top-level coach …
"Coaching was not something I really set out to do or planned. I know lots of people who, when they were playing in high school, made the decision to play in college and then coach, but it was never that for me. An opportunity came up, so I took it. Jim Foster, another resident of Philadelphia, ended up coaching [the women's basketball team] at St. Joe's and offered to bring me on, so I gave it a shot. Then Phil Martelli [current head coach of the men's basketball team at St. Joseph's University] presented an opportunity to me, so I gave it a shot; he was incredibly instrumental in helping me know I could be good at this. It wasn't ever doing what I set out to do. For me, it was being kind of direction-less; from high school, I really had no direction. I went to college, because that's what everybody did. I was fascinated by politics, so I leaned toward [political science]. I dabbled in the law club, and I was thinking about law school. I didn't know where that would take me, but then these other opportunities came along. Who's to say what would have happened if I turned down those opportunities and concentrated on [law]? Sometimes fate taps you on the shoulder. If you're prepared and if it's the right timing and you go for it, it works out. Sometimes you're waiting for that tap on the shoulder and it never comes. I was lucky."

On living up to expectations …
"It's not easy. Year after year after year after year, it gets harder. You do get worn down by the expectations, no question about it. Some people have the luxury of a rebuilding year, putting things back together and getting a little bit of a pass while rebuilding. We don't have that. You're expected to win, and you're expected to win at the highest level every single year. It does become harder to keep eye on what's important, and you do go through periods where you go, 'Man, why can't we be like everybody else?' That's not possible. It's a lot harder when people expect you to win."

On his trademark swagger …
"Coming from where we come from, most people who grow up in that area have that thought process, that swagger you're talking about. The beauty of growing up down there [in the Philadelphia area] is that everyone thinks they're better than they are, and that they know everything about everything. For me, it was good because I got to move away from Philadelphia and live in a completely different area, so you get to test your confidence and know if it's real or fake. … I brought some of that swagger to the program and try to instill it in our players. Still, there are players who have some of that already; I don't know if you can give it to someone who isn't already predisposed to it. There's a tremendous amount of pressure to perform, and you're being judged every day, almost like sports in Philadelphia. In Philly, you're judged on how good was your last game, even your last at bat. That's kind of how it is up here."

On his time away from the basketball court …
"I have not had a whole lot of free time in the last five or six years. I've been involved with the USA National Team, the Olympics, plus I have my full-time job at UConn. There are restaurants we're involved in, and we have a lot of other stuff going on, so I'm always on the go. What I'm comfortable doing sometimes is I'll sit around and do nothing but read. Or I'll play on the beach. Or I'll golf with my son. I'm not one of those 24-7 basketball guys who get up in June or July and think about what offense or defense they're going to run. I love to read biographies; I love to find out how people came to be where they are. I like historical novels that deal with crises during our history or world history: What do the decision makers do? What are the consequences of their actions? I'm always fascinated by what Winston Churchill was thinking, or what Franklin Roosevelt was thinking. … I'm also a huge conspiracy guy. I don't believe anything happens by accident. If someone wants to talk about conspiracy theories and is going to write a book about it, I'm going to read it."

On the benefits of success …
"It's not about how many times I've been [to the White House] or how many parades we've had; those are just byproducts of what we do. To me, we'll have a couple of freshman in any given year, and when they win the national championship for the very first time and they have the experience of cutting down the nets on the last game of the year, that's the focal point. It's not how my life is going to change—my life will not change one iota at this point—but now it's more about doing things that don't benefit you; you're doing more for other people.
"How many people in the United States get the chance to walk through the White House? I never ever downplay that. I get to do things most people never imagined they would do, so you never take it for granted and always know that it's special and always know how lucky you are to be there. It's just another reminder of how fortunate you've been in your life."

Photograph courtesy of UConn Athletics