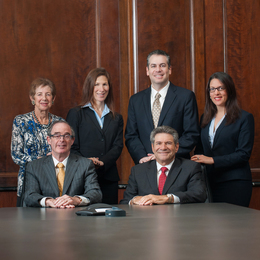 Obermayer Family Law Practice
A tradition of keeping families whole
This year, the majority of Obermayer Rebmann Maxwell & Hippel LLP's Pennsylvania family law attorneys were included on Suburban Life's Top Attorneys list. This year's list includes Robert I. Whitelaw, David L. Ladov, Michael E. Bertin, Shari B. Veisblatt, Stephanie H. Winegrad, Samantha J. Evian and Ann G. Verber. All members of the group devote 100 percent of their practice to family law. More important, though, is the group's tradition of being advocates for resolutions rather than courtroom battles.

Over the last two years, Obermayer's Family Law Practice Group, led by Whitelaw and Ladov, has doubled in size and continues to thrive. "It is important to us that our attorneys share our philosophy about bringing cases to realistic resolutions," explains Whitelaw. "We want our clients' families to remain as intact as possible as they go through the emotionally taxing divorce process."

For four decades, Whitelaw has been one of the region's leading family law attorneys. In 1970, Whitelaw began Obermayer's family law practice when his estates practice was waning; he took a divorce case, and then another. In the process, he convinced the firm to take divorce law seriously—all while steering the growth of the firm and becoming its key decision maker. Whitelaw also became the managing partner of Obermayer, a position he's held for nearly 30 years, while still managing a heavy caseload of his own. Today, thanks to his leadership and initiative, Obermayer is one of Philadelphia's preeminent law firms and has one of Pennsylvania's largest family law practices.

In 1983, when there were few women practicing law, Verber joined Obermayer and was named the firm's first female partner in 1987. Throughout her 30-plus-year career, she has achieved much. She is a fellow of the American Academy of Matrimonial Lawyers, where she served as co-chair of the Pennsylvania Chapter's Committee on Admissions, and is a master member of the Nicholas Cipriani Inn of Court for Family Law.

In addition to being an in-demand family lawyer, Bertin contributes a significant amount of time writing and lecturing about family law cases and law. He coauthored "Pennsylvania Child Custody Law, Practice and Procedure," which consists of carefully condensed law and forms that keeps attorneys and the courts current on all areas of Pennsylvania child custody law. Through his work with the Legislative Committee of the Family Law Section of the Pennsylvania Bar Association, Bertin made substantial contributions to the new Pennsylvania child custody laws. In short, children involved in custody battles in Pennsylvania are better off because of him.

Veisblatt, who has been part of the Obermayer team since 2010, possesses adept legal acumen and masterful abilities in the courtroom that have contributed greatly to Obermayer's success in family law. At first glance, one might not realize that the diminutive Veisblatt was a formidable force in the courtroom, wherein she has fought for her clients for more than 10 years.

In 2012, Montgomery county native Ladov joined his longtime friend Whitelaw at Obermayer and opened the firm's West Conshohocken office to help lead its family law practice. His steady, pragmatic and realistic approach has made him a leading divorce lawyer in the state. On any given day in Ladov's office, one might see a celebrity, a CEO or a stay-at-home mom there to meet with him. His career accomplishments are rivaled only by his work to advance the legal profession. He is a leader both at his firm and in the legal community.

"After doing this for 35 years, I have handled practically every issue and represented practically everyone," says Ladov. "Regardless of the person's stature or professional accomplishment, they are going through a very difficult emotional time. Everyone deserves to be represented with compassion and care."

Ladov has held a number of leadership positions for the Montgomery County and Pennsylvania Bar Associations, as well as the Pennsylvania chapter of the American Academy of Matrimonial Lawyers (AAML). Notably, he is chair of and one of six attorneys in the state to serve on the Pennsylvania Supreme Court, Domestic Relations Rules Committee. This gives him a distinct advantage, as he is developing the rules and guidelines that other attorneys have to follow.

Winegrad joined Ladov in coming to Obermayer. The unflappable Winegrad has more than 15 years of experience in handling divorce and custody issues in Montgomery County. Earlier this year, Winegrad became one of 1,600 AAML fellows in the United States and one of fewer than 80 in Pennsylvania. In order to be admitted to this highly regarded organization, a family law attorney must have fulfilled the criteria and standards established by the AAML Board of Examiners and Board of Governors. These criteria included both a national and a state written examination and recognition by the bench and bar as a leading practitioner in the area of matrimonial law. Winegrad is the fourth member of Obermayer's family law practice to be admitted to the AAML, joining Ladov, Whitelaw and Verber.

Completing the group is Evian, who joined Obermayer in September 2014, after having a thriving family law practice with another firm for more than 10 years. Evian is also dedicated to giving back to the community. The dedication and care she puts into helping others is simply extraordinary. She has served as a volunteer in numerous civic projects, and she contributes her time to various local charities including Hadassah, the Small Business Development Center at Temple University, the Women's Law Project and the Divorce Professional Alliance.

Obermayer Rebmann Maxwell & Hippel LLP
Visit www.obermayer.com for more information.