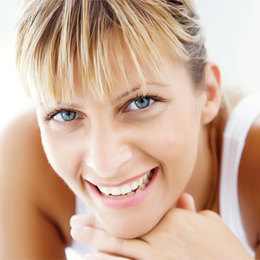 Beauty on a Budget
Look and feel your best for less
Everyone wants to start the New Year off with a bang, and wouldn't it be nice if that didn't have to translate into breaking the bank? January is the perfect time of year for upgrading your beauty routine and updating your personal health mantra. Here are four easy tips that can help make 2010 "the year of you" while still making it possible to save your pennies for that new Coach bag you've been eyeing since Thanksgiving.
Feel good in your own skin
Nothing is sexier on a woman than a confident smile, but it doesn't hurt when she also has glowing skin and a freshly scrubbed exterior. Taking care of ourselves helps boost self-esteem and allows us to feel more satisfied in our God-given shells. That's why Essentials Salon and Spa in Doylestown is a sure stop to make this month.
Spa Director Jackie McKay says, "We make feel-good rituals affordable so more people can take advantage and pamper themselves from time to time." Along with their array of great scrubs and reasonably priced wraps is a new 75-minute feature called Caribbean Body Therapy which includes full body exfoliation, detoxifying seaweed masque and wrap, as well as a restorative scalp, face, and body manipulation—all for only $115.
Remember, sometimes confidence is only skin deep!
Open doors with just a smile
It's undeniable that a glowing smile is a great way to start a conversation, end a job interview, or aid in getting out of a traffic citation. Too bad we can't all claim this feature. Coffee drinkers, smokers and those of us who had braces can most likely relate to having less than pearly whites. But this year, whiteness is within reach.
BleachBright, located on the lower pavilion level of the King of Prussia Mall, is offering 15-minute treatments for just $99 to $149 per session. This technique shows results in 15 to 20 minutes. So by the time you leave the shopping mecca of the suburbs your smile will be two to eight shades whiter than when you walked in.
Results last for six to 12 months depending on lifestyle. Red wine drinkers and coffee connoisseurs can purchase a KeepBright pen to do touchups on their own time.
Relax, relax, relax
With so few hours in the day that aren't already accounted for (work, kids, food shopping, and on and on) it becomes ever so important to schedule time for yourself.
A perfect way to do this is by finding something you love to do that quiets your soul, while calming your body. The answer? Ocean, Earth, Wind, Fire: Sanctuary for Yoga, Massage, and Whole Living in downtown Phoenixville. They offer a variety of yoga classes along with Pilates and massage therapy.
All classes are ongoing and open to all levels, but the best part is that each one is just $13. Or try a pre-paid bundle class pass for a discounted rate of 10 classes for $11 per class.
Studio owner Susan Madden-Cox says, "Yoga is essential to a healthy lifestyle. That said, we price fairly so everyone who wants to partake has access."
You are what you eat
Time and time again we're told that what we put into our bodies is of the utmost importance, but that shouldn't have to equal the emptying of one's wallet. People recommend shopping "the edges of the grocery store" to obtain the most nutrient-rich foods, but when we do, our final bill is often heavier than the load in our carts. Until now.
Trader Joe's has changed what we know about nutritious food pricing. With locations in Ardmore (610-658-0645), Jenkintown (215-885-5240), and Media (610-891-2752), Trader Joe's offers high-quality organic foods in every section of the store—fruits, veggies, cereals, baked goods, juices—you name it and they have an organic version with a price to please. And don't expect to see special membership passes or weekly coupons because their prices are fixed for everyday value.
So the next time you need to recharge your batteries with some health-conscious fuel, trade up your usual grocery store for Trader Joe's.
Danielle Wallace is a freelance writer in Montgomery County.

Essentials Salon & Spa
454 N. Main St., Doylestown
215-489-8800
www.spaessentials.net
BleachBright
160 W. Dekalb Pike, King of Prussia
610-337-1289
www.bleachbrightonline.com
Ocean, Earth, Wind, Fire: Sanctuary for Yoga, Massage, and Whole Living
122 Bridge St., Phoenixville
610-933-0725
www.oceanearthwindfire.com.
Trader Joes
www.traderjoes.com