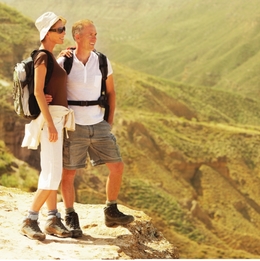 Back in Action
With progress in preoperative treatment and postsurgical therapy, patients in need of orthopedic care—baby boomers especially—find a smoother return to doing the things they love
The Portland, Ore.-based Multiple Outdoor Activities for Boomers group on Meetup.com has more than 1,000 members—"outdoor-loving people, born between 1946 and 1964, who like to be physically active." Activities include cross-country skiing, wilderness hikes and mountain-biking excursions.

Closer to home, the Delaware County 50+ Couples Group is for locally based couples who prefer activities such as tennis, volleyball, hiking, kayaking, camping, etc. In other words, boomers are staying active. Although such activities do expose an aging body to injury, the world of orthopedic medicine continues to see significant improvements to get patients back to doing the activities they love quicker and safer than ever before.

"We're seeing a lot more people," says Jeffrey Malumed, M.D., of Premier Orthopaedic and Sports Medicine, a Crozer-Keystone Health System-affiliated group of 57 physicians in Delaware and Chester counties. "Baby boomers are used to doing everything when they want to do it. They're not happy with giving things up. We're doing a lot more total joint replacements to get them back to the lifestyle they want. They're 50 and 60 and they still want to ride a bike, play tennis, play golf—really, whatever they did when they were younger."

Advances have come in various areas, such as preoperative and mid-procedure pain management, to tissue-sparing surgical approaches that not only lessen pain but also contribute toward faster recoveries and improved postsurgical mobility. They also include peripheral nerve blocks, which can be used to provide postoperative analgesia. All of these are contributing toward getting patients out of the operating room, back home and on the road to recovery as soon as possible.

Orthopaedic advances are benefiting more than baby boomers alone. Orthopedic surgeons continue to see their operating tables populated by hard-driving millennials and even younger patients who have suffered painful injuries as a result of overuse. Even joint-replacement candidates over the age of 80 or 90 are not uncommon. In either case, speed is essential to lowering the risk of postsurgical blood clots and infection, thereby ensuring a positive outcome.

"With total hip replacement, the anterior approach is less invasive, less harmful and allows for quicker rehab," says Dr. Malumed. "It used to be that a patient would spend five to seven days in the hospital; now they are out of the hospital within one to two days, with better care once the incisions heal. Part of that is due to the incisions that we make. In a knee replacement, we can do a quad-sparing incision, which again means less trauma and quicker rehab."

Even the materials used in joint replacements—ceramics over plastics or metals—have improved to provide greater durability. The materials used in today's hip and knee replacements can "last forever," according to Dr. Malumed. In addition, improvements in fixation mean that a joint replacement, in the hands of a skilled surgeon, should last a patient for the rest of his or her life.