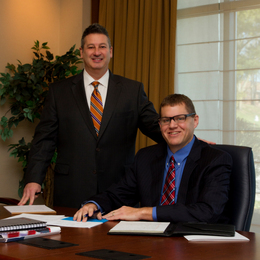 Education First
Thrive Financial Services uses a "zero selling, informed advice" approach to empower clients to make informed investment decisions
Monthly guaranteed income for their clients is the goal for David Bezar and Bret Elam of Thrive Financial Services (TFS), an independent financial services firm based in Fort Washington. The TFS team operates on the foundation that financial lessons should be learned now rather than "the hard way" later, when it may be more challenging to adjust.

It's a lofty goal, but Bezar and Elam know exactly how to achieve it: through good financial education. They know, from years of having advised hundreds of clients on how to plan for the future, that informed individuals make better, more confident decisions and are therefore better equipped to reach their goals.

"Those goals might include unburdening oneself from debt, becoming financially independent, creating a financial legacy or simply earning more in income to ensure a comfortable retirement," says Elam. "For us, providing financial education first is paramount. It allows people to be involved in making the right choices for themselves and their families or businesses."

Generally speaking, TFS serves three types of clients—families with a household income of more than $100,000, who may be looking to eliminate debt and/or save for their children's college education; pre-retirees and retirees over the age of 50 who have more than $100,000 of investable assets and know that they need to make immediate investment decisions; and small-business owners who are looking to build equity and protect the investments they have made in their companies.

One of the ways in which TFS educates clients of every sort is through a series of workshops held at its world-class presentation room at its newly opened headquarters in Fort Washington.

"We're excited about our lineup of classes," says Bezar. "Our weekly seminars will be related to common financial issues and concerns. One of them is titled, 'Guaranteed Income for Life,' which is targeted to pre-retirement and retirement individuals."

The following are recommendations from the experts at TFS for what everyone should know now in order to achieve retirement success later. These topics will be covered in greater detail when TFS launches its workshop series.

12 Keys to a Richer Retirement
1.) Keep a healthy estate: What may seem like a large, adequate estate can be quickly liquidated with just one medical incident. A proactive approach can protect an estate from being used up in the event of an unexpected health issue.

2.) Manage long-term care (LTC): Once considered a "must have," LTC insurance is evolving. There are now policies that combine life insurance with LTC, leaving one's beneficiaries the money if the policyholder passes. A bonus: Premiums never go up.

3.) Withstand market volatility: If the market doesn't cooperate, will you have enough money? As many experienced recently, if the market goes down, the retirement savings you rely on could be wiped out in a matter of years. A plan that includes fixed annuities could help.

4.) Understand how your retirement will be taxed: Take the time to get educated to make the best choice so your plan doesn't have surprises when you can least afford them.

5.) Gauge risk tolerance: "Not everyone tolerates risk the same," Elam says. Taking more risk than you're comfortable with and trying to ride it out is difficult. You may become more risk averse with age. Regularly reassess the risk you're willing to take.

6.) Revisit your plan: Even well-structured plans can go off course. It's important to review them regularly and learn about new products that offer greater benefits, such as changes in life insurance. Also, beneficiaries change, new employee benefits are offered and health events occur.

7.) Heed financial advice: Hindsight can be costly. Bezar says a few past clients have popped up again recently, in unfortunate situations. After not taking original advice, these clients now want to know what to do. When your financial advisor gives you advice, take it.

8.) Stay actively involved: Know what your accounts are doing. Are asset allocations diversified, and are they correlated with each other? Are all portions of your portfolio moving in the same direction? Are you paying too much in fees?

9.) Develop your budget: Know what you'll need to retire. Analyze your expenses now and determine which ones will follow you into retirement. Then, evaluate your various sources of future income.

10.) Align your financial plans: Make sure your estate planning complements your retirement planning, and vice versa. "If something happens," Elam says, "issues can arise if both are not taken into account and planned well."

11.) Factor in inflation: Use vehicles designed to adjust to inflation. Keep costs as fixed as possible and income flexible.

12.) Negotiate with your spouse: Decide whether you'll keep your mortgage payment or pay it off. For peace of mind, it's vital for spouses to agree on the decision.

TFS emphasizes the necessity of setting goals. The firm helps clients stay on track, generally meeting twice a year—once for an annual review, and a second time to make sure the plan is on target. All clients receive a spreadsheet of expected income and a financial inventory binder for keeping statements and letters together.

TFS has one of the most secure systems for sending and receiving financial information electronically. The Thrive Generational Vault includes a virtual "safety deposit box" for clients to upload important documents and view financial information. It comprises three dynamic components, including a secure portal to send and store confidential financial documents, daily investment and banking values, as well as snapshots of financial assets and expenses to view. All data is secured with an SSL Certificate, one of the strongest encryption key available, and adheres to compliance and regulatory requirements.

To learn more about the free weekly workshop series, visit thrivefinancialservices.com or call 800-516-5861.