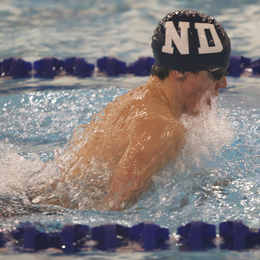 Learning to Lead
At Notre Dame High School, students discover an enriching college preparatory experience built on faith, leadership and service
Marysa Pratico saw the positive transformation that occurred in her older brother during his time as a student at Notre Dame High School and sought to follow in his footsteps. A self-described "performing arts kid," Pratico believed a Notre Dame education would afford her the "extra drive and push to perform at a high level," she says.

In Conor Hader's mind, Notre Dame had "everything I was looking for," including a Roman Catholic education that would nurture his faith and encourage him to express himself. He also believed the school's extensive media programs would nurture his passion for cinematography.

For Julia Panko, Notre Dame's rigorous academic experience, including numerous Advanced Placement courses, made the school "the best fit for me," she says. She also thought Notre Dame's excellent soccer program would increase her chances of earning an athletic scholarship at a prestigious university.

Jack Conboy, who comes from a "100 percent Irish" family with strong Catholic values, never considered a school other than Notre Dame. He believed Notre Dame's culture of service and fellowship would shape him into a well-rounded person, and that its football program would help push his athletic career to the next level.

Each of these four students came to Notre Dame for different reasons, yet they all found common ground in the school's welcoming halls: a safe and nurturing environment that develops the whole student—academically, spiritually, socially, emotionally and physically. Here, they have learned to build lasting friendships, to deepen their faith and to explore new opportunities, as well as to develop confidence in their God-given talents as they prepare for the next phase of their lives.

For 57 years, Notre Dame has been offering a unique college preparatory experience focused on faith, leadership and hands-on service. Notre Dame's 100-acre campus in Lawrenceville, N.J., has become an incubator of sorts, where members of a diverse student body develop a foundation of values and habits that enable them to think, to serve and to lead—in college and beyond. Here, the environment teaches them to identify their limits and then find ways to push past them.

Notre Dame senior Marysa Pratico, for example, has delved deeply into the performing arts, including the dance team, the concert choir and various stage productions. She has become a leader in the school's performing arts department, now serving in the role of vice president, where she is integrally involved with all school productions. This includes "Les Miserables," which will be performed at the school during the first two weekends in March. In addition to behind-the-scenes work, Pratico will be a cast member and also serve as understudy for the role of Eponine.

"I have been evolving here over the years, and I've been able to open up in a way I never could have imagined," says Pratico. "One of the best things about the school is the confidence people gain from the opportunities they have here. Students here are going to find a place where they belong, where they can grow and excel. They will find a niche and find a home here. Out in the real world, it can be cutthroat, but here you're putting your talent out there and getting positive feedback.

"The teachers here push us to go the extra mile, and it makes you want to get involved even if you're the type who likes to sit back and be quiet," she continues. "The teachers here are not only teachers but also role models. I've never come across a teacher here who is not going to go out of their way to try to help you. I think it's a family here, and a lot of people won't see that just by driving by."

Conor Hader, also a senior, takes a 45-minute bus ride from his home in Jackson, N.J., to Notre Dame's campus in Lawrenceville. He believes it's worth every minute. Hader, who is studying film as he pursues acceptance to the University of the Arts in Philadelphia, treasures the welcoming atmosphere and the service projects of which he has been part while at Notre Dame. He also speaks highly of Kairos, a weekend retreat organized by the Campus Ministry team, wherein seniors learn about themselves and about each other, talk about their beliefs openly and gain vital skills to help them succeed in the future.

"Notre Dame has given me everything," he says. "My faith is very important to me, and I love that we have religion classes all four years. You'll go from studying the Bible to studying world religions, so you get to see what your religion and other religions have in common, and I think this teaches you that maybe we're not all so different after all. My best decision was coming here."

With an average class size of 23 students and a student-to-teacher ratio of 13:1, Notre Dame provides a rigorous academic curriculum, including 17 Advanced Placement courses, to prepare students for a university-level education. The average Notre Dame educator has 21 years of teaching experience, and more than half hold advanced degrees. Such qualifications translate to superior student performance; more than 99 percent of graduating seniors matriculate to a competitive college or university, while SAT and ACT scores are well above the national average.

Each year Notre Dame students perform more than 50,000 hours of Christian service to those in need, both on and off campus. Junior Julia Panko, for example, participates in the Breakfast Club, an in-school service group that meets before the school day to prepare lunches for underprivileged children in the Trenton community.

Through service projects and other commitments, Panko has truly made the most of her time at Notre Dame. This year she is taking four AP classes—calculus, chemistry, English and history. Outside the classroom she competes as a Mathlete, plays as a starting forward on the soccer team and belongs to Catholic Athletes for Christ, an organization devoted to spreading the Gospel of Christ in and through athletics.

"This is an excellent place for anyone to come to get a well-rounded academic education," she says. "I feel like I'm ready for college and whatever life can throw at me. I think anyone who comes here will have that same experience."

This includes Panko's younger sister, also a soccer player, who intends to join the Notre Dame family next year as a freshman. Panko hopes her sister will make the soccer team in her freshman year so the two will have one year of playing together before Panko leaves for college. As of now, Panko has a verbal commitment to Columbia University, where she will play soccer.

Panko is a fine example of the heights to which any Notre Dame student can climb. With 30 varsity teams, from crew, tennis and field hockey to football, wrestling and ice hockey, Notre Dame's teams achieve considerable success each year. At the Mercer County Championships in early February, for example, Notre Dame reclaimed the title of the best boys swim team in Mercer County, while the school's boys indoor track team won the title at January's Mercer County Indoor Championships.

Like Panko, senior Jack Conboy has built quite a résumé for himself at Notre Dame, both on and off the field. In addition to being president of the Student Government, he's involved in Campus Ministry, Peer Leadership and the National Honor Society. He's also a starting defensive end and right guard for the football team. Recently, he earned the Central Regional Alzheimer's Association School Spirit Award, an honor he shares with his sister. They created a team for the annual Philadelphia walk, in memory of their grandfather, who succumbed to the disease in 2013. The Conboys helped raise more than $4,000 to benefit those served by the Alzheimer's Association.

"You can explore because you feel like you're safe here," says Conboy, who wants to study business in college. "There's a sense of family that goes along with the faith component, which is important to me because my Catholic faith is the foundation I've built my life upon. You walk in the halls every day and you don't see people being mean to each other; you see smiles all over the place.

"Notre Dame is not just a school," he continues. "It's like a second home."

Notre Dame High School
601 Lawrence Road
Lawrenceville, NJ 08648
609-882-7900 | www.ndnj.org

Go to www.ndnj.org and click on "Summer Programs" for a complete listing of athletic camps and academic enrichment courses offered this summer.