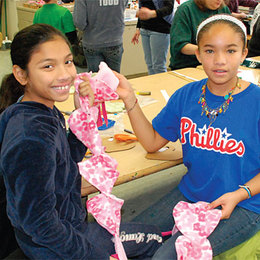 Join the All Stars
January 18 is Martin Luther King Day of Service 2010
"Never doubt that a small group of thoughtful, committed citizens can change the world; indeed, it's the only thing that ever has." —Margaret Mead
Anthropologist Margaret Mead wasn't talking about the as-yet-unknown Martin Luther King Day of Service, but it's an apt observation about the evolution of this federal day off that's rapidly turning into an annual day on for volunteers throughout America.
In Bucks and Montgomery counties, countless programs have arisen to take advantage of the MLK Day of Service as an opportunity to introduce people to the profound satisfaction of volunteer work. We take a look at two that achieve their goals through group interaction, using the concept that many hands make light work.
Investing in community
Financial services firm Univest, with 18 offices throughout the BucksMont area, is in the business of banking and investments.
Brad Bishop, president of the company's Accent Club, explains Univest's larger vision of investment.
"The Accent Club is a visible manifestation of Univest's community-oriented culture. I sought an opportunity to get our employees involved in outreach that exemplifies the community-mindedness of our company, so MLK Day of Service just made sense," he explains. In 2009, working through the Bucks County non-profit organization CB Cares, Univest fielded 63 employees for projects that included painting and sprucing up the Central Bucks Senior Center, and sorting and cleaning at the NOVA Thrift Shop (whose sales benefit crime victims) and some minor updating of the shop's computer system.
Through the Manion Star project, Univest employees painted tiles used to repair neglected concrete blocks around the Travis L. Manion memorial in Doylestown. They participated in Sport and Sort, a collection of gently used sports gear cleaned up and donated to Special Olympics teams. And they organized shelves of donated items at the Habitat for Humanity ReStore in Chalfont. Bishop says Univest intends to continue MLK Day of Service participation annually.
"This year, we'll be rehabbing a house on Front Street in Souderton, through the Keystone Opportunity Center. Rehabbing our community helps us as an institution, and our employees tangibly benefit from the satisfaction of serving that community."
Teaching by doing
In Montgomery County, third grade teacher Andrea Emmons serves as clerk of the All-School Service Committee for the Abington Friends School (AFS). The school, serving students from 18 months through 12th grade, has an established MLK Day of Service tradition.
Last year, about 300 people registered at 8:30 am at AFS on Meetinghouse Road in Abington. An opening presentation launched the day's program from 9:00 to 9:30. An upper school student recited poetry, and students sang relevant songs. Emmons then spoke on the day's theme, which is always derived from a particular speech or sermon by Dr. King, and focuses on Quaker values and those of Dr. King. This year's theme will be "building a beloved community." Groups then split up for their different projects. At the end of the day's activities, a moment of silent reflection sends participants on their way.
Working on about a dozen projects through partner groups, AFS volunteers participated in such efforts as preparing hot meals for Aid for Friends, similar to the Meals on Wheels program; collecting, cleaning and donating gently used toys for the Cradles to Crayons program; and assembling personal hygiene kits for the Whosoever Gospel Mission in Philadelphia.
This year, they're carrying a study unit on birds as a theme through their MLK Day projects. With three other schools, AFS students will assemble and paint birdhouse kits, which will hang at all the schools when completed. Emmons anticipates 60 participants. AFS also will participate in a scarf-making project through Girard College. Kids trace patterns on fleece
material, cut them out and weave them together, with finished scarves donated to area shelters.
Emmons is excited because 2009 was the first year all ages of students were able to participate, along with parents and teachers. "It's truly a family community day now," she says. "Our projects have a lot of mixed age groups, with older kids helping younger kids, so it allowed people to engage across age levels. People had a great experience and felt more engaged in the whole concept of volunteerism."
That concept seems to be growing in popularity as the Martin Luther King, Jr. Day of Service gains traction in our region. "People are glad for this chance," says Emmons. "I think they now really do see it less as a day off and more of an opportunity to give back to their communities…not because they have to, but because they want to."
Mary Shafer is a freelance writer, author and speaker working in Upper Bucks County. maryshafer.com
Get Involved
To find out ways you can get involved in the MLK Day of Service in Montgomery County, contact the United Way of North Penn, 1550 Cowpath Road, 2nd floor, Hatfield. 215-855-3002. www.npuw.org.
In Bucks County, contact CB Cares, 252 W. Swamp Road, Bailiwick Unit 5, Doylestown. 215-489-9120. www.cb-cares.org
Churches, civic groups, schools and scouting groups also offer ways to contribute. Or search online for Martin Luther King Day of Service opportunities near you.