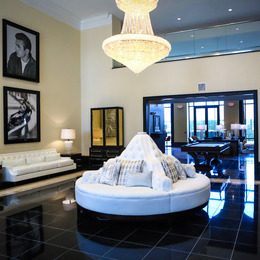 Coming Home
The stunning luxury residences and boutique studios at The Royal Worthington by O'Neill Properties Group offer residents the home—and the life—they desire
Delaware County native Amy Totino moved into The Royal Worthington on December 22, 2014. Few decisions in her life have made her happier.

"I had a strong attraction when I started hearing about what they were planning here. The conveniences, the amenities and the future plans—including restaurants and shopping—all played roles in why I made this choice," says Totino, 51, a real estate closing manager for Title Alliance, a national title company in Media. "With all the [new buildings] and restaurants and shopping, I won't have to leave the area for anything. Knowing that is coming is exciting."

Similarly, 35-year-old Jesse Hamilton, a project manager with a local investment company, has lived at The Royal Worthington for about two months. "The location was definitely important to me," he says. "I can literally walk a quarter-mile to work from the complex, which means a lot to me since I am environmentally conscious and like to reduce my carbon footprint." Hamilton knew about the plans for The Royal Worthington five or six years ago and kept his eye on it as it blossomed. "We're close to a Target and a Wegmans, plus there will be a movie theater, retail stores and restaurants," he says, adding that he already uses the gym a lot and attends some community activities. "For those of us who don't necessarily want to have to go into Philadelphia all the time, everything is here."

The Royal Worthington is one of the most stunning residential properties from O'Neill Properties Group, one of the nation's leading private developers. Located in the heart of the affluent Main Line area, The Royal Worthington's unique "urban village" design offers convenient onsite shopping, dining and entertainment. While just a half-hour from Center City Philadelphia, it touches the great outdoors through hiking or biking on the nearly 12-mile Chester Valley Trail, stretching from Exton Park to King of Prussia with future plans to join the Schuylkill River Trail and Valley Forge Historical Park.

The Royal Worthington offers studios, as well as one-, two- and three-bedroom apartments, with a variety of floor plans. Each home features luxury plank flooring, granite countertops, gourmet kitchens with stainless-steel appliances, floor-to-ceiling windows, balconies with scenic views and high ceilings. All units have individual heating and air conditioning, full-sized washers and dryers and charging stations equipped with USB ports. "Furnished boutique" residences are available with custom Ralph Lauren furnishings, upgraded linens, Sealy pillow-top mattresses, oversized towels, a fully equipped kitchen and oversized flat-screen TVs in the bedroom and living room.

Residents can take advantage of dry cleaning pickup and drop-off service, a pet friendly "doggie" wash station, bicycle racks and a bike repair station, an entertainment pavilion and much more. Other amenities include Club Royal, which offers daily continental breakfast, free high-speed Internet access and a morning newspaper. Also, the Club Lounge has a gas fireplace, billiard tables and multiple flat-screen TVs. Also available to residents are a private heated pool and hot tub, sun deck, health and fitness center with a yoga studio and cardio suite, as well as a private dining and conference room. Complimentary Starbucks coffee and tea, as well as fresh-baked cookies, are offered throughout the day.

The walkable in-town dining scene offers fast casual, fine-dining, gastropub and chef-inspired restaurants, which will be soon announced and scheduled to open in 2016. The Cobb Theater and CineBistro, modeled after turn-of-the-century classical live venues such as the Academy of Music, offers the only four-star in-theater dining experience in the country, as well as an American bistro menu, full bar, specialty cocktails and an extensive wine list.

In addition, The Royal Worthington is within the Great Valley School District, a top-rated school district with a high school ranked in the top 4 percent in the country by U.S. News and World Report. The surrounding area includes notable private schools and universities such as The Shipley School, The Phelps School, Malvern Preparatory School, Episcopal Academy, The Agnes Irwin School, Villa Maria Academy, Westtown School, Villanova University, Bryn Mawr College, Haverford College, Penn State Great Valley, Immaculata University and Rosemont College. Also in the area are some of the most distinguished country clubs in the United States, namely Aronimink Golf Club, White Manor Country Club, Waynesborough Country Club, Applebrook Golf Club and Merion Golf Club.

Totino absolutely loves the place, as does her 100-pound, 6-year-old Great Pyrenees/Newfoundland mix, named Angus. "I was looking for a luxurious building that allowed large dogs. I didn't want a run-of-the-mill place; I wanted something really nice," she says, adding that she likes being close to her daughter and grandchildren, as well as to major highways. "They have everything here, with all sorts of people, from 30 to 80 years old. The staff is unbelievable and accommodating, and everyone seems to know everyone. There is a sense of community here that I have never had in any other apartment. It doesn't feel like an apartment, to be honest. It feels like home. This is by far the best experience I've ever had."

Likewise, Hamilton is very fond of the complex itself and the way his apartment looks. "It's very aesthetically pleasing, with high ceilings, all-wood floors and a great view. I love that it overlooks a creek. I even like watching the traffic moving. It's very soothing," he says. "I've lived in a wide variety of places in my life and until now I never loved a place. I couldn't be happier. The staff cares. They answer questions and are very nice people. Honestly, I love everything about it."

The Royal Worthington is located at 45 Creekside Lane in Malvern, near the intersection of U.S. routes 202, 29 and 30. For more information, visit royalworthington.com or call 610-644-2000.