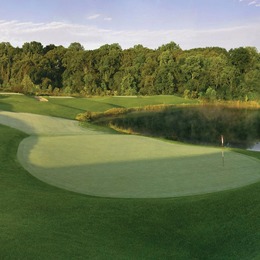 Teed Up
Golfers enjoy a challenging yet perfectly playable course, among other world-class amenities, at White Clay Creek Country Club at Delaware Park
Spring couldn't come any sooner. Within a matter of weeks, the brutally cold temperatures and winter precipitation will have given way to green grass, blooming trees filled with songbirds and mild weather perfect for, say, a round of golf at one of the area's top golf courses.

At White Clay Creek Country Club in Wilmington, Del., which this year is celebrating its 10-year anniversary, Ryan Kidwell will be waiting.

"It's been a long winter, and people are eager to get back to playing the course," says Kidwell, executive director of golf for White Clay Creek Country Club. "People keep coming back for the course conditions and the service, and those who haven't been here before will find that we truly have it all—great golf, fine dining, the casino and much more. Every player who comes here gets a country club experience. Although we're considered a public course, we offer a range of world-class facilities and other amenities that put us on par with a resort."

Stellar course conditions and outstanding service are among the many reasons White Clay Creek Country Club has become such an attractive membership option for those living in Wilmington, Philadelphia and other points nearby, as well as from as far away as Havre de Grace, Md. Unlimited-play memberships include seven-day adult plans ranging in price from $2,100 per year (twilight) to $9,900 per year (corporate) and five-day plans ranging in price from $1,800 (twilight) to $2,400 (annual), as well as junior memberships for those ages 16 to 24.

Kidwell knows a good thing when he sees it. Originally from Indianapolis, he spent 15 years in Orlando, Fla., where he helped to transform Grand Cypress Golf Club into a premier golf facility. In 2005, White Clay Creek Country Club recruited him to replicate his success, only this time from the ground up, as the course was just being carved out of the hills to complement the Casino at Delaware Park.

Designed by renowned golf course architect Arthur Hills, White Clay Creek Country Club offers nine miles of cart path that traverse the course's 18 holes, many of which are made all the more enjoyable by two prominent water hazards—White Clay Creek and Mill Creek—that cut through the property. Even though the course lies within a quarter mile of the casino, and at some spots on the course golfers can hear the ponies galloping at Delaware Park's thoroughbred racetrack, golfers frequently remark on the course's remoteness and peacefulness.

"Arthur Hills was chosen to design this course because he tries to leave the golf course in as natural an environment as possible," Kidwell says. "He designs through the trees and through the creeks and brings them all into play. You almost get the impression that it has been there for 20 years, because you can't see from one hole to the next. Although our course here is very mature, we've continued to update it so it suits the skills of any golfer, regardless of his or her handicap."

Whereas most courses offer three to four tee boxes per hole, White Clay Creek Country Club provides five sets of tees. In addition to four par-5 holes, including No. 3, which measures nearly 600 yards from the gold tees, the course has a number of deceptive par-4 holes. Kidwell's personal favorite is No. 11, a par-4 measuring 444 yards from the gold tees. He describes No. 11 as "a very difficult hole because of the way it's framed," with stands of maple and cherry trees on the left side of the fairway and White Clay Creek on the right.

"We've continued to make the course as player friendly as possible," Kidwell says. "Every season we're asking ourselves, 'How can we tweak the course to make the rough areas more playable, and how can we trim the trees so golfers can punch the ball through and keep playing?' People used to tell us, 'You have great conditions, great service and fast greens, but I'm losing 12 to 13 balls a round.' Now our conditions are among the best and most playable around. In addition, people are going berserk over our practice area, which they're using to make sure they don't lose 12 to 13 balls a round."

The club's practice facility, which measures 390 yards long, is a personal point of pride for Kidwell; at $899 per year, practice-facility membership has become a popular package for those looking to improve their game away from the course. An extensive short-game facility helps golfers fine-tune their chipping and putting skills, and the use of both facilities is included in a golfer's daily greens fees, as is the use of a golf cart. An indoor studio offers Doppler radar for custom club fittings, as well as V1 for lesson analysis. Also, golfers can view their swings on a 60-inch flat-screen TV, which enhances the facility's ability to teach all year long, regardless of the weather.

Golfers can further hone their game at White Clay Creek Golf Academy, where certified PGA Golf Professionals and Apprentice Professionals offer personalized instruction to each individual, both indoors and out. The academy includes a thriving junior program, with an extended junior camp this spring, where Kidwell and his team nurture the game's next generation.

Out on the course, every golf cart is equipped with a state-of-the-art GPS system, providing yardages to bunkers, water hazards and fronts and backs of each green, as well as the location of each hole. In addition, golfers can record their scores and have scorecards printed after each round.

Other amenities include a 1,600-square-foot boutique golf shop designed by Kidwell and an expansive private locker room with more than 250 cherry-wood lockers. Also, after a day on the course, golfers can unwind with fantastic fare at the At the Rail Wine Bar and Grille, which has become known for its expansive selection of wines, martinis and craft beers, as well as a Sunday champagne brunch. The onsite Veranda Ballroom has become a popular spot for weddings, luncheons and other special events.

"Because we're a country club, there's a myth that our restaurant is private," says Kidwell, adding that the restaurant recently benefited from the introduction of a new menu crafted by White Clay Creek Country Club's executive chef. "Of course, our restaurant is open to the public and we're confident people will find our food and beverage options to match the rest of our amenities."

If the mood strikes, golfers can take a complimentary shuttle bus to the Casino at Delaware Park, which originated as a thoroughbred racetrack in 1936. The casino offers 2,500 slot machines, 48 table games, two poker rooms, year-round simulcast horseracing and seasonal live horseracing at the onsite track. When taking a break from gaming, guests can partake in a host of dining options at the 16 in-house restaurants, offering everything from fine-dining steakhouses to on-the-go concessions. Although Delaware Park does not have a hotel of its own, the property works closely with nearby hotels, as well as other local businesses to offer attractive "stay and play" packages, that can accommodate any budget.

Wilmington has become a destination for more than just exceptional golf and entertainment, to include world-class shopping at Christiana Mall and other nearby shopping districts. As a result, Delaware Park has become a destination for special events. Last spring, for example, former National Football League lineman Erik Williams, a Philadelphia native who spent most of his career with the Dallas Cowboys, hosted a two-day event that began with an evening poker tournament featuring 88 players, followed by a day on the course with 78 golfers. The event was so successful that Williams and his crew will be returning for an encore this June.

"From the very beginning we wanted to deliver a country club experience, and that begins the moment you step out of your car and extends through the time you leave to go home," says Kidwell. "Everything we do here is to reinforce that country club experience for anyone who wants to enjoy a perfect day on the course."

White Clay Creek Country Club at Delaware Park
777 Delaware Park Blvd.
Wilmington, DE 19804
www.whiteclaycreekcc.com | www.delawarepark.com
302-994-6700

Visit the White Clay Creek Country Club website for more information on memberships, greens fees and other amenities for 2015.