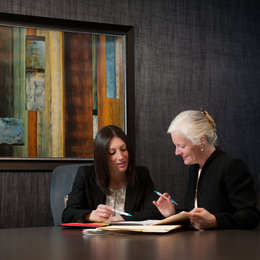 Fierce Advocacy, Compassionate Counsel
Schimmel Family Law brings it all to the table for clients contending with all areas of family law
Diana C. Schimmel has long had a passion for family law. Before launching her private practice, Schimmel served in several roles that helped her build an impressive skill set in the field. Today she's able to utilize those skills as she serves her clients in a truly full-service firm dedicated exclusively to family law.

"From the time I left law school I had an interest in family law and helping families in general," says Schimmel, who is the founder and lead attorney at The Law Office of Diana C. Schimmel, Esquire, also known as Schimmel Family Law. The firm is headquartered in Philadelphia, with a second location in Cherry Hill, N.J. "There's a nice quality to practicing law when it involves people and their family. It's much more personal and it's an opportunity to make a difference."

Before establishing her own firm, Schimmel served as the interim law clerk to The Honorable Donna M. Woelpper in the Family Court of Philadelphia, Juvenile Dependency Branch, and worked as a Child Advocate Attorney for the Defender Association of Philadelphia in its Child Advocacy Unit.

"I'm grateful for a background that gave me the tools I needed to form my own practice," Schimmel says. "When I decided it was time to go out on my own, I knew right away that family law was where I wanted to be."

A Successful Team
Also quite accomplished in her career is Katie W. Scrivner, the firm's other practicing attorney. Like Schimmel, Scrivner has a background that delves into the roots of family law. Scrivner most recently served as a Custody Master for the First Judicial District of Pennsylvania, Family Division, presiding and ruling over thousands of contested custody matters.

"That experience allows me to bring an interesting perspective to my current cases," Scrivner says. "I can tell clients that I've been on the other side of the table. I have a sense of what the court might be looking for and why they may rule the way they do. I think that gives my clients confidence."

Scrivner also has previous experience as a law clerk to The Honorable Charles A. Ehrlich in the Court of Common Pleas, Criminal Division. She also served as a Philadelphia Assistant District Attorney in the Family Violence and Sexual Assault Unit. As a prosecutor who specialized in bringing to justice offenders who had sexually assaulted young children, Scrivner dealt with some of the toughest cases imaginable.

"That work prepared me for dealing with difficult issues and formulating the ability to put the pieces together for litigation," Scrivner says. "People who come to us in the midst of a divorce or custody battle are facing a serious life crisis and I understand that. I'm prepared to fiercely advocate for them while recognizing that they are human beings who are truly suffering and in need of understanding and compassion."

Building Trust
Being compassionate and being aggressive at the same time may seem incongruous, but the truth is that a good lawyer possesses both of these characteristics. Schimmel and Scrivner certainly have each one in spades.

"Having cut our teeth with the DA and PD offices, we both know what it is like to be seasoned courtroom attorneys," Schimmel says. "We can be aggressive when we need to be. Plus, we know the law—and we know it well.

"When it comes to family law, compassion and aggression intersect," Schimmel continues. "You want an attorney that is going to fight aggressively for your best interest in court or with opposing counsel. But it's also a sensitive and emotionally charged area. Oftentimes when people are dealing with the end of a marriage, they come in with a lot of questions and concerns. Sometimes I'm the first person they've even opened up to about this. It's my job as an attorney to now help you cut through what was previously so scary and make it easier for you."

Schimmel says that she and Scrivner act as attorneys and counselors at times. "We can walk you through the process," she says. "We'll take that burden away of navigating the court procedure or communicating with opposing counsel. We let clients know they can lean on us for support."

Both attorneys take that promise to heart. Scrivner says that even if a client comes to her with a concern that has no legal course of action, she's more than willing to be a sounding board.

"Clients will sometimes tell me about something unfair or hurtful they're dealing with during the divorce process and there's not always a legal remedy," Scrivner says. "But that doesn't mean I'm not there to talk. I'm there to listen to my clients no matter what. It's not just about fighting for you but about listening to you, too."

In addition to building relationships with clients, Schimmel and Scrivner are also building trust. Work isn't being shuffled off to a paralegal; each client is served directly by one of the attorneys.

"We're truly committed to our clients," Schimmel says. "And we bring a level of attention and detail that you won't find elsewhere. We are incredibly focused on each case and we don't let anything slip through the cracks."

It's that personal touch that clients appreciate, and the fact that both Schimmel and Scrivner have so much experience in family law adds a level of comfort. "It's all we do," Schimmel says. "And it's what we know best."

Committed to Clients
While law is a primary passion for both Schimmel and Scrivner, they also have families and hobbies they love at home. Before heading to George Mason University for college, Schimmel grew up on the Main Line, and ultimately came back to Pennsylvania for law school at Widener University in Harrisburg. She is engaged to an engineer from New Jersey and enjoys dance class and yoga in her spare time. Scrivner also grew up in the Philadelphia area, is married to her high school sweetheart, and has a little girl at home.
"Having grown up in the Philadelphia area, we have a connection to the region and to its people," Schimmel says. "You can also be sure you're getting an attorney who is passionate about the field. We have a vested interest in the families we serve."

The Law Office of Diana C. Schimmel, Esquire
267-207-3573 | www.schimmelfamilylaw.com

Two Logan Square
100 N. 18th St., Suite 300
Philadelphia, PA 19103

923 Haddonfield Road
Building B2, Third floor
Cherry Hill, NJ 08002

Photograph by Jeff Anderson