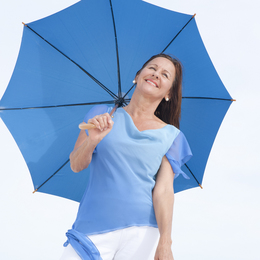 Enough
With the average U.S. lifespan at an all-time high, investors take precautions to make sure their money lasts at least as long as they do
A person born in the United States in 1970 had a life expectancy of 70.8 years, according to the U.S. Centers for Disease Control and Prevention. The number has since risen to 78.8 years, and, given further advances in medicine, technology and nutrition, it will in all likelihood continue to climb. Although most would consider a life of nearly 80 years "a good run," Americans more than ever have the potential to live significantly longer. Look no further than Gertrude Weaver of Arkansas, who in early April earned the title of the world's oldest person, at age 116; she passed away less than a week after earning the title.

While living longer is generally considered a step forward for humankind, it also presents certain challenges. For example, considering the generally accepted retirement age of 65, how does one afford to live these "extra" years? Owen F. Mulhern IV, president and senior wealth advisor of Financial Coach in West Chester, has a pretty good idea how: by planning ahead.

"You have to have a plan for the long term," he says. "That can be difficult, because the 24-hours-a-day, seven-days-a-week cycle of negative news adds confusion to the mix, but a good financial advisor is somebody worth paying for if it helps filter out the noise to get down to what really matters so that the investor has the confidence to maintain their lifestyle 25, 30 or even 40 years after they have retired. That confidence is created by planning around your goals and desires, so that despite the longevity and despite the negative news, you know everything is going to be OK."

Once an advisor has the information needed to understand those goals and desires, and has a clear picture of a client's financial picture—assets, debts, financial obligations, etc.—he or she can then put the pieces of the puzzle together, according to Mulhern. Although well-chosen investments have the potential to bolster an investor's ability to enjoy a comfortable retirement, they collectively represent just one of the many elements of a comprehensive financial plan. A qualified advisor would also consider everything from insurance and tax implications to opportunities for income streams that can help sustain a client long after he or she has left the work force.

"The complexity of the retirement planning aspect has grown markedly, in that today's retiree now has to deal with so much more," Mulhern says. "The conditions on the 'playing field' are much more difficult now; we have to plan for being around for a longer period of time, and the news around us is making the planning process more difficult. But it doesn't have to be as complicated as some in the industry make it seem.

"The preponderance of folks we meet do not feel at ease, regardless of the size of their portfolio; there is an underlying fear of running out of money and a lack of confidence at all asset levels," he continues. "It seems to be that way even for folks with sizable estates and a high net worth. Most of my clients didn't inherit their wealth, and we're not talking about people with huge salaries; these are people who were living within their means and always looking to the future. They leveraged the value of time so that by the time retirement came around they arrived with a couple million dollars. It doesn't matter where you're saving as long as you're saving, but once that paycheck stops, that's where the real planning begins."

An abundance of liquid assets will serve as the foundation for a comfortable future. Even so, most retirees will need help in the form of a qualified advisor who can help protect and grow those assets so a retiree does not outlast his or her money. With a seemingly exhaustive list of options, however, where does one begin the search for "the one"?

"A good advisor is tough to find," says Terry L. Jue, a financial advisor with Ameriprise Financial in Philadelphia. "You're looking for someone who has two specific qualities. First, you need someone who is able to handle your situation and understand what you're going through and the complexities you're dealing with. … The second part is you want someone you can really trust; that's the most important thing."

A significant percentage of Jue's new clients are referred by existing clients, meaning there is a preexisting bond, however slight, between them. "That trust is already there," he says, "because it's based on the experience that their friend or family member had." For someone looking to either switch advisors or hire an advisor for the first time, Jue suggests whittling a list of prospects down to as few as three advisors. Then, he says, meet with each one to "test the waters" before making a final decision.

"Meeting with a person is the best way to understand if [the financial advisor] sitting in front of you is someone you trust, someone who will look out for your best interests and someone who is capable of handling the work," he says. "There are plenty of advisors who are basically salesmen and not providing any real value; as an advisor, you need to do much more than understand the product side of the business and know more than the basics. Interest rates are changing every day, and there's a mess going on in Europe right now. How will those factors affect someone's financial plan?

"The game plan that worked six months ago doesn't work today," he continues. "Is the thesis [behind your financial plan] from six months ago still relevant today, in the environment we're in now? A good advisor can help."



Set for Life
A referral could very well be the most productive way for an investor to connect with a financial advisor that best suits his or her individual needs. The advisors mentioned on the following pages were plucked from our readers' contacts lists, so consider these men and women "recommended." These individuals have spent their careers maintaining, protecting and cultivating their clients' assets. The peace of mind that comes from finding a knowledgeable, trustworthy financial professional such as one of the folks listed below is, in a word, priceless.

2015 Financial Advisors
William F. Adolph III
William A. Gallagher
The Adolph & Gallagher Group of Merrill Lynch
Bala Cynwyd
610-668-6108 | 610-668-6165

Christy Barilotti
Barilotti Wealth Strategies LLC
Philadelphia
215-964-9863

Drew Barlow
Brian McKeon
Penn Management Group at Morgan Stanley
Doylestown
215-230-2910

Bradford S. Bernstein
Bernstein Wealth Management of UBS
Philadelphia
215-972-6832

David Bezar
Bret Elam
Thrive Financial Services
Fort Washington
800-516-5861

Lisa Bodine
Michael DiChristofaro
Frank R. Policare
Patrick Trauger
Penn Wealth Planning LLC
New Hope
215-862-7080

Robert C. Boland
The Boland Investment Group of RBC Wealth Management
Philadelphia
215-557-1702

Patricia C. Brennan
Key Financial Inc.
West Chester
610-429-9050

Rosemary G. Caligiuri
John H. Lindsey Jr.
Bea Stinson
Harvest Group Financial Services Corp.
Langhorne
215-860-6056

Raymond Carota
Brandywine Financial Group Inc.
West Conshohocken
610-828-1155

Brett J. Ciarelli
Morgan Stanley
Philadelphia
215-963-3830

Rachel R. Cohen
Brian Sutcliffe
Cohen & Sutcliffe Group of Morgan Stanley
West Conshohocken
610-260-7688

Robert A. Connell
Stuart Caplan
William F. Davis
Apex Financial Advisors Inc.
Yardley
215-493-1900

Glenn A. Dever
Brian L. Kramp
Coho Partners Ltd.
Berwyn
484-318-7575

David T. DeWitt
Bob Milnes
DeWitt Capital Management
Wayne
610-975-4435

Austin Dutton
Bridge Valley Financial Services LLC
Furlong
215-794-1400

Scott D. Edelman
Edelman Wealth Management Group Inc.
Yardley
215-579-5601

David S. Eisen
Charles E. Sessa Jr.
Eisen-Sessa Institutional Consulting Group of UBS Wealth Management
Philadelphia
215-496-2396

Blake P. Epstein
Christopher R. VanDusen
The VanDusen Epstein Group at Morgan Stanley
Philadelphia
215-854-1652

Roy M. Fairman
Marianne Inforzato
Shawn P. Kindt
Douglas E. Morisoli
Fairman Group Family Office
Berwyn
610-889-7300
Robert F. Farrell
Farrell Wealth Management Group of Janney Montgomery Scott LLC
Philadelphia
215-665-6609
Sean Flatley
Tim Flatley
Robert Orbin
Michelle Smaltz
Sterling Investment Advisors Ltd.
Berwyn
610-560-0400

Lisa W. Fouraker
Steven C. Victor
Victor/Fouraker Group of RBC Wealth Management
Conshohocken
484-530-2851

Matthew Frank
Ari Spectorman
The Doylestown Private Wealth Group
Doylestown
267-893-6920

Dennis Freedman
Joel Goodhart
Stuart Leibowitz
BIRE Financial Services LLC
Plymouth Meeting
610-825-4066

Mark Fried
TFG Wealth Management LLC
Newtown
215-968-1755

Robert P. Friedman
Friedman Financial Services Group of Wells Fargo Advisors
Berwyn
610-648-8912

John T. Garvey
The Garvey-Clark Management Group of UBS
Philadelphia
215-496-2042

Pedro Gomes
Morgan Stanley
Philadelphia
215-854-6000

Tom Griffiths
Griffiths Financial Services
Newtown
215-944-8125

Jay L. Heller
Brian Kohute
HJ Wealth Management LLC
Plymouth Meeting
610-272-4700
Kevin Holt
Jeff Leppert
Mark Meloro
Market Street Wealth Management
West Chester
610-692-3200
Scott E. Holstein
Prudent Wealth Management Inc.
Feasterville
215-942-8640

Peter K. Hoover
Hoover Financial Advisors P.C.
Malvern
610-651-2777

Loretta Hutchinson
InSync Financial Group
Yardley
215-302-3437

Yale P. Joseph
Morgan Stanley
Blue Bell
215-274-2565

Terry L. Jue
Ameriprise Financial
Philadelphia
215-789-4961

Eric J. Kelman
Massimo Magliari
Kelman and Magliari of Ameriprise Financial Advisors Inc.
Conshohocken
610-397-0997

Jeffrey M. Kropp
Market Street Wealth Management
West Chester
610-692-3200

Joseph S. Little
Bala Financial Group Inc.
Devon
610-940-1010

Paul Lofurno
Wells Fargo Advisors
Philadelphia
215-496-7674

Brendan Magee
Inevitable Wealth Coaching
Drexel Hill
610-446-4322

William Manchester
The Manchester Group
Conshohocken
610-567-1934

William P. Marshall
Ryan D. Murray
Marshall Murray & Associates of Ameriprise Financial Services Inc.
Langhorne
215-757-7600

Richard J. Massaux
Parker Massaux Investment Group of Wells Fargo Advisors
Philadelphia
215-564-8308

Robert J. McKiernan
Morgan Stanley
Bryn Mawr
610-542-2952

George McReynolds
McReynolds Wealth Management
Lansdale
215-699-1050

Geoffrey T. Michael
Patricia Michael
Llewellyn G. Ross
The Michael/Ross Team of Merrill Lynch
Princeton, N.J.
609-243-7969

Henry J. Miller III
Locust Capital
Philadelphia
215-735-9530

Mark A. Milligan
William Mundy
The Milligan Mundy Group at Morgan Stanley
Blue Bell
215-274-2226

Robert Morris
Royal Alliance Associates
Ardmore
610-896-9919

Brett Mower
Merrill Lynch
Philadelphia
215-587-4710

Owen F. Mulhern IV
Jeff Mastronardo
James H. McLaughlin
Michael Traynor
Financial Coach
West Chester
484-887-0452

Adam J. Murray
Morgan Stanley
Philadelphia
215-963-3857

Paul T. Murray
PTM Wealth Management
Chalfont
855-786-9584

Andrew R. Nehrbas
Steven M. Lane
David S. Penn
Meg Tegler Hardesty
The Nehrbas Group of Janney Montgomery Scott LLC
Bryn Mawr
610-526-7200

Christy H. Neill
Ameriprise Financial
Philadelphia
215-789-4952

Sean Newman
Wells Fargo Advisors LLC
Doylestown
215-230-2893

Kevin P. Nicholson
Brian P. Walsh
Walsh & Nicholson Financial Group
Wayne
610-688-4447

James Notarianni
Ameriprise Financial Services Inc.
Philadelphia
215-454-2683

Sanjay K. Pawar
Ameriprise Financial Services Inc.
Plymouth Meeting
610-940-1740

Brett J. Rhode
UBS Financial Services Inc.
Conshohocken
610-832-3016

Karen A. Robbins
UBS Financial Services
Newtown
215-497-3438

Peter Rohr
The Rohr Group of Merrill Lynch
Philadelphia
215-587-4731

Kevin Ross
Innovative Wealth Partners LLC
Bala Cynwyd
800-366-0064

Joseph P. Sarappo III
Retirement Planning Specialists Inc.
Willow Grove
215-657-8600

Stephen R. Schaeffer
Morgan Stanley
Philadelphia
215-854-6041

Michael L. Schwartz
Schwartz Financial Services
Jenkintown
215-886-2122

Adam Soloff
Soloff Wealth Management
Huntingdon Valley
215-874-7147

Jill Broder Steinberg
Walden Capital Advisors
Bala Cynwyd
610-664-6100

Christopher Gerard Steinhauer
Morgan Stanley
Philadelphia
215-963-3884

Charlotte Stellwagen
Stellwagen Financial Services
Bryn Mawr
610-525-6111

Kirk Stensrud
Morgan Stanley
Jenkintown
215-572-2260

Dirk Stribrny
The Stribrny Group at Morgan Stanley
Berwyn
610-408-1900

Andrew S. Vitek
Wells Fargo Advisors LLC
Jenkintown
215-572-2007

Russell Valante
Janney Montgomery Scott LLC
Blue Bell
215-619-3920

Gary L. Vogel
Wells Fargo Advisors
Berwyn
610-407-4726

Jay I. Weintraub
Weintraub Financial Services
Southampton
267-722-8294

Jim Wiley
Wiley Group
West Conshohocken
610-234-2100

Roy Williams
Prestige Wealth Management Group
Flemington, N.J.
908-782-0001

Michael P. Wolfgang
Morgan Stanley
Philadelphia
215-854-6086

The Top Financial Advisors as identified by Suburban Life and Philadelphia Life were determined by a reader poll conducted in February and March 2015 by way of our websites, SuburbanLifeMagazine.com and PhiladelphiaLifeMag.com. Hundreds of readers cast their votes for the person or persons they consider to be a top advisor. Investment performance was not a criterion for their inclusion in this report. An advisor's inclusion here may not be representative of any one client's experience and is not indicative of the financial advisor's future performance. None of the advisors listed here pays a fee in exchange for inclusion in this report.