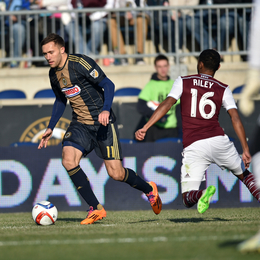 Goal Getter
Hard work pays off for Andrew Wenger, a Lancaster County native who menaces opposing goalkeepers as a forward for the Philadelphia Union
It's no wonder Philadelphia fans have a soft spot for Andrew Wenger. As a starting forward for the Philadelphia Union, he's always a threat to score on opposing goalkeepers. It might be his unrelenting effort, however, that the Sons of Ben—the Union faithful who support the team during every match at PPL Park in Chester—appreciate the most.

Although he was clearly an elite soccer player at a young age, Wenger didn't give serious thought to a professional career till his junior year of college; he was too busy putting in the effort to get to the next level, too focused on trying to prove his worth on every inch of the field.

Wenger played offensive and defensive positions for Duke University, where he earned multiple awards and honors, including the Atlantic Coast Conference's Men's Soccer Offensive Player of the Year in 2011. After college, he started his Major League Soccer career with the Montreal Impact and came to the Union in a trade last April. He finished the 2014 season with seven goals in 32 matches, starting in 23 of them.

At the outset of the 2015 season, Wenger and his Union teammates were eager to build off recent successes, which included playing for the crown in the 2014 Lamar Hunt U.S. Open Cup; they fell to the Seattle Sounders, by a score of 3-1, in extra time. Although the Union squad was winless in its first four games of this young season, Wenger believes his team will find its groove.

Having been born and raised in Lititz, a quaint borough in Lancaster County, Wenger is something of a local talent. We spoke with the 24-year-old Wenger about his experiences playing in front of the hometown crowd—"My parents come to every [home] game," he says—as well as living in Philadelphia and what he does with his time between matches. Hint: He'll be happy to offer his recommendations for a good book or a must-visit restaurant in one of Philly's most desirable neighborhoods.

You've been playing for the Union for about a year. How has the experience been so far?
It's been sort of up and down. On a personal level, it's been quite good. I like being closer to home, but it's been a tough start to the year. We're building off last year, where we missed out on a good opportunity at winning [the 2014 Lamar Hunt U.S. Open Cup] by inches.
Our goal is always to make the playoffs; we don't want to be one of those teams to miss, and that's the mentality. My goal is to always be putting in good shifts in games, being a constant threat and being a player that other teams look out for on the field. On a personal level, I want to be better than last year. When I was growing up, it was always about making the next team and being better year in and year out.

How does Philly compare to other U.S. cities in Major League Soccer in terms of crowd, venue, etc.?
It's great here. We have a very strong and supportive fan base, and they're always there for us. Union fans are similar to Eagles and Sixers fans; they're all pretty much cut from same cloth in terms of how much they care about the game.

When did you realize soccer could be a legitimate career path for you?
Growing up I always dreamed of playing soccer professionally, but my more immediate goal was just making the next team, then going to college, then playing in college, then being a starter. I never really thought about [playing professionally] actually being a possibility until my junior year. Even now when I stop and look back and see what's happened, in a sense it's pretty amazing. The crowd and the scope of it all can be overwhelming at times, but it's still a game at the end of the day, so you don't let it get to you too much. You have to focus on doing your job.

You're only 24, but have you thought about your life after your playing days have concluded?
I've tried to keep all my options open, so that I'm prepared for it when that one day comes, which hopefully is years from now. It probably wouldn't be coaching. I would be interested in doing something in the world of business.

What do you do with your time off the field?
I live in Northern Liberties, so I spend a lot of time over here, in the restaurants around here. I like the neighborhood places like the Druid's Keep and Jerry's Bar, and I'm excited about the Heritage opening up on 2nd Street, which is going to be pretty much across the street from Cantina Dos Segundos. I also spend my time doing a lot of reading. The best book I've read recently is probably "The Goldfinch" [a novel from Donna Tartt that won the Pulitzer Prize for fiction in 2014].

Photograph by Greg Carroccio/Sideline Photos