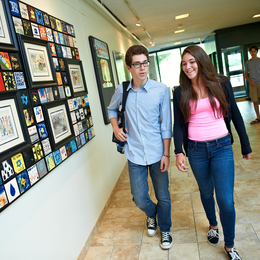 Fostering Community
The students and staff of Jack M. Barrack Hebrew Academy invite the community to "Get to Know Jack"
Parents seeking a truly pluralistic academic institution for their children must consider many factors. Not only must the school include students from a variety of socially and philosophically diverse backgrounds, but it must also emphasize internationalism and multilingual education. Furthermore, it must also promote students' freedom to explore an array of academic disciplines, while creating a feeling of safety in doing so. Parents and students from southeastern Pennsylvania, New Jersey and Delaware find all this and more at Jack M. Barrack Hebrew Academy in Bryn Mawr.

Sharon P. Levin, Barrack's Head of School, "knows Jack" as well as anyone. She has been in her current position for four years but has spent a total of 29 years with Barrack, having served as a history teacher, Coordinator of Humanities and Academic Dean. She is also "a very proud parent of two alumni," one of whom worked for four years as a Barrack teacher.

"The Jewish spirt and soul of the school just permeates everything," Levin says. "Students come from miles and miles away; we have kids from Wilmington, Allentown, Bucks County, as far away as West Windsor, N.J. We have students who travel two hours in each direction to get here. That speaks to the fact that we're so unique. Students here see a common bond of traditions, values and respect for one another. You always feel as if you're not only with friends, but you're also with family.

"We're a school that values and celebrates the richness of Jewish culture, history and a strong connection to Israel, so I think our students all share that common bond," Levin continues. "All this prepares students to be leaders in the global community and the American community, as well as the Jewish community." Levin quotes Jake Tapper of CNN's The Lead, a Class of 1987 graduate, who was a recent commencement speaker, saying, "Barrack wants its students to be tough, to be smart, to be great—to take the harder and more meaningful path and to suck out the marrow of life."

Barrack, which is open to students in grades six through 12, is "a top-notch academic preparatory school with a Jewish soul," as Alex Stroker, Barrack's Chief Operations and Development Officer, explains. "Our SAT scores and college acceptance rates rival any other outstanding independent school."

As Academic Dean, it is Darin Katz's job to oversee the secular and Judaic curricula for the school's 355 students. "Our curriculum is second to none in preparatory studies for critical thinking, and we really accomplish that through studies of texts that can be secular or Jewish," says Katz.

Barrack has recently hired a director for its new STEM (science, technology, engineering and math) initiative. The school already offers a robotics team for students of all grades, and the new plan for expansion of STEM studies will include additional computer classes, with coding introduced at the middle school level. "We've always had a very rigorous science and math curriculum," says Katz, who is the father of two current Barrack students. "We started teaching engineering 12 years ago, before it was even a thought for most high schools."

Barrack recognizes that writing and research, too, are skills of paramount importance. "One hundred percent of our alumni, when they come back to visit campus, say they were so incredibly well prepared to write when compared to their roommates and friends," he says. "Regardless of their field, students need to be able to write well, and we're very proud of how proficient our students become."

In addition to their secular and Judaic studies, all Barrack students, grades six through 12, study Hebrew. Most students in both the middle and upper school elect to learn another language, such as French, Latin or Spanish, as well. For those students who do need a bit of extra help, Barrack offers a comprehensive resource program for not only academic support but also executive functioning, organizational and test-taking skills. "Our students are busy," Katz explains. "They take many classes, so there is a great deal of work from all of their teachers and a lot of expectations to manage. Our resource program helps students navigate this."

Rabbi Judd Kruger Levingston, Director of Jewish Studies, serves an integral role in ensuring that Barrack students are well educated on matters relating to Jewish history, culture, philosophy and text. Students in each grade also get an opportunity each year to attend an overnight Shabbat led by Rabbi Rick Brody, Director of Jewish Life at Barrack, and 11th graders can participate in a life-changing trimester abroad in Israel.

One of Barrack's hallmarks is the Derech Eretz pledge, an honor code by which the school's students and staff are meant to live and study. Rabbi Levingston explains that Derech Eretz focuses on six values, which are humility (Anava), modesty (Tzniut), honor (Kavod), honesty (Yosher), community (Kehilla) and fellowship (Hevruta).

"I think it's critically important for young people … to begin to have adult answers to really serious questions," Rabbi Levingston says, "So when they encounter questions as adults, so that they speak with confidence and knowledge about complicated ideas."

Rabbi Levingston, who is himself the parent of two Barrack students—one alumnus and one seventh grader—notes he encounters many parents who never had the benefit of a strong Jewish education and as such, they struggle on occasion with providing answers to some of their children's most difficult questions.

"All of us in the department—some of us are rabbis and some are not—we all take seriously our job to reach our students emotionally, not just intellectually," Rabbi Levingston says. "We really hope the materials we teach strike a chord so that students will grow up to act morally and ethically."

In her capacity as Director of Admission and Strategic Engagement, Jennifer Groen is charged with not only overseeing admissions, retention and enrollment but also outreach and community engagement, which are of paramount importance at a community-focused school such as Barrack.

Groen, who is a Barrack alumna herself, has two children she hopes will leave a positive mark on Barrack: one child is in seventh grade, and the other she hopes will have the opportunity to join the school for sixth grade next year.

"Sense of community is very strong in the Jewish world," Groen says. "The thing that builds community best is really investing in personal relationships."

This can be seen everywhere at Barrack. The school, formerly Akiba Hebrew Academy, has a very active alumni association of more than 2,000 members. Families become part of the Barrack experience too, through events such as parent grade meetings and social gatherings such as potluck dinners.

Community is fostered within the school via student participation in a vast array of clubs, ranging from world politics to math, debate, community service, dance, engineering, fashion, writing, ethics and Jewish culture. In addition, students can opt to participate in an equally impressive array of sports teams, including tennis, cross country, basketball, squash, track and field, golf, lacrosse and soccer.

"Students here feel safe to be who they are," Katz says. "I mean that in the broadest of ways. Actors, for example, are celebrated, as are athletes and mathematicians. Students feel safe to pursue their passions here and find their niche. It's an unbelievably supportive environment; it's a gift."

This sense of community includes not just building but giving back. The school holds numerous Tzedakah drives each year for donations of food and clothing. In addition, all senior students complete a service project relating to work they do with a nonprofit organization such as a public school in the city, the Philadelphia Mural Arts Program, Habitat for Humanity or a home for senior citizens.

Katz cites tikkun olam, a Hebrew term roughly translated to mean "repairing the world," in explaining the ultimate goal of Barrack.

"We want our students, when they graduate from Barrack, to make that part of their lifelong mission, so they leave here as good Jewish citizens of the world, with a strong appreciation of Jewish history, a very strong tie to the state of Israel and a desire to take Jewish values and repair the world," Katz says. "Jewish students of any denomination, any observance level, will feel welcomed and valued at Barrack. We are one big family."

To "Get to Know Jack" or get more information on joining the Jack M. Barrack Hebrew Academy family, call 610-922-2350 or visit www.jbha.org.