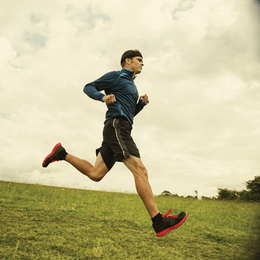 Pushing the Limits
Abington Health orthopaedists are utilizing a new, minimally invasive procedure for knee replacements that dramatically shortens a patient's recovery time
Mary, 70, had been struggling with a bad knee for at least a decade when she decided she had suffered long enough. She knew a knee replacement was probably her best option. She was thrilled that her orthopaedic surgeon, Andrew Star, M.D., medical director of Abington Health's Orthopaedic & Spine Institute, said he could do a minimally invasive partial knee replacement utilizing MAKOplasty® robotic arm technology. Mary had the procedure and in just a few short months she can get back to playing tennis.

A few decades ago, many people needing joint replacement surgery had rheumatoid arthritis, a disease for which treatment has markedly improved. Today, osteoarthritis—caused mainly by aging and wear and tear on the body—is the leading reason for joint replacements. The good news is that patients no longer need to suffer. MAKOplasty partial knee resurfacing is a highly advanced, minimally invasive procedure that saves as much of the original knee as possible. "Unlike traditional knee replacement surgery, our robotic arm technology allows us to totally customize the procedure to an individual's knee, sparing healthy bone and tissue," says Dr. Star.

MAKOplasty, Dr. Star explains, marries preoperative imaging (CT scanning) with computer guidance, which has been available for years. "But now, in addition, surgeons can take that information into the operating room and very precisely—using the robot—position the implants for optimal results. The robotic arm is really a means to carry out the plan provided by the computer guidance system, all through a minimally invasive incision."

One of the main differences the robotic approach offers is that it allows the surgeon to very accurately select the size of an implant and match it as perfectly as possible with the remainder of the knee. This is particularly important because, unlike total knee surgery, surgeons must work to align it with the residual two-thirds of the natural joint. In addition, balancing the ligaments for smooth range of motion and stability is vital for these patients who are generally younger and more active than patients requiring full knee replacement.

The Orthopaedic & Spine Institute has been performing minimally invasive knee replacements since 2001, and procedures utilizing computer guidance since 2005. "At Abington, it has been a natural evolution to adopt this next step," Dr. Star says. "We have been doing partial knee replacements without the robot for the past 14 years and are excited about the additional accuracy and reliability that this new technology adds."

According to Dr. Star, the ideal patient for MAKOplasty is usually someone approximately 50 years of age who may have failed a knee arthroscopy because of too much arthritis but whose arthritis is limited to only one part of the knee. It is a good option for lifelong athletes who experience over-use injuries; it is not suggested for severely obese patients.

For patients undergoing MAKOplasty, the procedure has numerous potential benefits, including less postoperative pain, quicker recovery, a shorter hospital stay, a more natural-feeling knee and a smaller incision.

The highly developed MAKOplasty technology behind the robotic arm (called RIO®) works in tandem with an interactive three-dimensional, virtual, patient-specific visualization system. Using a CT scan of the patient's knee, the system prepares a presurgical plan for bone preparation and customized knee implant positioning. During the procedure, the computer generates a 3-D live-action, virtual view of the patient's bone surface and correlates that image to the preprogrammed surgical plan. As the surgeon uses the robotic arm, its tactile, acoustic and visual feedback limits bone preparation to the diseased areas only and provides pinpoint accuracy for optimal implant positioning and placement for each patient.

At the Orthopaedic & Spine Institute, joint replacement patients receive all of their care in one location. For patients receiving this minimally invasive procedure, physical therapy begins the same day as surgery, then two times daily until discharge. Most patients continue with outpatient therapy after they leave the hospital. The institute consistently earns a 97 percent patient satisfaction rating, when compared to the Press Ganey database of all hospitals in Pennsylvania.

Orthopaedics is a dynamic field of medicine. Over the last decade, there have been improvements in surgical techniques and implants resulting in faster and more predictable recovery. "We expect this trend to continue," adds Dr. Star. "Baby boomers are now becoming senior citizens. They are not content sitting in their rocking chairs. As orthopaedic surgeons, we will continue improving our techniques and procedures to enable active, healthy lifestyles well into advanced age."

For more information about the MAKOplasty procedure at Abington Memorial Hospital, or to register for one of the free seminars, contact 215-481-BONE (2663) or visit www.abingtonhealth.org/bone.

Solutions for Painful Knees
The Orthopaedic & Spine Institute will host free seminars titled "Solutions for Painful Knees" on the following dates: Tuesday, April 21, at Lansdale Hospital, in classrooms E & F, from 6:30 p.m. to 8 p.m.; and Thursday, May 14, at Abington Health Center in Warminster, in the main meeting room, from 6:30 p.m. to 8 p.m.