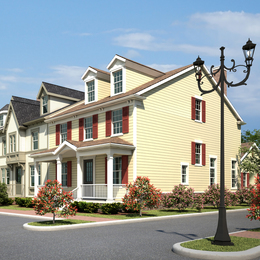 In Bloom
Flowers Field, a distinctive new community in Yardley presented by DeLuca Homes, offers a luxurious lifestyle that blends modern-day amenities with historic charm
"They don't make them like they used to." This time-tested maxim rings true in most cases, though one notable exception is Flowers Field, a new community of luxury townhomes from DeLuca Homes, coming soon to one of Bucks County's most desirable ZIP codes.

In creating Flowers Field, the brain trust of DeLuca Homes wanted to offer something that could not be found anywhere else, according to Joe DeLuca, who is a second-generation partner in DeLuca Homes along with his brother, Vince. Specifically, they strived to create a connected community that blends the modern-day convenience of upscale amenities—including restaurants, boutiques and other shops within walking distance—with distinctive architecture possessed of a certain Old World charm, all to deliver the highest quality of life imaginable.

"One of our hallmarks at DeLuca Homes is our ability to deliver communities for the way people want to live in today's environment," says DeLuca. "With this community, we're catering not to baby boomers but to 'baby zoomers,' meaning people who want to have the flexibility to travel and be close to cultural events in the local community or the city of Philadelphia or even New York City or other surrounding areas."

Located adjacent to Edgewood Village in centrally located Yardley, Flowers Field will come to life near the intersection of Langhorne-Yardley and Stony Hill roads. DeLuca Homes intends to break ground on the property in May, expecting the first residents to move in by this fall. The property will cater to couples or singles, perhaps with adult children who have since moved out of the family home, who have reached the point in their lives where they want it all—a beautifully designed and distinctive home in a community that offers them an exceptional quality of life and central access to cultural institutions, major highways, airports, etc.—and can afford it.

"One of the things that drew us to this niche community is that so many people want to live in the Yardley, Newtown and Doylestown boroughs but they can't get in because there is no availability, and new product is practically nonexistent," DeLuca says. "We worked closely with the community and Yardley's Historical Architecture Review Board to make sure the aesthetics were keeping in line with the late 18th century and early 19th century time period.


"This is a historic part of the country, and its architecture has had a great influence for, quite literally, centuries," he continues. "The hearty plank siding will emulate cedar siding, and the exterior millwork on the eaves and cornices, as well as all these other details, that are going to make it look and feel like living in the Yardley borough or Newtown borough. We wanted to have the architectural style and feel of yesterday, back to a time period when things were simpler."

DeLuca Homes worked closely with architects from Norristown-based BartonPartners to create multiple options for townhomes. Of the 48 home sites, each home will have three bedrooms, two and a half bathrooms and a two-car garage outback, as well as a full basement. The homes will range in size, from just below 3,000 square feet to more than 3,200 square feet, with price tags starting in the mid-$600,000s.

In addition to the prime location, the historically inspired architecture and the maintenance-free lifestyle, Flowers Field will offer benefits that include a signature kitchen in each home, featuring granite countertops, hardwood floors and deluxe appliances. Residents will also have plenty of opportunities for customization, such as options for a chef's kitchen, a wine cabinet or a microwave built into the cabinetry, according to Kathryn DeLuca Benza, director of sales and marketing for DeLuca Homes.

"These homes were built with a very specific lifestyle in mind," she says. "Although it's not an active-adult community, the low maintenance for the exterior and the grounds is intriguing to people in the same age group. People want less maintenance on the outside of the home and plenty of space inside to relax and enjoy each nook of the house. These are spacious homes with beautiful, well-thought-out floor plans, with first-floor master bedrooms in some models and the option for an elevator in others. It will be reminiscent of Old City or Society Hill, where every home will have a different façade for a one-of-a-kind look.

"It's also going to have a streetscape that is unlike anything you've seen or heard of," she continues. "Around the perimeter, within walking distance, will be some restaurants, boutiques and other establishments that are meant to enhance the environment and residents' quality of life. They will add to that 'Old City living,' combining modern-day amenities with historic charm."

DeLuca Homes has a track record of quality, integrity and creativity in building premier neighborhoods throughout southeastern Pennsylvania and New Jersey. The company has created a legacy of distinction dating back to the 1970s, including Spring Valley Farm in Northampton Township, Eagles Mere in Langhorne and Stone Ridge in Buckingham. Flowers Field, named after the family that once owned the land, will raise the bar even higher.

"People today want the amenities of living with a great kitchen, having space to entertain their group of friends and also take advantage of living in the metro area," DeLuca says. "They also want the ability to pursue an active lifestyle, to be able to walk quickly to a store, café or bakery and to live in the style of home that illuminates the areas they really want to live in. They want a lifestyle that delivers all these amenities without the upkeep that their current homes require. Here, at Flowers Field, we're bringing back how people really chose to live in a community.

"We are excited about Flowers Field," he continues. "We're offering the sense of community that you get from living in a borough, with all the current-day features that homeowners want: technology, energy efficiency, great floor plans, high-end cabinetry and deluxe appliances. This is exactly what the market has been looking for, and we're going to deliver it at the highest possible standards and in high style."

Flowers Field is located at the intersection of Langhorne-Yardley and Stony Hill roads in Yardley. DeLuca Homes will welcome prospective residents to a Grand Opening event at the onsite sales center on Sunday, May 3, from 11 a.m. to 3 p.m. Potential buyers will have access to pre-construction, Phase I pricing and their first choice of available home sites. Those interested should call Joanne Marricone at 267-756-1520 for more information.