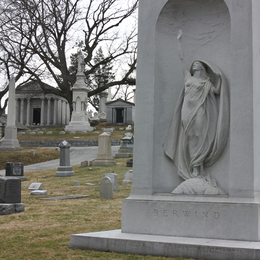 Resurrected
A vibrant events calendar has transformed Laurel Hill Cemetery into a destination far exceeding its roots as an historic burial ground
A winding, narrow road weaves through this tiny town, lined by granite and marble homes on either side. This community doesn't have a neighborhood bar or grocery store; instead, it is the resting place for deceased residents of Philadelphia and surrounding communities, some dating back to the 1800s. This community is Laurel Hill Cemetery, in the city's East Falls neighborhood, right along the Schuylkill River.

Designated a National Historic Landmark in 1998, Laurel Hill Cemetery has welcomed a variety of residents—some famous, some infamous, some ordinary—since its founding in 1836, but this local landmark is much more than an historic bone yard. Last September's performance by the Dead Milkmen is a prime example. A legendary punk band that had its heyday in the late 1980s, the Dead Milkmen brought more than 1,000 people to the cemetery, using a mausoleum as their stage. "They emailed me," says Emma Stern, Laurel Hill's director of programs, when asked how the show came to be. "They were like, 'Can we do a show there?'" Of course, she obliged.

The concert, which helped raise funds for Laurel Hill, was atypical of what one might find on the activities rosters of most places of eternal rest—but Laurel Hill is anything but typical. Other musical guests to have graced the grounds include another Philadelphia band, The Bailey Hounds, who will bring their unique sound back to the cemetery in June. Then there is the Divine Hand Ensemble, which plays cemetery-appropriate "funerary music with a Theremin," says Stern. "[The Theremin] is one of the earliest electronic instruments, and it's played without contact." The Divine Hand Ensemble will return to Laurel Hill in September.

Such events would not be possible without the Friends of Laurel Hill Cemetery, an organization that was founded in 1978 to help restore the cemetery to its original glory after a period in which it was abandoned and in a state of disarray. Through special events, as well as memberships, the Friends of Laurel Hill Cemetery raises money that is then used for "the general preservation and promotion of Laurel Hill," says Stern.

Even more of these special events are being introduced this summer, most of which were created by volunteer tour guides. These include "What's your Sign? Astrology with a Sense of Humors" and "Surrender at Appomattox: The End of the Civil War." Other special events include photography-focused "Lunar Strolls," which are hosted by Stern, as well as yoga, the "Ghostly Circus" (fire performers!) and "Cinema in the Cemetery." Although the months of September and October usually provide the busiest time of the year for Laurel Hill, the summer comes in as a close second thanks to the robust events calendar.

Touring the nearly 80 acres encompassed by the cemetery, visitors are likely to be swept into the past. Buried here are the remains of Charles Thomson and Thomas McKean, whose signatures appear on the Declaration of Independence; Thomas Hugh Mercer, hero of the Revolutionary War; and 40 Civil War generals, along with thousands of others.

In addition to the cemetery's inhabitants, Laurel Hill boasts breathtaking architecture and stonework spread throughout the grounds. One interesting headstone belongs to Robert Cornelius, a photographer credited with taking the very first self-portrait in the 1800s, which appears in the stone as one of the only photographs in the cemetery. "It's like the first selfie," says Stern. Other notable Laurel Hill residents joined the community more recently.

"Most of the people who come nowadays who are from Philly come to see Harry Kalas," says Stern. "People come down and bring little offerings," mostly of the liquid sort. Kalas' plot includes seats and grass from Veterans Stadium, and he is memorialized with a huge stone microphone. Phillies fans come to the gravesite to reminisce about the moments in Phillies history immortalized by his booming voice. Besides Kalas, another recent "grave" belongs to Adrian Balboa, the fictional character from the "Rocky" franchise. Adrian's headstone, which was purchased by the "Rocky Balboa" filmmakers, rests near the cemetery's entrance.

A lot of the graves are so close together that it is hard to tell who is related and who isn't; some of the graves are even unmarked, so it is impossible for visitors to know whether or not the ground they are walking on is inhabited by someone from the past. Adding to the "chill factor" are the underground crypts, which are basically freezing-cold stone basements that house bodies. Entering one of these pitch-black crypts might make guests feel as though they have stepped onto the set of a horror film.

Whether during the day or at night at Laurel Hill, it's easy for one to forget about what the beautiful stone structures sprouting from the ground actually represent. With an ever-expanding roster of concerts, movie nights, yoga sessions and much more, it's clear that Laurel Hill Cemetery is much more than it appears on the surface.

Photograph by Christopher Pomparelli

Living in the Moment
Events abound at Laurel Hill this summer

From "The Ghostly Circus" (held this year on May 16) to yoga and movie screenings to concerts and photography tours, Laurel Hill Cemetery hosts a range of events every year. Following is the lineup for the coming months.

Memorial Day Parade, Service and Reception
May 24
In 1868, Laurel Hill Cemetery hosted the first Memorial Day Observance in Philadelphia. The gravesite of General George Gordon Meade, hero of the Battle of Gettysburg, will be the location for a service honoring all veterans. Complimentary beer and refreshments will follow.

Yoga in the Cemetery
May 27, June 13, June 24, July 11, July 22, August 8 and August 26
Attending one of these hour-long yoga sessions (mornings or evenings) is sure to be a unique experience. An instructor teaches each class, which is suitable for beginners and pros alike.

Gothic Americana Folk and Blues Concert
June 6
Philadelphia's The Bailey Hounds will perform their unique music, which is described as a mixture of acoustic, electric, folk and rock. This outdoor concert in the cemetery is a unique summer kick-off.

Lunar Stroll: Photographing Laurel Hill after Hours
June 19, July 17 and August 21
After the cemetery is closed to the public, a photography tour will teach participants to use their flashlights to create unique images.

The Soulstice
June 20
This party, held on the official start of summer, is a fundraising event hosted by Laurel Hill Cemetery's Young Friends. Tickets include an open bar, food provided by a local food truck vendor and much more.

Cinema in the Cemetery
June 27 and August 22
At this uncommon location for a summer movie night, blankets, beach chairs and warm weather enable guests to enjoy a family movie in a location unlike any other.

Under a Crescent Moon: Summer Open House and Veterans' Night of Illumination
August 1
Explore the cemetery's grounds after sunset. Veterans will be honored with a candle at their gravesites, and a tour is available for those wishing to learn more.

South of the Bridge: Explorations of the Cemetery's Southernmost Sod
August 30
Attend this event to see a section of the cemetery that isn't usually included on their regular tours: the south section of Laurel Hill.