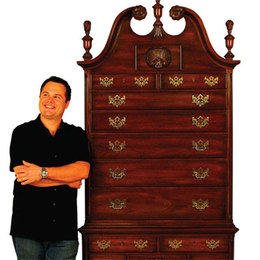 For the best in pre-owned furniture and more
Estate purchases, appraisals, upholstery and excellent customer service are all in a day's work at Stenella Antiques
Estate planning is a fairly common financial concept. But what about estate planning when it comes to your cherished antiques and fine quality furniture? Stenella Antiques in Perkasie works with families regularly and either purchases clean, quality items outright, or offers consignment services on them. While Stenella's specializes primarily in furniture, they also offer complete liquidation services of items such as silver, rugs, art, collectibles and all items of value.
Tim Schieber of Doylestown is a frequent customer of Stenella Antiques buying more than 60 items over the years, and he also has sold many items for consignment. "Stenella Antiques has such high quality items in its inventory that I know they'll be able to sell my items easily," says Schieber.
Appraisal is key
How valuable is Grandma's breakfront or Aunt Maggie's secretary? Say that special piece of furniture needs to be appraised for resale or insurance purposes, where can you get that accurate reckoning? Better and more personal than a TV roadshow, and reliable and friendly to boot, the appraisers at Stenella Antiques bring more than 35 years experience to every appraisal, whether for estate liquidation, insurance quotes, resale or auction. Antiques and heirloom pieces may have hidden value, but it takes an experienced pro to find out.
"It takes an appraiser to know whether you've got a one-in-a-million treasure or a run-of-the-mill trinket. But finding such a pro can be daunting for the uninitiated," says Leslie Haggin Geary, CNN/Money Staff Writer in a recent article titled Treasure or trash? Ten ways to find out.
Stenella Antiques is poised to be that pro and will guide you in asking all the right questions. For instance, Stenella provides its customers with full-service appraisals for insurance purposes, estate planning, authenticity or auction. "There are many reasons having your items appraised is a good idea," says Jim Stenella, owner of Stenella Antiques. "It's always good to know what you own and to have an idea of its value to ensure it's handled and maintained properly and will hold its value."
Where you live in the United States can have a real impact on the value of any given piece; prices can vary greatly depending on locale. Styles that sell quite well in one part of the country might not create much interest in another region. Condition also is an important factor in determining value. Period antique furniture that keeps its original finish may be worth thousands of dollars more than a piece that's been refinished. Particular collections or models of 20th century furniture can vary greatly in price because of scarcity, style and other factors.
Stenella Antiques regularly helps determine the value of customers' antiques and objects of value with expert advice on fine arts, collectibles and furniture. They call on a knowledgeable staff of accredited antique appraisers and licensed auctioneers with decades of expertise in various fields, specializing in American Furniture from the 18th to 20th centuries. Stenella also has extensive knowledge of and works closely with experts in fine silver, rugs, china, pottery, and midcentury modern and fine arts.
Updating upholstery is easy to do
Stenella Antiques offers expert custom upholstery service for any upholstered purchase through its online website or from its 30,000-square foot showroom in Perkasie, Pa. Their upholsterer provides high-quality craftsmanship to some of the most discriminating customers and designers in the area.
Rates are competitive and vary depending on the piece. Up-charges may apply to certain custom requests or pieces in which more detail is required. Customers are encouraged to email Stenella Antiques directly for exact quotes and details.
Standard upholstery services include removal of all previous fabric and fillings, and replacement with the fabric chosen by the customer. All other materials are supplied by the upholsterer. Any minor repairs will be done, such as tightening of a sofa's frame, for example. Items will be reupholstered in similar style to the original manufacturer's design and turnaround time is approximately three to four weeks from the time the fabric arrives from the customer.
"Stenella Antiques is dedicated to ensuring you receive a high quality upholstery service and your piece is ready for enjoyment for years to come," says Stenella.
More than sales
Stenella's showroom has name-brand pieces from Henkel Harris, Stickley, Baker and Kittinger available with a rotating inventory nearly every week, acquiring its furniture from a network of buyers who scour the east coast for antiques and pre-owned items in excellent condition. "A lot of our pieces have great character to them," says Stenella, "and could just as
easily fit in with an 18th century décor in a modern Toll Brothers home as a country farmhouse."
However, Stenella wants his customers to know that he prides himself on being "more than just a shop that sells antiques." In fact, customers have complimented his staff and services in testimonials on the Web site saying that Stenella's goes "out of their way to locate an item" from anywhere in the U.S. It's this customer service—going the "extra mile"—that brings them back for more.
"I just wanted you to know how thoroughly pleased I am with my piano. It is exquisite and just as described. You went to great effort to make me feel comfortable and confident in buying a musical instrument over the Internet from such a distance," says Rachel Giles.
Schieber has been a customer of Stenella's for the past four years and has purchased more than 60 pieces in that time. He says that Jim Stenella offers "high quality" workmanship and customer service and always gives the "extra effort" when it comes to making sure that the pieces he has purchased arrive in wonderful shape.
Customers buying pre-owned often don't expect to get the same delivery and specialized services as they would for new furniture, but at Stenella's, that is exactly what they get. With decades of experience, an immense warehouse and well-stocked online showroom, Stenella Antiques is able to provide just the right piece, every time. Whether customers buy from the warehouse or online, they can expect not only excellent furniture, but also outstanding service, expert delivery and value for quality, high-end reproductions. "We do more than just sell furniture," says Stenella, "we build relationships."
Payments are accepted in cash, credit card, check, money order or paypal. Visit Stenella's Web site for more details at www.stenellaantiques.com.

Stenella Antiques
104 S. Second St., Perkasie, PA 18944
215-453-8490.
Jeannine Fielding is a freelance writer in Bucks County.
Andrew Wilkinson is a photographer based in Titusville, NJ.
www.wilkinsonmedia.net