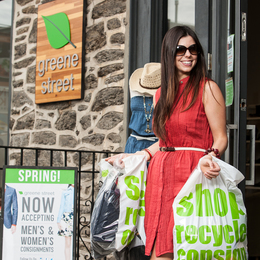 Word on the Street
Greene Street offers countless options for customers who want to look their best without a high price tag
Every fashion-forward individual has a favorite boutique, a "secret" hunting ground for amazing clothes to be shared only with the closest of friends. The price for on-trend styling, fit and quality often comes at a premium, but that's not the case at Greene Street, a clothing consignment network with boutique locations in Pennsylvania, New Jersey and New York. At Greene Street, everyone can enjoy designer finds at discount prices.

Greene Street owner Lynne Mastrilli took over the business from her parents more than 20 years ago. What began as a hobby had grown into a small but thriving business on Lancaster Avenue in Bryn Mawr, but Mastrilli—who had been working in New York's garment industry—had bigger dreams. "It was a great opportunity," she says. "I wanted to take the old school consignment idea and transition it to a more modern retail environment."

The personality of Greene Street's stores has evolved as well. Locations now feature custom iron and wood fixtures, eco-friendly bamboo flooring and organized racks, not to mention a staff of helpful store associates. "It's like any other retailer," says Mastrilli. "The only difference is that the clothing isn't new. But many times people don't even realize the clothing is used."

Greene Street has since grown to 10 locations, most of which are in centrally located shopping areas, including an outlet and a children's boutique in Chestnut Hill. Also, it recently expanded its reach to include online shopping and selling. Greene Street's inventory comes primarily from its own customers—stylish men and women who want to free up space in their closets for new items, while making money from the sale of their existing clothing.

Stores accept consignments seven days a week, with no appointment needed, and offer consignors a percentage of the sale price. Each boutique carries mid-range brands such as Banana Republic, Free People and J. Crew, sprinkled with high-end labels—"from Gap to Gucci," Mastrilli says. Whatever the name on the label, though, each piece of clothing has to be in excellent condition and currently in style in order to get the Greene Street seal of approval.

The consignment process is simple: Consignors bring in 10 or more gently used and laundered ladies' and men's clothing, shoes, jewelry, accessories, etc., and shop the store while an associate determines which items Greene Street will accept. Within the next 21 days, these items are further inspected, priced, steamed and tagged for sale. The consignor is issued a contract for the items Greene Street is willing to sell, and the items are placed on the sales floor for 60 days. Within the last five days of the contract, the consignor may reclaim any unsold items—and the consignor will be mailed a check for 40 percent of the value of the items sold. Consignors of designer handbags have the opportunity to earn even more for their items: 50 percent commission on bags listed at more than $250; and 60 percent on those priced at $500 or more.

Greene Street's online store has made the process of turning old clothing into money easier than ever. Sellers order a prepaid shipping bag or label from the company, send their items by mail and receive a purchase offer via email. Hundreds of new items are uploaded to the online store each day using this method, according to Mark Petravic, vice president of Greene Street. "Our criterion for the web is the same as for the stores: great items in great condition," he says. "The biggest difference is that we purchase the items outright for the web, while the store inventory is comprised of consigned items."

Mastrilli says there are so many reasons to buy and sell clothing at a consignment store. These include the value of buying designer items at lower prices, the profit one might see from selling these items and the environmental advantage to re-using quality products.

"At the business' core are the customers who have always loved consignment, but as the years have passed, the industry has exploded," she says. "People are looking for ways to lead more sustainable lives. Even people who had a stigma against it before find it much more accessible thanks to businesses like eBay. The majority now see the benefits of it. I've tried many things, but I have a true sense of pride about what this industry represents. Our name reflects that sensibility."

Indeed, Greene Street is more than just a store; it is a community of like-minded individuals who enjoy a fashionable lifestyle, according to Melissa Mellon, Greene Street's media and marketing coordinator. She oversees the company's social media presence, including its fashion blog and YouTube channel, as well as Facebook, Twitter and Instagram accounts. Here, Greene Street posts information about local events, holds contests and posts new items. Items in its online store are now being featured on Polyvore, a social commerce website that enables customers to create and share inspiration boards and link to the sales pages of various items. Mellon notes that customers can contact Greene Street to purchase anything they see on these accounts, and any order greater than $150 will be shipped for free "right to their door." Also, she encourages customers to share their favorite Greene Street outfits on Instagram, using #igotitatgreenestreet and tagging @shopgreenestreet.

Greene Street celebrates the unique qualities of each of the communities it serves, occasionally staging "town takeovers" on social media, where it offers viewers a tour of local landmarks, and hosting charity drives for causes important to that location. "Our communities bring items to us, so each store is a reflection of that area," says Mellon. Lambertville, N.J., is known as an arts community, so the Greene Street store there reflects that style, while the Philadelphia store on South Street tends to carry items with an "edgier" style. Stores in Chestnut Hill, Bryn Mawr and Princeton, N.J., receive more high-end goods, though Mellon is quick to add that "we get really great items at every location." Of course, the online store reflects the styles of Greene Street's entire customer base, so it offers a greater diversity.

Whether it's at the soon-to-open Gateway Shopping Center in Wayne or the soon-to-be relocated and expanded store on Gay Street in West Chester, Greene Street is stocking thousands of new items each week in every location, according to Mastrilli. As a result, its associates "have to be a little bit more creative," she says. "They need to have knowledge of the stock. We put goods out all day long, and no two items are alike."

As a former Greene Street store manager herself, Mellon says she loved having the opportunity to help a customer put together an outfit: "It was the highlight of my day." She also reminds customers that Greene Street can create a "wish list" and have a store associate contact them when something in their size and favorite brand comes in. "You get to know your regular customers," she says, "and can fill up a dressing room with things we know they will like."

For those in need of an outfit for a wedding or another special event, Greene Street offers an incredible selection of cocktail dresses, shoes and handbags, as well as men's suits, sports coats and casual wear. At Greene Street, men will discover not only a shopping environment in which they can feel comfortable, but also suits priced at such a good deal that they won't mind taking their purchase to a tailor for alterations. Of course, store associates are always available to assist shoppers of either gender who need a little help putting together a distinctive look.

Greene Street prides itself on offering all customers a great selection of high-quality designer clothing at fabulous prices. Whether customers are looking to buy or sell, searching for formalwear or casual items, perusing the inventory online or in one of its brick-and-mortar stores, Greene Street offers an experience that most customers wouldn't trade for any price.

For more information about Greene Street locations throughout the area or to view items online, visit www.greenestreet.com .