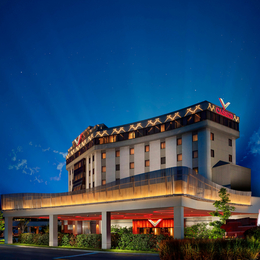 Lucky You
For a winning destination that truly offers something for everyone, bet on Valley Forge Casino Resort
Locals in search of a fun night on the town or an entertainment-filled weekend getaway don't have to look far—King of Prussia, in fact, home of Valley Forge Casino Resort.

When the recently renovated Valley Forge Casino Resort opened in 2012, one of its major goals was to be a multifaceted entertainment destination that appealed to the tastes of a wide array of guests. Today, it is just that. In addition to the casino, the resort offers fine dining, numerous bars and lounges such as the Soul Joel Comedy Club and Deuces Wild, the latter of which features country music and a mechanical bull, and, as of this year, the home base for the Valley Forge Casino Resort Music Fair.

Unlike any of its Philadelphia-area competitors, Valley Forge Casino Resort provides an exceptional place for guests to stay when they are not partaking in entertainment, relaxation or gaming festivities. In fact, Valley Forge Casino Resort is the only Pennsylvania casino that offers overnight accommodations, boasting a newly renovated hotel with nearly 500 guest rooms and suites.

"Whether you want to spend your day lounging by the pool, playing the slot machines, having a delicious meal or enjoying a night filled with entertainment, we have something for everyone," says Jennifer Galle, the resort's chief marketing officer. "We want locals to see us as an attraction that is an alternative to driving down to the shore. This is a great place to be this summer, and you don't have to fight shore traffic to have a casino resort experience."

Valley Forge Casino Resort, which is located minutes away from the King of Prussia Mall and Valley Forge National Historical Park, offers a unique experience compared with what one might find at the venues two hours away in Atlantic City, N.J. In addition to being an exceptional casino and resort, Valley Forge Casino Resort offers amazing shopping and world-famous historical sites located in a family-friendly environment.

Guests of Valley Forge Casino Resort will discover plenty of options this summer in particular. The season kicks off on Memorial Day weekend with the opening of the recently renovated Valley Beach Club. The Valley Beach Pool Club offers guests a distinctive experience as the perfect place to relax under the sun while watching the game on a big-screen TVs or enjoying live music or a DJ. There's also tiki bar to grab a poolside drink and a fanned area with cabanas that serves as an ideal venue for a fun bachelorette party or any private event.

"There's not anything like it in the area," says Galle. "We invested over half a million dollars into the Beach Club's renovation to create a unique nightlife experience for guests."

Live entertainment represents a significant draw as well. Last year, Valley Forge Casino Resort revived the Valley Forge Casino Resort Music Fair, which had been based in Devon. This summer's event will include a vibrant lineup of musicians and other entertainers, starting with Rock & Roll Hall of Fame inductees Ann and Nancy Wilson, otherwise known as the rock band Heart. Visitors can look forward to this renowned band play their hits "Crazy on You," "Magic Man," "Barracuda," "Straight On" and so many more for a Memorial Day celebration on Friday, May 22.

Also, on Saturday, May 23, Frank Sinatra Jr. will take the stage to perform his new multimedia show, "Sinatra Sings Sinatra, As I Remember It: The Centennial Celebration." Sinatra Jr. delivers firsthand recollections of life on and off the stage with his iconic father through stories, photos, videos and songs. Rounding out the summer lineup is Chazz Palminteri's one-man show "A Bronx Tale," the Grammy-nominated singer, songwriter and guitarist Aaron Lewis and the always entertaining Thunder from Down Under, as well as "Saturday Night Live" alumnus Jim Breuer, Grammy Award winners Air Supply and the legendry comedian Don Rickles.

"Although the shows are now performed in a different location and in our state-of-the-art venue, we wanted to remain true to the spirit of the Valley Forge Music Fair," says Galle. "Our strategy is to host a mix of acts that attract a variety of audiences. We are offering a signature music fair guest experience by bringing national headliners with high-caliber performances. We look forward to continuing the spirit of the old Valley Forge Music Fair."

No casino and resort would be complete without excellent dining options, and Valley Forge Casino Resort delivers in this area as well. Here, guests can choose from a variety of options, from casual to fine dining. High-end restaurants Pacific Prime and Viviano Cucina Italiana, run by renowned chef Tony Clark, are destinations in their own right. Pacific Prime is an upscale steak and seafood restaurant that offers appetizers such as the savory prime steak tartar and Caspian Sea golden ossetra caviar. The menu's main dishes include seared day boat scallops, the grilled pork porterhouse, the Denver cut au poivre and the roasted chicken "pot au feu."

"Many people come here just for the dining experience," says Galle. "Our Tony Clark restaurants are attractions unto themselves, and our rustic Italian restaurant, Viviano Cucina Italiana, is a feast for all your senses. The fragrant aromas, Italian music and a festive atmosphere help complement your dining experience at this rustic Italian restaurant."

Last but not least is the casino itself. On weekdays from 5 p.m. to 7 p.m., casino guests can enjoy the "Double Down Happy Hour," which is the only happy hour of its kind in the area. Area professionals often come to the happy hour and unwind after work in the center of the casino floor, where they enjoy double the action for half the price, with table limits lowered to $10, two-for-one drinks and a terrific raw bar.

Rounding out Valley Forge Casino Resort's amenities is its state-of-the-art convention center for corporate trade shows and conventions. Additionally, the facility offers banquet facilities equipped with four spacious ballrooms to host weddings, banquets and other private events.

"While we offer many of the same amenities as Atlantic City, we really are an entirely different experience," says Galle. "You can really make the experience your own. Whether you just want a fun night out, a weekend getaway or a family vacation or to host a convention, we can accommodate you. A nice aspect of our location is our close proximity to so many local attractions and, of course, world-class shopping. We are an unparalleled destination."

Valley Forge Casino Resort is located at 1160 First Avenue in King of Prussia, with highway access off Route 422, the Pennsylvania Turnpike and I-76. For more information about the casino resort, visit www.vfcasino.com.