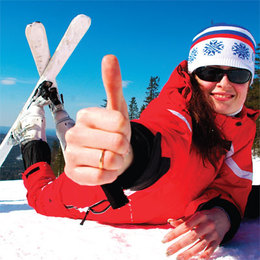 Jim Thorpe's Year Round Vacations
Known as the "Gateway to the Poconos," Jim Thorpe provides visitors an eclectic variety of activities less than two hours from Bucks County.
More than a decade ago, Lisa Gaugler left her Bucks County home for a trip to Jim Thorpe—and stayed. The 43-year-old still cuts hair in a downtown Doylestown salon a few days week, but has called her one-time vacation spot home since 1995.
"You could call it fate, and there is a longer story behind it," says Gaugler. "I saw an opportunity to buy a home and open a business, but I just basically fell in love with it up there."
Since that fateful trip, Gaugler has been busy renovating the historic Dreisbach House at 62 Broadway, where she deals in vintage jewelry and apparel right in the center of "The Gateway to the Poconos."
While Gaugler's story may seem an extreme example of a permanent vacation, the fact remains that more and more people are abandoning the shore for places in and around Jim Thorpe because they provide so many options less than two hours away all year 'round.
Opera House draw
The small town attracts thousands yearly. One of its main attractions is The Mauch Chunk Opera House, operated by the Mauch Chunk Historical Society.
Opened for shows in 1882, the hall has seen the likes of Al Jolsen and John Phillips Sousa. But the "Jewel of Jim Thorpe" went through some drastic changes and fell on hard times over the decades. However, Gauger, who was also the president of the Historical Society, and Dan Hugos, the current president of the Jim Thorpe Chamber of Commerce, worked feverishly to get the theater back on its feet in early 2000.
"We really like to think of Jim Thorpe as a year-round destination," says Hugos. "We're less than an hour from Blue Mountain, as well as Jack Frost and Big Boulder ski areas, and we're more interesting than most of the ski towns I remember when I lived in Colorado."
Similar to Gaugler, Hugos moved to Jim Thorpe about 12 years ago. Hugos owns and operates Dakota Ridge Gallery, a studio that features fine art photography from about 15 artists.
And while there are plenty of other galleries around the artisan town to choose from, Hugos says the Opera House renovation provided the town with a central draw, especially for weekend visitors.
"By 2003, we really started to get it back on its feet," says Hugos, adding the theater had been used as a movie house in the 1940s and '50s, and later became a warehouse once tough times hit.
Since 2003 the Opera House has hosted more than 200 shows, and featured everything from opera music to classical to singer-songwriters like Richie Havens and jazz artists such as Weather Report.
With about 300 members helping with its revitalization effort, Hugos said the Opera House has been completely refurbished with 350 new seats, carpeting, and a new backstage area. Having just completed a full schedule of holiday shows, it will be closed for about a month, reopening Jan. 16.
In addition to the prestigious theater, however, Hugos is quick to point out the 10 restaurants and various B & B's dotting the town of about 5,000 that spreads out on both sides of the Lehigh River.
From the Inn at Jim Thorpe, where Ulysses S. Grant once laid his head, to the Asa Packer Mansion Museum that was home to the third richest man in America in the 1800s, the Gateway to the Poconos is the perfect place to take more than a break from skiing because you may not want to leave.
Plenty to do
But lurking just outside Jim Thorpe's artsy center, a series of state parks provide a diversified mix for any outdoor lover. While there is always plenty of skiing available at various Pocono mountain resorts, the Hickory Run Complex of state parks offers much more all year.
The trio of Hickory Run, the 5th-largest in the state, Lehigh Gorge and Nescopek state parks, satisfy the expert adventurer or the family just looking for some outdoors fun. With about 260,000 visitors last year, Hickory Run has more than 40 miles of hiking
trails, miles of trout streams, and "The Boulder Field," a striking, boulder-strewn area that is a National Natural Landmark.
The region has some of the best cross-country skiing with 13 miles of designated marked trails available. There are also 21 miles of designated trails for snowmobiling and nearby Sands Spring Lake is available for ice skating.
And when it gets warmer, fish or swim in sandy lakes, or mountain bike in the 4,548 acres of Lehigh Gorge State Park that includes more than 20 miles of abandoned railroad grade trails that follow the river.
Mike Dinsmore, assistant park manager for the Hickory Run Complex, says the parks rival the shore for a quick vacation because of the variety of activities. "We see a lot of people from Bucks County and the surrounding area discover this area and come back. With so much more to do than just ski, this region has been somewhat recession-proof for people looking for quality time outdoors."
Rich Pietras is a professional writer in Doylestown.