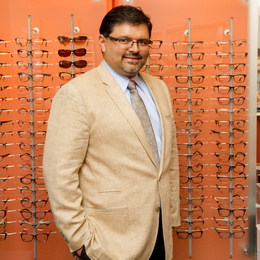 Focused
Dr. Sanjay Kamat, owner of Bucks Eye Specialists, offers multiple options for restoring the health and strength of patients' vision
Everyone wants to live longer, but with increasing age comes a host of changes to many parts of the human body that can ultimately affect one's quality of life. The eye is a prime example. By the time people have reached their 50s, many have lost some of the sharpness in their vision or begun to have their eyes become clouded with cataracts, thereby hampering their ability to see the world as clearly as they once did.

Approximately 14 million Americans ages 12 years and older have self-reported visual impairment, defined as distance visual acuity of 20/50 or worse, according to data from the U.S. Centers for Disease Control and Prevention. The figure increases exponentially as people get older, due to factors such as overuse, cataracts and more serious, even potentially debilitating conditions.

Even so, many forms of vision impairment are correctable in the hands of a highly trained and experienced ophthalmologist such as Sanjay Kamat, D.O. As owner of Bucks Eye Specialists in Yardley, Dr. Kamat has become one of the Philadelphia area's leading specialists for restoring patients' vision.

Bucks Eye Specialists provides a full suite of services, surgeries and products to address virtually any eye-related condition—"If it has to do with an eye," he says, "I've probably seen it and treated it"—ranging from dry eye and ptosis (drooping of the upper eyelid, which can compromise one's vision), to diabetic retinopathy (damage to retinal blood vessels caused by diabetes) and blepharitis (chronic inflammation of the eyelids).

On the surgical side of Dr. Kamat's practice, some of the most common procedures used to restore patients' vision include laser-assisted cataract removal, intraocular lens implantation and the correction of a change in the shape of the cornea that blurs vision at all distances, otherwise known as astigmatism. He and his experienced team, which includes Dana Cianni, O.D., can also help patients contend with serious eye-related conditions, such as macular degeneration and eyelid cancers.

The removal of vision-impairing cataracts while simultaneously implanting intraocular lenses has become one of the most popular procedures offered by Dr. Kamat. A cataract prohibits light from passing easily through the lens of the eye, making the vision appear blurred. A skilled ophthalmologist such as Dr. Kamat can remove the cloudy, natural lens and replace it with a clear, artificial replacement to help the patient see clearly once again.

Intraocular lens implant surgery is one of the most successful medical procedures performed in the United States, generating positive results in more than 97 percent of cases, according to Dr. Kamat. He performs as many as 1,000 of these procedures per year at outpatient facilities in Pennsylvania, Delaware and New Jersey.

"Insurance will typically cover the cost of the surgery and the implant, and for the surgery itself, people will walk in and walk out afterward," Dr. Kamat says. "There is an added out-of-pocket cost, not covered by any insurance, for these premium lenses. I never pressure my patients, and I probably talk more patients out of the premium lenses if I don't think it will lead to a significant change. With every patient, I try to educate them about their options so they can make an informed choice about what they think will make them happier with their vision."

The most common type on intraocular lens is the monofocal, or fixed focus. This lens helps the patient attain clearer vision at one distance, so eyeglasses and contact lenses may still be required in order for the patient to see clearly at all ranges of distance. The multifocal intraocular lens, on the other hand, can help patients see clearly no matter the distance. A third type, the accommodative lens, has a unique design that works with the eye muscles in a way that allows the lens to move forward as the eye focuses on objects at different distances. Also, some intraocular lenses can be used to simultaneously treat pre-existing astigmatism.

Implanting an intraocular lens—always done one eye at a time—typically takes less than 30 minutes, depending on three variables: the surgeon, the patient and the cataract. (Dr. Kamat averages 10 minutes per eye.) After conducting a preoperative exam of the patient's eye, Dr. Kamat utilizes a digital corneal camera and ultrasound machine to take precise measurements of the patient's eye and to determine the placement of the new lens. After the procedure, which requires only a few small sutureless incisions, the effect is immediate. Also, depending on the type of lens implanted, the patient should be able to live without corrective lenses.

"The point is to reduce the amount of prescription needed in glasses after surgery," he says. "If the intraocular lens works the way it should—and it almost always does—it's a lifelong correction."

In addition to offering a comprehensive suite of surgical services, Dr. Kamat's Yardley office—which recently benefited from a renovation—has become a destination for stylish, perfect-fitting eyeglasses and contact lenses, as well as all-laser LASIK services. Of course, the practice's chief differentiator is not any service, surgery or product; rather it is the personal attention the doctors provide to each patient.

"We spend a lot of time with each patient, and Dana and I make sure our patients notice the personal touch we provide in our level of service," says Dr. Kamat. "We do a lot of handholding so we can help them understand how the services we provide are going to affect their vision and their lifestyle."

Although Bucks Eye Specialists was a fixture in Yardley long before 2009, when Dr. Kamat took over the practice from his childhood ophthalmologist, Barry Kutner, M.D., the practice has grown significantly under Dr. Kamat's leadership. The practice recently converted to electronic medical records, and Dr. Kamat is currently considering investments in other new technology to better serve an increasingly diverse patient population. Additionally, he is continually mulling growth opportunities, including the addition of another surgeon sometime in the near future.

"I take some personal accomplishment in the fact that I've grown my practice and that it continues to grow," says Dr. Kamat. "Every year we provide more care to the community via surgical procedures, optical services with contact lenses and glasses, and we've done this all in a very competitive environment."

Bucks Eye Specialists
301 Oxford Valley Road, Suite 801A
Yardley, PA 19067
215-493-7330 | www.buckseyespecialists.com

About Dr. Sanjay Kamat
Dr. Kamat attended medical school at Kansas City University of Medicine and Bioscience, and then returned to Philadelphia for his ophthalmology residency at Philadelphia College of Osteopathic Medicine. He also worked at Albert Einstein Medical Center in Philadelphia, where he gained experience in cataract surgery and oculoplastic trauma.
Board certified by the American Osteopathic College of Ophthalmology, Dr. Kamat devotes as much as 85 percent of his time to direct patient care. In addition, he is a clinical instructor at the Wills Eye Institute in Philadelphia and is also the ophthalmologist for the Cancer Treatment Centers of America's Northeast Regional Center in Philadelphia. Furthermore, he is on staff at numerous facilities in the tri-state area.

Photograph by Allure West Studios