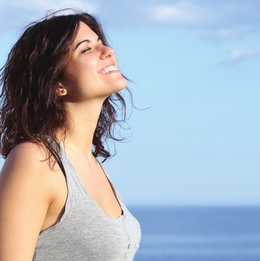 Breathing Made Easy
Pinnacle ENT Associates' patients find relief for various ear-, nose- and throat-related conditions through a number of breakthrough treatments
Millions of people each year are affected by allergies, sinus problems and other serious conditions that take quite a toll on them—physically, functionally, even emotionally. Luckily, relief awaits in the capable hands of physicians, surgeons and other professionals at Pinnacle ENT Associates (PENTA).

PENTA is the largest ear, nose and throat, allergy and audiology practice in the Philadelphia area, as well as an affiliate of the Penn Medicine Ear, Nose and Throat Network. Its team of highly skilled specialists offers a number of safe and effective treatments that can make a difference in the lives of those suffering from acute or chronic issues that can affect the way people experience the world around them.

"We believe our integrative approach to medicine has helped build our reputation," says Robert Connelly, CEO of PENTA, which has 17 offices in Bucks, Chester, Delaware, Montgomery and Philadelphia counties. "Our 20 physicians, along with other specialists, work together as a team. And, with our affiliation with Penn Medicine ENT Network, patients know they are receiving superior care."

Breakthrough Treatment
For many patients with sinus trouble who are not responding to antibiotics, nasal steroids and over-the-counter (OTC) medications, PENTA offers a number of treatment options that do not require surgery.

Balloon Sinuplasty™, for example, is a minimally invasive endoscopic technique for treating chronic sinus inflammation. Using a small catheter and a sinus balloon, the device quickly opens and expands blocked sinuses. The balloon is placed through a nostril and into the blocked sinus passageway, then inflated to gently restructure and open the sinus passage to promote drainage and restore sinus function. The procedure can be performed either in the office or at an outpatient surgical facility.

Kenneth Einhorn, M.D., a PENTA physician who performs this procedure, believes the device is a true advance in sinus care because in many cases it can be done without removing any tissue or bone.

"That means faster recovery times and less post-procedure discomfort," says Dr. Einhorn, who treats patients at Abington Hospital in eastern Montgomery County. "The treatment results in significant improvement in [patients'] symptoms, and many patients become totally symptom free."

For patients of Warren Zager, M.D., who practices in the Norristown and Spring House PENTA offices, this less invasive approach has been one of the biggest advancements he has seen in recent years. "There is less tissue trauma during the procedure, healing is faster, and patients can go back to their normal activities the next day," he says.

More than a Case of the Sniffles
A runny nose, watery eyes and a scratchy throat may seem like the bellwethers of typical cold, but these symptoms could very well be due to allergic rhinitis, commonly known as allergies. Allergies occur when the human immune system becomes sensitized and overreacts to something in the environment. With proper treatment from a skilled physician, patients who suffer from allergies can benefit from a reduction in the occurence of multiple symptoms and can also avoid unnecessary surgery or medication over-use.

PENTA is one of the leading ENT practices offering consultation for and treatment of allergic disorders and reactions in adults and children. Although some people can easily manage allergies with OTC medication, others can have a reaction that is not only dangerous but also potentially fatal. Although allergies cannot be cured, PENTA can provide immunotherapy treatments to relieve the symptoms and potentially cure the underlying causes.

"We need to identify the substances the patient is allergic to in order to treat them correctly," says Dr. Zager. "In our office, we perform the appropriate allergy diagnostic tests, including skin or blood tests, to determine the specific allergens that trigger the allergic reactions, including trees, weeds or grass pollens, animal dander, molds, dust and foods. Based on the diagnosis, we will recommend an allergy treatment and prevention plan."

Treatments for allergies include allergen avoidance, medications to reduce symptoms and allergy drops and shots, the latter of which is a series of serum injections that are made specifically for each patient. Patients with allergies of all severities may benefit from sublingual allergy immunotherapy as an alternative to injections.

"Many patients dread the shots that are associated with treating allergies," says Dr. Zager, "but with the option of an oral treatment, it becomes much more tolerable."

Nose Reshaping for Better Breathing
PENTA's team includes board-certified physicians dedicated to plastic and reconstructive surgery of the head and neck. These procedures can be strictly cosmetic or medically necessary. Trained in innovative, minimally invasive procedures that reduce scarring, PENTA physicians will counsel patients on all aspects of the surgery, so they can collaborate in setting realistic goals to ensure that each outcome meets a patient's expectations.

"Rhinoplasty surgery involves structural modifications of nasal cartilages and bone to enhance the cosmetic appearance of the nose," explains Joseph Ardito, M.D., a physician based in Paoli, who specializes in facial plastic surgery. "Such cosmetic modifications of the nose must also take nasal function into account. The goal in rhinoplasty is to produce the desired cosmetic improvements to the nose while maintaining normal nasal function and open nasal passages."

Corrective procedures performed by PENTA physicians include a nasal septoplasty (straightening a deviated septum), turbinate reduction (to improve nasal breathing by decreasing airway resistance) and nasal polyp removal. Rhinoplasty can be performed either endonasally, with all work is done inside the nose, or externally, whereby a small incision is made at the base of the nose allowing the skin to be pulled back, offering a comprehensive view of the underlying structures. Most medically necessary rhinoplasties are covered by insurance.

"Years ago, doctors tended to remove a lot of cartilage from the nose, which caused the nose to collapse over a period of time," explains Dr. Ardito. "Today, we aim to be as conservative as possible to create a very natural look."

One of the newer developments for a better result involves grafting. Dr. Ardito takes cartilage from another area of the body, such as the septum, ear or rib, and uses it to change the shape of the nose by altering the underlying bony/cartilaginous framework.

"We want our patients to not only look good," he says, "but we want the nose to be functioning properly so breathing is improved."

Easy Access to Imaging
To properly diagnose sinus conditions, PENTA physicians may ask the patient to undergo a CT scan of the sinus or temporal bones. At its King of Prussia location, PENTA utilizes the high-definition, ultra-low dose Xoran MiniCAT™ CT Scanner as a diagnostic imaging tool for sinus and ear conditions. The CT scan allows for quicker diagnosis and treatment in a cost-effective manner, with minimum exposure to radiation for the patient.

"It is very convenient for our patients to have a CT performed at our King of Prussia location because of the new technology, no wait time and affordability," says Connelly. "Our outpatient facility allows for a faster overall process and quality control. And we are the only outpatient CT facility in Pennsylvania with a Xoran MiniCat."

Along with imaging services, patients have access to vestibular and balance specialists, audiologists, physical therapists and speech therapists, all within the one practice.

"A multidisciplinary team approach to care for our patients streamlines the health care process so more time can be spent on your recovery," adds Connelly. "For patients and staff alike, it's a great solution."

To make an appointment with PENTA, call 610-902-6092. For more information on the practice, visit www.pentadocs.com.