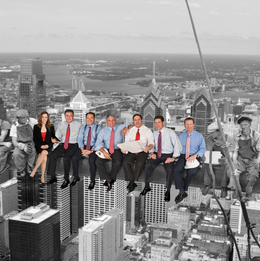 High-Profile Attorneys, High-Profile Results
For more than two decades, the Philadelphia law firm of Saltz, Mongeluzzi, Barrett & Bendesky P.C. has been advocating for victims of high-profile catastrophes
When there is a high-profile catastrophe in the Philadelphia region, one common denominator stands out: The attorneys at the law firm of Saltz, Mongeluzzi, Barrett & Bendesky P.C. will likely be representing the families who have lost loved ones and the individuals who suffered unspeakable injuries.

Saltz Mongeluzzi has spent the last two decades advocating for victims of disasters to ensure that they and their families receive the compensation they need and deserve. In doing so, Saltz Mongeluzzi attorneys have built one of most successful and preeminent firms in the country when it comes to representing the rights of injured victims. The high-profile results achieved by Saltz Mongeluzzi have led to the firm's president, Bob Mongeluzzi, being labeled as the "king of construction accidents" and the "800-pound gorilla" that victims need in the room when the stakes are high.

* On May 18, 2000, a nightclub at Pier 34 collapsed into the Delaware River, resulting in the deaths of three young women and injuries to more than a dozen people. Mongeluzzi served as co-lead counsel in the complex litigation that spanned more than four years and ultimately resulted in a $29.5 million settlement.

* On October 30, 2003, the parking garage under construction at the Tropicana Casino in Atlantic City, N.J., collapsed, killing four workers and injuring more than 30 others. Again, Mongeluzzi served as co-lead counsel in this case, which proved to be one of the most complex construction accidents in American history. In all, more than 250 depositions were taken, and more than 1.5 million pages of documents were produced. Mongeluzzi and the firm's managing partner, Larry Bendesky, negotiated the largest settlement of a construction accident in American history—$101 million.

* On December 22, 2006, Raphael Robb, an economics and game theory professor at the University of Pennsylvania, brutally slaughtered his wife, Ellen Gregory, at their home in Wayne. Robb pled guilty to voluntary manslaughter. Ellen's family found the lack of a murder conviction and life sentence disappointing, and filed a civil suit for wrongful death. At trial, Mongeluzzi and his partner, Andrew Duffy, sought to prove to the jury that this was not manslaughter, but rather an intentional murder committed by a possessive and evil man. The jury spoke through their verdict in which they found Robb liable and ordered him to pay $124 million in damages. This remains the largest contested personal injury verdict in Pennsylvania history.

* On December 27, 2007, an escalator loaded with fans leaving a football game at Giants Stadium in East Rutherford, N.J., collapsed and injured numerous fans. The sharp, metal escalator steps violently crashed into each other at the bottom of the escalator, trapping several fans' legs, which caused severe injuries and, in some cases, amputations. Bendesky hired the top escalator experts in the country to determine exactly who was at fault and aggressively pursued the responsible parties. After defendants made paltry offers to settle, Bendesky took the case to trial in Bergen County, N.J. The trial concluded when defendants offered a substantial settlement that fully compensated each victim.

* On July 7, 2010, a duck boat was run over by a barge on the Delaware River. Two Hungarian students who were touring Philadelphia with their classmates drowned, and 35 others were injured. Mongeluzzi and two of his colleagues—Duffy and Jeffrey Goodman—took more than 40 depositions in this complex maritime disaster, where the defendants claimed that federal law limited the damages against them to less than $1.7 million. On the third day of trial in federal court, the case settled for $17 million—more than 10 times the cap the defendants claimed applied.

* On June 23, 2011, a father of five died when he was struck in the head by the block of a crane. Mongeluzzi and his partner, Dave Kwass, represented the family in their case against the crane owner. Kwass and Mongeluzzi brought their exceptional experience, being co-chairmen of the AAJ Crane and Aerial Lift Litigation Group, to demonstrate that the crane was deplorably maintained. The case resulted in a $17 million recovery, the largest settlement of a wrongful death case in the history of Philadelphia County.

* On June 5, 2013, the demolition project at 2136-2138 Market Street collapsed onto the neighboring Salvation Army store. Six people were found dead under the rubble, while another person died shortly after the collapse. More than 12 others were injured. Saltz Mongeluzzi took the lead in immediately ensuring access to the scene for the victims' families and has acted as one of the lead firms in uncovering the inexcusable string of failures that led to this catastrophe.

* On May 12, 2015, Amtrak Train number 188 derailed while leaving Philadelphia. This derailment killed eight people and injured more than 200 others. Again, Saltz Mongeluzzi is at the center of this complex and high-profile litigation, representing numerous victims and playing a lead role in the litigation.

Saltz Mongeluzzi has also helped countless victims of medical malpractice. Michael Barrett, the chairman of Saltz Mongeluzzi's malpractice group, has achieved scores of multimillion-dollar recoveries for victims of medical errors. His team of medical professionals has the expertise, experience and know-how needed to put together a winning malpractice case.

Saltz Mongeluzzi also handles motor vehicle and premises accident cases. Partner Robert Braker heads the firm's motor vehicle and premises accident litigation teams. Braker and his team have handled more than a thousand accident cases over the past 20-plus years. Braker has obtained substantial settlements and verdicts for Saltz Mongeluzzi clients.

Saltz Mongeluzzi has pioneered an extremely powerful way to ensure that defendants' decision makers fully understand the horror clients have endured by creating professionally produced video documentaries depicting clients' lives before and after the tragedy. Partner Eunice Trevor spends countless hours interviewing clients, family members and eyewitnesses, as well as expert witnesses and treating physicians. She then produces a compelling, impactful documentary that is sent to all defendants and their insurers. This unique approach furthers Saltz Mongeluzzi's primary goal of maximizing each client's recovery.

Far too many times in the recent past the Philadelphia region has seen how high-profile, catastrophic events can instantly destroy or drastically alter lives. It is with great pride that Saltz Mongeluzzi continues to fight for each victim and their families. The true victories for the attorneys at Saltz Mongeluzzi come in knowing that their clients and their clients' families have been taken care of following their horrific tragedies. Saltz Mongeluzzi's track record speaks for itself—high-profile cases equal high-profile results.

Saltz, Mongeluzzi, Barrett & Bendesky P.C. has four offices throughout the area: Center City Philadelphia, Norristown, Media and Marlton, N.J. For more information, call 215-496-8282 or visit www.smbb.com.