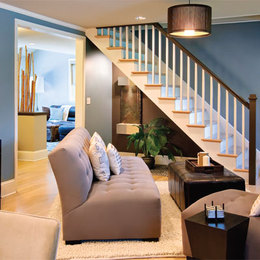 For these businesses, collaborating creates success
Staging Spaces and E & E Building Group transform a Doylestown home
Just outside historic Doylestown, a home that whispers a modern, calm sophistication has recently come into new life. When actor, speaker and New York Times bestselling author Michael Port went looking to renovate, he first used the principles behind his success to choose a contractor and designer.
"If you want to do big things in this world, you have to do it with other people because it's unlikely that any one of us has the skills, resources or the wherewithal to plan, renovate and build our homes," says Port, concerning his decision to completely renovate and remodel his home.
"And so I gave my trust to Staging Spaces and the crew at E & E, so that they could make big decisions with respect to what my home was going to look like because they are the experts. If I don't let them lead because I think I know better, then I probably will produce something smaller, less grand, less exciting than if I gave them leadership roles. And that's exactly what I did," he says.
Dana Neeld and Danielle Barnes from Staging Spaces and Joe and Tim Ernst from E & E Building Group are the time-efficient cornerstones behind Port's successful renovation.
Staging Spaces specializes in color consulting, interior design, sample homes and staging to sell. Services range from full service high-end design to a $500 accessory makeover giving a client the opportunity to use what they already have—artwork, furniture, candles—toward a revamped, new look.
E & E Building Group completes residential and commercial projects on a solid foundation of professional architects, engineers and craftsman dedicated to producing a quality product at a competitive price. With 25 years in business, E & E Building Group is rooted in the notion of exceeding industry standards and careful attention to detail.
In 2008, the two companies formed an intriguing collaboration, which follows the client's vision from beginning to end with a team of professionals already in place. Design/build professionals know space, proportions and scale all while educating their clients appropriately.
Let's take what we have and step it up
In this economy, many homeowners are choosing renovation over buying new. However, homeowner inexperience and indecisiveness can raise costs whereas a design/build team streamlines the process, saving the owner time and money.
"Design/build is an affordable, easy process," says Neeld from Staging Spaces. "We get to know the client and choose materials to match their lifestyle."
Sometimes the client may be drawn to a particular material during the building process that isn't the best fit for the overall design plan, such as cabinet color or countertop. "Our job," says Barnes "is to guide them through the process, because we know the
client and their overall vision."
"Plus, a design/build team makes the process easier for someone who is a busy professional and who is not going to have time to run around to 20 different stores."
Joe Ernst from E & E agrees. "Design/build is huge because we are bringing all the practical experience of all the tradesman alongside the interior designers' experience and creating a team that streamlines the process because of the relationships they have with each other."
One point of contact, one point of accountability
With design/build, everything is all under one umbrella: When a client is comfortable with their designer and builder, the client has fewer worries, less stress and minimal risks and surprises.
"Trust that we are going to do our jobs," Ernst concludes, "because the results will be a quality design, hassle-free installation and a quality end project."
For example, E & E acts as project manager, all under one point of contact and accountability; Staging Spaces steers the builder and homeowner toward a whole-house cohesiveness.
As a design/build partnership, Staging Spaces and E & E renovated Michael Port's kitchen adding Quartz countertops, 24-by-12 horizontal floor tiles projecting the illusion of length and a multicolored horizontal glass backsplash.
"There's just nothing like this out there," says Port. "Every single person that walks in here says 'Oh my God, I want this kitchen.' For me, I wanted something more contemporary than you typically see in Bucks County, but not so modern to be too far past what the typical buyer would want."
Honoring Port's vision for a clean, modern but accessible feel, the team oversaw his home's contracting details, painting and colors, furniture choices, layout and architectural changes including floating stairs, bamboo room dividers and an underneath stair space transformed into a soothing waterfall.
"There is this theme," Port says, "that every room you walk into fits so nicely with the other rooms, but each room has its own feel to itself, which is exactly what I wanted. People come in my home and say, 'This is so you.'"
E & E Building Group, LP
1001 N. Broad St., Suite B
Lansdale, PA 19446
215-453-5124 (toll free 866-758-9988)
www.eebuildinggroup.com
Staging Spaces
201 Tanager Court
Warrington, PA 18976
215-527-5876
www.stagingspacesonline.com
Jill Yris is a freelance writer based in Doylestown.
Photos of Michael Port's project by Richard Quindry, www.quindry.com.