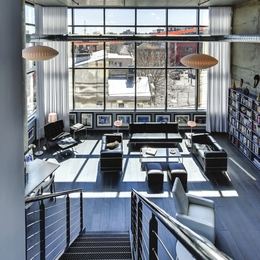 On the Rise
With elegant, "celebrity-worthy" residences near Philadelphia's cultural and entertainment hub, 1352 Lofts raises the bar on luxe living
When Broad Street Pictures scouted filming locations for its upcoming Wall Street drama, it sought to recreate the opulence, style and sex appeal of New York City—and it found the ideal location not in the Big Apple but in the City of Brotherly Love.

In July, the cast and crew of "Equity," which stars "Breaking Bad" alumna Anna Gunn in the lead role as a Wall Street investment banker and is being directed by Meera Menon, filmed pivotal scenes at 1352 South Street along Philadelphia's Avenue of the Arts, otherwise known as the home of 1352 Lofts. 1352 Lofts' lavish and light-filled interiors, which overlook one of Philadelphia's most desirable neighborhoods, provided a fitting backdrop for a film set in a part of the world well known for its elegance and extravagance.

Hollywood is not the only one taking notice. 1352 Lofts was recently deemed a "celebrity-worthy" home, according to Metro, a daily newspaper with more than 1.2 million daily readers in New York, Boston and Philadelphia. In particular, the Metro story cited 1352 Lofts' "cool industrial feel," as well as its proximity to anything a member of America's version of the Royal Family could possibly want.

Clearly, 1352 Lofts' stock is on the rise.

Of course, anyone who toured one of the building's 72 residences has known this for some time. Once inside, the many reasons 1352 Lofts has become the "it" choice for anyone looking to experience the ultimate in urban living are on full display: loft-style concrete, steel and glass construction; spacious designer lux homes, some of which have soaring, 20-foot-high ceilings, private balconies and outdoor terraces framing Philadelphia's most breathtaking views; 24/7 concierge service; and, of course, prime location within walking distance to the city's finest restaurants, bars and entertainment venues.

"The lofts are centrally located in the heart of Philadelphia's major attractions, a stone's through from the famous Kimmel Center, the award-winning shows at the Academy of Music, as well as the Merriam Theater, just to name drop a little—a Philly thing," says Gaurav Gambhir, principal and owner of The Condo Shop, a boutique real estate firm representing luxury properties throughout the city, including 1352 Lofts. "Everything someone might need to live the high life is here, from the city's most historic parks to high-speed-rail lines to the best supermarkets in town. With ultra-luxury homes sprouting up throughout the neighborhood, this continues to prove the value of our neighborhood is on the move."

1352 Lofts was built from the ground up in 2007. Each of the building's pet-friendly living spaces—single-floor or bi-level, including penthouses—offers a gourmet European-style kitchen with stainless steel appliances and granite countertops, as well as custom fixtures and finishes and hardwood floors throughout. Floor plans range from 1,100 square feet for one-bedroom units to 2,400 square feet for three-bedroom units. Depending on the residence, prices range from $325,000 to $1.3 million. Of the building's 72 residences, however, only eight are currently available, according to Gambhir.

In other words, demand is extraordinarily—and, given its recent accolades, unsurprisingly—high.

"Probably the most desirable feature of 1352 Lofts is the building itself," says Gambhir. "This is one of the only loft buildings in the city that was built from the ground up, so it was designed to offer the space and accommodate the lifestyle that people want. It's a gorgeous property that even eight later proves it is timeless."

Every resident has the convenience of a deeded parking space and a secure lobby with 24/7 staffing. Residents can also take advantage of around-the-clock concierge service, meaning they have access to a devoted resource that can make reservations for an in-demand restaurant, plan accommodations for an upcoming cultural event, etc.

The majority of residents who live at 1352 Lofts are pleased to call this building their primary address, according to Gambhir, which is telling in and of itself.

"In other buildings, you might have investors who come in and acquire the units," he says. "Here, 98 percent of the people are primary residents, which I think says a lot about the type of residents the property is attracting. They're calling the building home, not an investment opportunity, and that helps maintain the sustainability of the building."

Residents also experience significant advantages in cost savings in the form of a 10-year tax abatement through 2017 and extraordinarily low condo fees. For a 2,300-square-foot loft, for example, a resident would pay $800 in monthly condo fees, compared with the more than $1,500 per month that they might pay elsewhere. Also, thanks to the tax abatement, annual real estate taxes top out at $600, compared with as much as $10,000 per year for a comparable residence in the market.

Simply put, Gambhir says, "[1352 Lofts] is raising the bar."

1352 Lofts
1352 South Street
Philadelphia, PA 19147
215-545-1352
www.1352south.com | www.thecondoshops.com

For those interested in the remaining available units, the offices in the 1352 Lofts are open seven days per week for showings, from noon to 4 p.m. Prospective residents interested in one of the residences are encouraged to call soon, as demand is high and availability is limited.