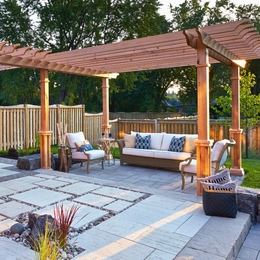 The Foundation of Spectacular Backyards
Techo-Bloc helps homeowners take the plunge and invest in your outdoor land for the entire family
With the end of summer drawing near, do you wish you might have done something creative to better enjoy the backyard this season? It's not too late.
Louis-Philippe Viens, renowned architect at Techo-Bloc, has been pioneering inspired backyards for many years and has some tips for us to transform your backyard into the one you have always wanted. Techo-Bloc is not your run-of-the-mill paving stone brand, and it has the creative products and solutions to help you visualize and, most importantly, to live and achieve a better backyard experience.
Have you and your family gotten bored of your familiar surroundings? Are you ready to make next summer special? Well, it's not too late for next year, and it's time to start planning now. Techo-Bloc is right on the trends and stimulates the imagination with its design styles such as Country Rustic, English Garden, Euro Flair or Polished Casual. Then, it creates products that make those fantasies come to life in the comforts of your own backyard.

How to Achieve the Country Rustic Look Outdoors:
Nothing says rustic like the raw texture of wood. Viens notes: "We wanted to bring a modern spin to a traditional product. Techo-Bloc's Borealis outdoor slabs, steps and walls are made of concrete but look and feel exactly like wood and do not require any special maintenance. No more rotting wood decks, sanding or treating. They resist our harsh climate changes and look great through every season."

How to Achieve a Traditional, Lush English Garden:
The English know a thing or two about enduring, timeless beauty. Viens' tips to achieve this look are to create pathways through lush floral gardens. He suggests Antika, an aged cobblestone-like product that is available in 5 colors and is compatible for permeable installations to avoid run-off water streams flooding your floral gardens or, worse, your home. Viens also suggests the grand Aberdeen slabs and patches of grass laid in a checkerboard pattern for an out-of-the-box whimsical effect.

How to Achieve the Exotic and Eclectic Look:
Exotic and Eclectic is all about escaping to somewhere else. The Inca slab and Rocka wall and step collection were designed with the imagery of golden sand dunes and the rock-faced textures of cliffs and canyons. Inca is really beautiful in the golden tones of Baha Beige and Coral Sands. It's especially striking around the crystal-blue water of a pool.

How to Achieve the Polished Casual Look:
Polished casual is about form and functionality. Travertina comes to mind when I think of these values. Travertina was created to mimic real travertine stone. It's always been one of my favorite natural stones and it is often used in California and in warmer climates that don't experience freeze-thaw cycles that the Northeast does. We created Travertina slabs as a more durable and practical concrete slab so that our customers in the Northeast could enjoy the look of travertine outdoors without the fragile characteristics and risks of the natural stone equivalent.

Other Design Tips from Viens to Bring Your Backyard to Life:
1. Take that small unused corner and turn it into a little relaxation cove by adding a pergola, slabs and a small seating area.

2. A big slope is not unusable land: Turn it into a multilevel pavilion.

3. Take your bare land and transform it into a beautiful patio. Convert some of your unused backyard into an extended living, dining or kitchen space for entertaining guests and enjoying family time.

4. Upgrade your standalone grill into a built-in outdoor kitchen.

5. Bring that rusty old fire pit to the next level with built-in seating and stone fire pit.

6. Spruce up your flowerbeds with stone edging for a tidier look.

7. Recover old broken down concrete steps with slabs that are de-icing, salt resistant and made to last.

Twenty-five years of innovation in external design and landscaping projects makes Techo-Bloc an authority when it comes to making people more aware that the outdoor environment extends past the traditional backyard. In fact, according to marketplace mogul Trulia.com, outdoor upgrades are some of the most strategic a homeowner can make. Adding value to your property may be easier than you think; a simple redoing of beds and borders can provide exponential benefits when reselling. This particular type of renovation accounted for 41 percent of all outdoor projects in 2014.
Outdoor landscaping and making your backyard look spectacular not only improves your experience your family's home life but also increases the value of your property. Techo-Bloc's outdoor products are inspired by nature, crafted by artisans redefining the way we look at outdoor spaces. At the end of the day, we all want to make the most of our family time. To do that, we need an environment that brings indoor style outdoors, with products that overachieve and have the power to make the backyard not only relevant again but also your go-to choice for entertaining guests and bonding with the entire family.

To learn more about Techo-Bloc, feel free to download the outdoor design catalogue on techo-bloc.com.

Photograph courtesy of Techo-Bloc