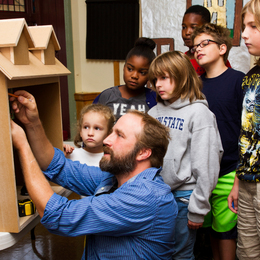 Learning Together
Children thrive at Project Learn School, an independent cooperative school where families are actively involved and "everyone's voice is heard"
When Amanda Green Hull brought her daughter, Tallulah, to school for one of her first days at Project Learn School (PLS), she was taken aback when the art teacher invited Hull and her one-and-a-half-year-old son, Sam, to stay. Tallulah's class would begin shortly, and the art teacher wanted Sam to feel welcome to participate, too. Although it was a foreign idea at the time, it quickly became the norm.
Joan Fox, the art teacher, as well as the mother of two daughters who graduated from PLS, remembers the day Hull brought Sam to Tallulah's art class for the first time.
"From there on, Amanda would help me with the class while Sam got to work with clay—or whatever else we were doing that week," Fox remembers. "We are a school community for the entire family and that is just one small example of how families are actively involved."
From day one of starting at PLS, Hull has remained actively involved in her daughter's life. It's the primary reason Hull initially enrolled her daughter at PLS, which for 45 years has been educating children in kindergarten through eighth grade at its dynamic campus situated among the historic homes that are characteristic of Philadelphia's Mount Airy neighborhood.
"Everything about the school sends a powerful message to parents that, 'Yes, you can be active participants in your child's education,'" Hull says. "And as parents, we are very active in the school whether it is actual decision making or just being present and involved."

Firsthand Experience
At first Hull didn't picture her children attending an independent, cooperative school. Like most, she pictured her kids taking a more conventional schooling route—that is, until she took a tour of PLS.
"I would really impress upon parents the importance of calling the admission office and taking a tour because it's hard to truly understand if Project Learn is for you without experiencing it," Hull says. "Come watch the kids on a typical day, experience a classroom, and then you'll know if your family and Project Learn are a good fit."
Parent Jordan Shapiro leads the school's administrative committee, a cooperative team of parents and teachers who work together to manage the day-to-day operations of PLS. He says parents who tour the school will discover enthusiastic and confident kids seriously engaged in classic academic content—literacy, numeracy, social studies, etc.—but they will be doing it in really unique and innovative ways. The learning here is focused on critical thinking, problem solving and real human interactions with their classmates. It is the "thinking behind the school" that makes it so different, Shapiro says. He noticed it when he attended his first open house.
"I was looking at a bulletin board, and instead of cutting the paper to fit neatly, the edges hung over imperfectly," Shapiro recalls. "Right away I knew this was the right school for my children. If they don't force the paper to fit the bulletin board, they certainly aren't going to force the kids into rigid boxes and categories."
As a result, the school successfully grants students "empowered individuality," Shapiro says. This is reinforced and molded by the "triangle model" that the school follows. Parents, teachers and students each represent one side of the triangle, each one an essential piece of the institution's identity. Shapiro says this is why PLS students look both "well adjusted" and "genuinely happy." Hull also shares that it's a challenge to get her daughter to leave the school each day.
"She absolutely does not want to leave when the day is over," she says. "It's a testament to how much she loves it there."

Combined Effort
Founded almost half a century ago by three teachers—Donna Allender, Fran Fox and Nancy Bailey—who were also parents, PLS is considered "a school community." Parental participation is one of the school's central core values.
"Parents and teachers run the school together through a monthly Town Meeting, as well as through committees, which include budget, marketing, development and personnel," says Joan Fox. "Imagine being given the opportunity to be a full participant on the hiring committee for new teachers, having an active role in deciding which candidate might become a teacher at our school. It's very empowering and everyone's voice really gets heard."
Co-oping not only keeps parents actively involved in their child's education but also helps keep tuition lower than most private, independent schools.
"We look at our tuition as paying shares in a co-op, where we have our money being invested in our child's education," Hull says.
It's at the town meetings where teachers and parents make decisions as a community. Parents are truly involved in any major decision affecting the school.
In addition to parental involvement, PLS is also quite different from traditional elementary and middle schools in that classes and activities are not always grouped by grade or age; in fact, mixed-age learning opportunities are a part of the curriculum.
Shapiro, who is a Temple University instructor and nationally recognized expert on education, says that in an ideal world all schools would utilize groups that encourage mixed learning because everyone learns at a different pace and in a different way. While this is not feasible in the public school system, it works wonderfully with a school the size of PLS, which enrolls approximately 65 students each year.
Having been accustomed to mixed-learning opportunities, Fox says that when one of her daughters graduated from PLS and went on to high school, she was confident in speaking to upperclassmen when she was only a freshman. It was simply the "norm" for her.
"Her friends found that shocking, but to her, the upperclassmen were just fellow human beings," Fox says. "That's what I love about Project Learn. Students come to appreciate other human beings simply for who they are without all these preconceived notions of grade and age limits. They're also very comfortable speaking and working with adults."
Bright Futures
With so many group learning activities at PLS, the students are also very comfortable in group settings. Fox says this skill serves PLS alumni well in life.
"In college and in the working world, facilitating a group is a huge skill," Fox says. "And that's something our students are naturally good at since they spend so much time doing group work here."
In the "real world," Fox says PLS students have gone on to a diverse array of careers. PLS graduates include everything from nurses and social workers to chefs and artists. One PLS grad is a radio announcer, while another is a bird specialist. Still another is a veterinarian.
"They go on to a wide range of colleges and as adults follow paths that they are passionate about," Fox adds. "They are instilled with the sense that they should follow a path, not because they were told to but because they want to."
Project Learn School
6525 Germantown Avenue
Philadelphia, PA 19119
215-438-3623
www.projectlearnschool.org


A Unique Place to Learn
Project Learn School teachers, students and parents work together to create a progressive and humanistic community that promotes mutual respect, involvement and curiosity. Such a nurturing environment has made a deep impression with the children who attend the school, as evidenced by the following comments from current students.

Favorite time of the school day …
"I love Group Time, because we get to cook all different types of food together as a whole junior high. Then we get to eat all of our delicious food." —Lily, 12

"I love Literacy, because my friends and teachers are helping me to challenge myself to read different types of books. I also like electives, because I get to pick what I want to learn and hang out with my junior high friends." —Massimo, 9

Being part of the PLS community …
"Project Learn is nothing like my old school, because we are encouraged to learn from each other and our teachers. Our learning is also hands-on and project based, so it's fun too. I also get way more one-on-one attention." —Ian, 13

What they will remember after "graduation" …
"I'm going to miss working on the Spring Musical. We all work so hard on it together, and it comes out great in the end." —Nya, 14

"I will miss my teachers, because I have really gotten to know them as people. I know their hobbies, their families and what they like to do on the weekends, and they know me in the same way. That doesn't happen at most schools." —Fae, 13