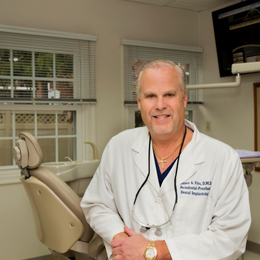 Choose Wisely with James A. Vito, DMD
When it comes to enhancing smiles through implant dentistry, dual-board-certified James A. Vito, D.M.D., offers guidelines for evaluating the skill and expertise of dental professionals
The world has changed quite a bit since the 1980s, when James A. Vito, D.M.D., began building his reputation as one of the Main Line's premier practitioners of implant dentistry.

Back then, implant dentistry—the art and science of extracting a failing tooth and then restoring it with an implant-supported replacement that is virtually undistinguishable from a natural tooth—was akin to "some form of witchcraft," he says. While he's thrilled with how far implant dentistry has come in terms of both its predictability and its acceptance, such change has not come without its drawbacks.

Dr. Vito is widely known as someone who can get optimal results from even the most compromised cases, as well as someone who is called upon to repair the work of less skilled professionals. As such, he has noticed an increase in the number of complications caused by failing implants, mostly because more dental professionals than ever now offer dental implants as part of their menu of services, even though many lack the necessary skill and training needed to ensure predictable results.

"People have to understand and appreciate that a dentist is not a dentist is not a dentist," says Dr. Vito, whose practice is based in Wayne. "Dental implants are in vogue right now, and you have a lot of dentists who go to a weekend lecture or a one-day course and feel they are proficient at delivering the level of care necessary for implant dentistry. There's a lot more art and science and thought that goes into doing a dental implant than just the mechanics of drilling a hole and putting in a screw.

"Unlike teeth, implants are unforgiving," he continues. "If teeth are in the wrong position, you have a lot of things you can do to put them in the right position. If you put a dental implant in the wrong spot, there is a lot of creativity that is then needed to make a poorly positioned dental implant look and feel like it is in the right position."

Most patients in need of dental implants are not what Dr. Vito calls "ideal cases," meaning they lack the bone width or depth to accommodate a dental implant or otherwise have a situation that requires advanced care. In the hands of a dentist without the proper training, Dr. Vito believes such cases often push the dentist outside of his or her comfort zone, thereby increasing the likelihood of an aesthetic or functional compromise.

"Sometimes a lesser experienced implant dentist will find themselves in a hole but keep digging, hoping for the best," he says. "That's when the patient will come to me, after the fact, and I'll have to correct the problems created from the implant not being done correctly the first time. … If it had been done right initially, there would be less of a chance of potential problems and, in all likelihood, it would have cost significantly less."

A typical dental implant, when done properly, might cost as much as $6,000, according to Dr. Vito's estimate. When the implant is done improperly, assuming the implant body is in a quasi-correct position, creating a new abutment and crown might run another $3,000. If the implant body fails because it was positioned incorrectly, repairing the bone and placing a new implant, abutment and crown could cost an additional $7,200.
This is why Dr. Vito believes it is critical for patients to research a dental professional to make sure he or she has the experience needed to deliver a positive result. He suggests patients take to the Internet to research each provider's expertise, and then follow up by asking the tough, even potentially awkward questions that could help prevent an avoidable problem. These questions include:
* "What is the source and scope of your training in implant dentistry?"
* "Are you affiliated with organizations such as the Academy of Osseointegration, the American Academy of Implant Dentistry (AAID) or the International Congress of Oral Implantologists (ICOI)? Are you board certified in implant dentistry by the AAID or the ICOI?"
* "Do you have in-office technology such as 3-D imaging to assist in planning and placing the dental implant?"
* "Do you have the knowledge to guide the dental laboratory in designing the implant to provide ideal aesthetic and functional results?"
* "Are you experienced enough to teach implant dentistry to other dental professionals?"
* "Can I speak with a few patients to see how their experience was?"

"Dental implantology is an expensive form of dentistry; we're basically giving you a third dentition," Dr. Vito says. "And because it's expensive, you should look into who is going to be doing the work. When you buy a car, you don't just go to one dealership and take the first deal you're offered without doing your homework. It's easy enough to check up on somebody and research their credentials, and it's better to do that once than it is to have to do it later when you're in a compromised situation."

Fixing Problems
Early into his career, Dr. Vito was drawn to the subspecialty of periodontal prosthesis, which requires rigorous training in reconstructive dentistry, periodontics and dental implants. He, like the other men and women who chose this path, were often seen as "hero dentists," the ones to call when nobody else could figure out the problem.

"We were like the Special Forces of dentistry," he recalls. "We were all that was standing between patients and dentures. A lot of people used to think dentures were the answer to all their tooth problems, but there are some real health consequences and quality-of-life issues that come with having dentures. When you think of all the health advancements that have been made through the years, to say 'I'll settle for dentures' is a decision made out of ignorance as to what is available today.

"Research has shown that people with dentures live 15 to 20 years less than people with intact dentition," he continues. "Dental implants are not only the wave of the future, but they're also a life-saving alternative to dentures."

Dr. Vito, who is a prosthodontist and a periodontist, is among the few dentists in the nation to have two board certifications in the surgical placement and restoration of dental implants. He trained at the University of Pennsylvania School of Dental Medicine and is a graduate of the school's prestigious Periodontal-Prosthesis Program. He also completed a general practice residency at Albert Einstein Medical Center, during which time he received the Dr. Benjamin Lebby award for "Outstanding Performance as a Dental Resident."

Aside from running a busy practice, Dr. Vito serves as a clinical associate professor of periodontics and implant dentistry at Temple University's Kornberg School of Dentistry, as well as a faculty member at the Misch International Implant Institute. In fact, the three years he spent studying under Carl E. Misch, D.D.S., the world-renowned implant specialist and founder of the Misch International Implant Institute, helped shape the way he treats patients in his own practice.

"One of the things [Dr. Misch] taught me is that we, as dentists, should be putting patients on a pedestal and look at not what is faster, easier or simpler but what is right," Dr. Vito says. "If more health care practitioners followed that motto, there would probably be fewer issues. … Another saying of his is, 'If you can't afford to do it right the first time, can you afford to do it over?' As a patient, you have one shot to have [an implant] done right, so my advice is to choose your dentist wisely."

James A. Vito, D.M.D.
523 E. Lancaster Ave.
Wayne, PA 19087
610-971-2590 | JamesVito.com
Teeth by Tonight
Dental Implants

Photograph by Jody Robinson