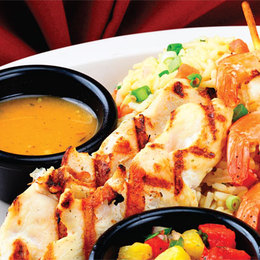 Dave & Buster's
Try the D&B in Plymouth Meeting for fun and class
"The Plymouth Meeting Dave & Buster's offers a more intimate experience than the Dave & Buster's you've come to know," promises General Manager, Rocco Casciato.

How very true. Walking into the upper level dining room may surprise a first-time visitor. From the polished marble bar with 30 flat-screen TVs, tiled floors and art deco design to the elegant and intimate seating and lighting, one might think a mistake had been made. Isn't Dave & Buster's a gaming place—suitable for a quick meal while the kids win prizes? Yes and no. "Many patrons don't realize the full menu offered, including banquet services," Casciato says. "Food is always the biggest compliment when we have a function here at the restaurant," he adds, "and customers are often surprised by its quality."

With 35,000 square feet split over two floors, Dave & Buster's of Plymouth Meeting offers a spacious banquet facility that can accommodate up to 1,700 people. Two spaces are designed for small groups or business teams for conferences and meetings. And three private rooms are perfect for corporate and social functions, weddings, bar/bat mitzvahs, birthday parties and anniversaries. Each is equipped with video and audio capabilities.

A savory tour
A tour of Dave & Buster's menu reveals easy-to-read choices from seafood and steak to chicken and salads. It offers something for everyone.

The Chicken Tortilla Soup, Sweet Apple Pecan Salad with Grilled Chicken, or Honey Mustard Spinach Salad make great appetizers. For the entrée, try the Black Jack BBQ Chicken, Island Grilled Trifecta—with honey-teriyaki sirloin steak, seasoned chicken breast and tender shrimp served on a bed of spicy rice. Or the unusual Huli Huli Atlantic Salmon fillet grilled and glazed with a Hawaiian ginger sesame sauce is a favorite. Dave & Buster's also offers the New York Strip Steak prepared in a variety of ways from blackened to peppercorn or char grilled.

But be sure to leave room for dessert. Not only are the choices delicious, but they are artistically unusual—who else tempts with Belgian Chocolate Fondue with fruit and sweets?

An evening out
What about an intimate dinner with a glass of wine or your favorite cocktail. Believe it or not, Dave & Buster's has it.

"What distinguishes us from other restaurants is that our food is as good, if not better, than many area high-end restaurants," says Chef Dave DeSimone who has worked with Dave & Buster's for more than five years and in the industry for more than 15. It's his job to assure the pasta is made fresh daily and the sauces panmade with delightful combination of seasonings that make it all taste just right.

And now for the fun and games
Dave & Buster's Million Dollar Midway can be found on the lower level with more than 90 games and attractions—a fullscale adventure with the look and feel of a typical casino floor on any cruise ship or high-end hotel. Muted carpets and classy décor bring to life the sights and sounds of a true "game" environment.

A popular option is the "Eat & Play" combo for just $15.99, which comes with a choice of surefire winners off the main entrée menu coupled with at $10 game card. Couples usually eat first and then play, with bars available on both levels, says DeSimone.

No matter what the reason for entering Dave & Buster's of Plymouth Meeting—a delicious meal, the thrill of winning a few games, spending time together as a couple or a business team, you won't be disappointed. More interactive than a movie, fine dining to rival the classiest restaurant, and a place to whet your competitive appetite—what more could one want? After spending the afternoon or evening over a great meal in a very classy atmosphere, the prize might be an iPod in the Winner's Circle shop or a stuffed animal taken home by your girl. Or, best of all, it could be a second date or signing that new client.

Dave & Buster's
500 W. Germantown Pike
Plymouth Meeting, PA 19462
610-832-9200
www.daveandbusters.com.

Jeannine Fielding is a freelance writer in Bucks County.