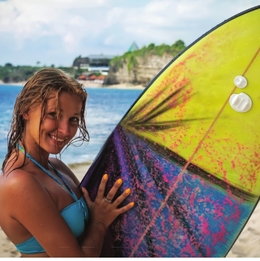 Escape
Seeking new experiences? Adore adventure? Crave culture and distinctive cuisine? If so, make a beeline for these travel destinations
A new year means new resolutions. For many, the task of bettering oneself often includes a commitment to seeing more of the world—whether it's halfway across the globe or within a few hours' drive.

We're happy to help you figure out where to head next. To do so, we've enlisted help from the travel experts at AAA Mid-Atlantic (midatlantic.aaa.com), which has dozens of AAA Car Care Centers throughout the region, including locations in Chester, Delaware, Montgomery and Philadelphia counties.

No matter what you seek—enjoying the theater in London's West End; indulging in the distinctive cuisine of New Orleans; exploring an active glacier in Alaska; zipping through a Costa Rican jungle canopy; walking the quaint streets of a village that played a key role in the Civil War—now is the time to go find it. In other words, get ready to pack your bags.


Costa Rica: Adventure Awaits
Have a thirst for adventure on sand, in the surf and among the trees? Sate it by spending a minimum of seven nights in this Central American paradise, which is part of the isthmus between the Caribbean Sea and the Pacific Ocean. Costa Rica is known for its epic zip lines through the jungle canopy, not to mention some of the best waves outside of Oahu. It's also home to the 47,000-acre Tortuguero National Park, sometimes referred to as "the Costa Rican Amazon," because of its lush natural beauty and network of freshwater creeks and lagoons, which teem with abundant wildlife such as caimans, manatees and river otters.

"I've been reading more about how so many U.S. retirees are looking at Costa Rica as a place to retire, and it's easy to see why," says Lisa Sands, director of travel marketing and communications for AAA Mid-Atlantic. "It's safe, the economy is stable, and there's a relatively low cost of living."

When to go: Skip the rainy season, and plan your trip anytime from December to April.

How to get there: Fly roundtrip on American or United, with routes from Philly to San Jose, for less than $600 per person. Airfare, of course, is subject to change.

How much to spend: Overnight at the Occidental Grand Papagayo ($400 per night for two people) in Guanacaste. Situated along the country's Pacific coast, the Occidental is a perfect starting point for various excursions, tours and eco-adventure trips, according to Sands.

What to do: Spot howler monkeys and green macaws while hiking through Monteverde's Cloud Forest. Tour a pineapple plantation. Peer inside a volcano. Take a whitewater rafting trip. Keep an eye out for nesting sea turtles along the vast beaches. Skirt the gorgeous Gold Coast on a catamaran. Surf the waves. Zip line. Hop on a paddleboard. Go fishing or scuba diving. Simply put, if adventure is your thing, Costa Rica will delight.

Worth noting: "In Tortuguero National Park, there are no roads, so all of the getting around from place to place is through canals by boat," says Sands. "It's not someplace you're going to drive through." Also, she suggests bringing binoculars and a good camera.

Alaska: Making a Scene
Although Alaska is technically part of the United States, it might as well be a world away. The stretch from Anchorage to Fairbanks, with Denali National Park and Preserve in between, offers some of the most stunning views on any continent. The park has 6 million acres of pristine tundra, forest and mountains, with America's tallest peak—the 20,310-foot Denali (formerly known as Mount McKinley)—as its centerpiece. Here, visitors discover a diversity of distinctive wildlife, ranging from grizzlies and black bears to caribou and moose.

"The best way to see this part of Alaska is from land, sea and air," says Sands. "Just seeing it from the coastline doesn't do it justice; you have to get into the interior to really see it. … More than 50 percent of visitors have been to Alaska before; there's so much to see that you can't do it all in one trip."

When to go: May through September, though those who want to catch the best views of the Northern Lights should go when skies are darkest, meaning December and January.

How to get there: There's a cruise line to suit any demographic or interest—be sure to book a stateroom with a balcony to enjoy the views from the comfort of your room—but cruises are hardly the only way to go. Go the DIY route by planning the trip yourself or, as Sands suggests, take an escorted tour.

How much to spend: Princess Cruises offers a 12-night Denali Explorer Land and Sea package—from Vancouver to Anchorage—with port stops in Ketchikan, Juneau and Skagway—followed by three nights in Denali National Park. Prices start at $1,650 per person.

What to do: For an unparalleled view of Denali National Park, take a flight-seeing plane, which takes passengers above the ice fields, circles Denali and lands on an active glacier. Visitors can also tour the kennels of the only sled dogs in the United States that help protect the wildlife and resources of a national park.

Worth noting: "Pack layers," says Sands. "It gets up to 80 degrees in Fairbanks in the summer, and there could also be snow on the ground. … The weather can be surprising. If you go in June, there are up to 22 hours of daylight; it's an unusual experience."


Harpers Ferry, W.Va.: Historically Beautiful
Harpers Ferry and its next-door neighbor, Bolivar, are two quaint 19th century villages, bordered by the Potomac and Shenandoah rivers, at the easternmost point of West Virginia. Both are surrounded by Harpers Ferry National Historical Park, a dog-friendly destination where visitors can take tours, visit museums and hike a surprising network of trails. Although many visitors come to take in the gorgeous scenery, Harpers Ferry also lures its share of history buffs. The village played a central role in the Civil War; it is perhaps best known for abolitionists' failed attempt to raid a U.S. armory, which led to the capture and subsequent hanging of notable abolitionist John Brown.

When to go: Harpers Ferry and Bolivar have reasons to visit all year long, but the area shows its best side from May through October, when the milder temperatures allow for maximum time spent outdoors.

How to get there: Drive. From Philly to the West Virginia border, it's about three hours behind the wheel.

How much to spend: Harpers Ferry Vacation Rentals offers cottages starting at $150 per night, all within walking distance of the village's prime attractions.

What to do: History aside, Harpers Ferry's riches include including ample antiquing, a number of local boutiques and, depending on the time of year, water sports such as kayaking and whitewater rafting. As for hiking, the Appalachian Trail wends right through the heart of the town. Before finding the AT's trailhead, be sure to stop at the Appalachian Trail Conservancy's HQ for maps, provisions and updates on trail conditions.

Worth noting: If you're looking to "get away from it all" on the nearby hiking trails, you might not find the peace and quiet you seek. The din of traffic from the roadway crossing the Shenandoah can be heard several miles into the woods.


New Orleans: Easy to Love
Bourbon and brass are just two of the staples of life in a part of the world that has earned nicknames such as The Big Easy and The City that Care Forgot. New Orleans offers so much to see and do—so much history, great music, nearby swamps and gorgeous open spaces—and, of course, the food. By the time you leave, you'll know the answer to Louis Armstrong's famous quandary, "Do You Know What It Means to Miss New Orleans?"

When to go: Louisiana has more festivals than days of the year, so just about any time of year will guarantee a good time. There are festivals for tomatoes, oysters, jazz, voodoo, po-boys, the French Quarter, Tennessee Williams … the list goes on. To catch the famous Mardi Gras parades, which roll throughout the Carnival season, visit in February or early March. For tunes during Jazz Fest, visit in late April. To vibe at Voodoo Fest, visit Halloween weekend.

How to get there: Prices will vary depending on the time of year you choose to visit; flights during Carnival are more expensive than flights in the summer, for example. Fly Southwest or go to cheaptickets.com to look for reasonable fares.

What to do: Eat! Café du Monde is famous for its beignets and chicory coffee, but that's just the start. "I find that you won't have a bad meal anywhere you go," says Sands. "In New Orleans, you'll find every kind of food, from the expected Creole and Cajun to the unexpected with all kinds of nouveau foods. I recommend talking to someone who [lives] there."

How much to spend: New Orleans has a range of activities to suit every budget; you can get a sno-ball (New Orleans' answer to water ice) and spend the day wandering City Park for about a dollar. Or, visit Harrah's in the French Quarter for a bit of gambling then hit the world-famous Commander's Palace for dinner—this will definitely run more than a dollar.

Worth noting: In a town like New Orleans, where the rules seem lax and "go-cups" abound, it can be easy to lose track when it comes to consumption. Enjoy the festivities and have a few beverages, but keep your wits about you. Certain areas are prone to crime; ask your hotel front desk for tips before you venture out.


London: Stunning and Storied
London is the place to go for culture, history, nightlife and, of course, theater. The city, after all, is nearly 2,000 years old. You can even visit the queen (well, her residence). Additionally, London is bursting with a variety of global foods to suit any palate. "There's a lot of excellent cuisine," says Sands. "If you like New York, you'll love London; a lot of theater you see on Broadway starts in London's West End."

When to go: London is beautiful around the winter holidays, with many neighborhoods strung with twinkling lights and streets lined with abundant vendors. For London at its most beautiful, visit in the spring or summer to see the city's many gardens—the Royal Botanic Gardens, Eltham Palace and the Buckingham Palace Garden Trail, among them—in all their lush green glory.

How to get there: The most affordable roundtrip flight will likely be in the range of $1,000 per person. While you're "in the neighborhood," why not also venture over to Ireland or Wales, up to Scotland or down to France?

How much to spend: As London is a major world hub, hotel options abound, so research and find accommodations to suit your budget. When planning, be sure to consider questions such as, "Is this near a tube [underground] station?" or "Is this in a neighborhood near attractions I wish to see?"

What to do: Tour, tour, tour! Visit all the historical sites—Tower Bridge, the British Museum, the Tate Modern, the Victoria and Albert Museum, etc.—or take a stroll through Camden Market, visit the zoo in The Regent's Park, and, if you have the means, shop. "What was most notable to me," says Sands, "was Westminster Abbey—the history behind it. A lot of London is like that. These structures have stood for hundreds of years … and [the history] really comes to life when you're actually there."

Worth noting: According to the U.K.'s The Telegraph, London was the third most expensive city in the world in 2015, so don't expect to do much "on the cheap" here. Cocktails at nightclubs, for example, can run upwards of 13 pounds (about $20) each.