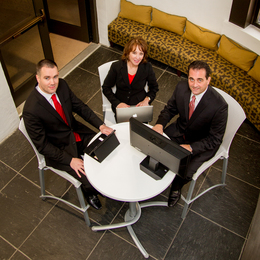 Resolved
Resolved Guided by Penn Wealth Planning's team of wealth advisors, clients of all ages and backgrounds start the year on the right foot
The dawning of a New Year is known as a time of reflection, reinvention and forming good habits. Often these habits are tied to fitness, diet and, as the principals of Penn Wealth Planning LLC can attest, the health of one's financial picture. Although goals for the future are unique to the individual, the comfort that comes from long-term financial security is a universal ambition.
"I've always liked helping people work towards getting to where they need to be, and the destination is different from one person to the next," says Lisa Bodine, a financial advisor with Penn Wealth Planning, the independent wealth-planning firm she co-founded with Frank R. Policare in 2003. "For younger investors, maybe they are trying to get their first mortgage and figuring out how much they should put in their 401(k). For people in their 40s and 50s, they're likely looking to fine-tune their investment portfolio and working to put their kids through college. For baby boomers, they're looking to supplement their Social Security or pension with additional income or trying to figure out how they can retire comfortably.

"With every client, no matter what their situation may be, we help them focus," she continues. "We like to say we put our arms around a client's entire financial life and gather everything together."

"Everything," in this case, pertains not only to investable assets but, essentially, anything that has the potential to impact one's wealth—from insurance and taxes to the details surrounding estate planning, such as the beneficiaries designated in wills and trusts. Such a comprehensive view may be able to help protect clients from undue risk, according to Bodine.

For her part, Bodine roots her practice in high-net-worth individuals, including top-level executives employed by Fortune 50 companies in the pharmaceutical industry. Her robust client list has since expanded to include a number of longtime clients' children who have entered the professional work force and are eager to plot a course for a sound financial future. She characterizes these kinds of referrals as "the biggest compliment I could possibly ask for."

Compliments have come from sources beyond her circle of clients. Bodine was recently named to the 2015 Financial Times Top 400 Advisors list*, and she also earned a place on the 2015 LPL Chairman's Council; this honor is reserved for the top 2 percent of the 14,000 advisors in the firm, based on annual production. In addition, she was named a 2015 Five Star Wealth Manager, as published in July by Philadelphia magazine.**

Policare, meanwhile, works closely with small-business owners. As a business owner himself, he believes his experience has afforded him a unique understanding of the many topics that occupy the minds of entrepreneurs. His client list also includes individuals who have retired or will soon be retiring.

"Our job is to provide the reassurance that we have a plan to handle many situations that may come up in the future," says Policare, whose career in the financial services industry began in 1981. "When it comes to retirement, that's where we step up and work to help clients answer questions like, 'Based on what I have accumulated, how do I live off that amount for the rest of my life?' and 'Where will the money come from?' What we do is essentially create a system designed to pull income out of their portfolios with a goal to help them live comfortably."

A web-based tool known as WealthVision provides an able complement to the expertise of the firm's advisors. After one of the firm's advisors has worked to understand a client's lifestyle and goals for the future, the firm can deliver customized strategies to fit a client's specific needs. From there, an individualized WealthVision website enables the client to aggregate accounts, review financial plans and store vital documents. As a result, the client can view his or net worth on a daily basis and establish a budget to follow going forward.

Regardless of the client's situation, Penn Wealth Planning aims to provide each client with exceptional service and meaningful, objective guidance.

"That's where our independence comes into play," Policare says. "When Lisa and I founded this firm, we wanted to be about service first and doing what we felt what was best for our clients, not what some corporation wanted us to be. I think the emphasis we place on service and the value we place on long-term relationships have really made a difference and earned us a lot of trust."

He cites the economic meltdown—the beginning of the so-called Great Recession—that occurred in late 2008. Although the global investment community took a significant hit in the aftermath, "our clients were calling us to make sure we were OK," he says. "I think that says a lot about the value we provide."

Spanning Generations
Bodine and Policare have been good about following the forward-thinking advice they prescribe to clients. In July, they finalized the appointment of Patrick Trauger, a financial advisor and key team member since 2007, as a partner in the firm. Trauger's appointment, in essence, will take Penn Wealth Planning into the next generation.

"I like being able to help clients plan for the future, whether it's for a retirement, buying a second home or planning for something entirely different," Trauger says. "It's about getting to know the client and coming up with a plan that can be tweaked over time, if needed, based on someone's risk tolerance, goals and objectives. We work as a team with them; we don't just say, 'This is the right thing for you.'"

Trauger has a rather remarkable history with the firm. Now 31, he has been a family friend of Bodine and Policare for almost 20 years. As an adult, Trauger crossed paths with his future colleagues while he was working at Commerce Bank in Doylestown. They liked how confidently he conducted himself and how well he interacted with customers. They also respected his commitment to serving his country as a member of the Air National Guard; at the time, he had completed one deployment to Iraq, where he served on the outskirts of Baghdad, beginning in late 2006.

They liked him so much, in fact, that they wanted him on their team.

"I was so impressed with the way he carried himself that I told him, 'If you ever need a job, please call me,'" Bodine says. "Eventually, he did, but at the time we weren't looking for someone full time, so I told him we could bring him on in the fall. He said, 'I'll probably volunteer to go back to Iraq then.' I said, 'OK, you start on Monday.'"

Trauger continued to impress after he came aboard. Bodine recalls coming into the office one day in 2008 to find him wearing a nervous, even sheepish look. He then told her he was being deployed again, this time to Afghanistan.

"He was more upset about disappointing us than he was worried about his own safety," she says. "I think that says a lot about his character."

After completing his second deployment, Trauger returned stateside and resumed his job at the firm. By taking on increasing amounts of responsibility, he built his fellow advisors' confidence in him. These days he spends his time tending to the needs of a growing client base—particularly younger individuals, including a number of second-generation clients—while still learning from his peers.

"With Pat now being a partner, I think there's a great future for this practice," adds Bodine. "That having been said, Frank and I aren't going anywhere anytime soon."

Penn Wealth Planning LLC
4 Gazebo Place
New Hope, PA 18938
215-862-7080
www.pennwealthplanning.com

Photograph by Allure West Studios

Securities and advisory services offered through LPL Financial, a registered investment advisor. Member FINRA/SIPC

Investing involves risk including loss of principal. No strategy or plan assures success or protects against loss.

*2015 Financial Times Top Financial Advisors minimum criteria: Financial advisors managing at least $200 million in assets and more than 10 years' experience. Selected based on six criteria including: assets under management, asset growth, compliance record, experience, credentials and online accessibility.

**Award based on 10 objective criteria associated with providing quality services to clients such as credentials, experience, and assets under management among other factors. Wealth managers do not pay a fee to be considered or placed on the final list of 2015 Five Star Wealth Managers.