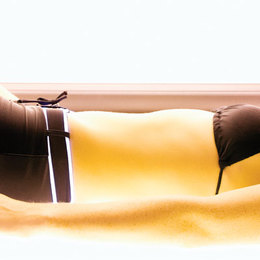 Burn Notice
New legislation and research call out the risks of indoor tanning on teenagers
Whether they're preparing for a vacation at the shore, primping for their wedding or just trying to avoid that I-sit-in-an-office-all-summer look, women throughout the area frequent indoor tanning salons to achieve a sun-tanned glow in no time. And while women in their 20s and 30s are the most common indoor tanning customers, the number of teenage boys and girls "fake baking" has also increased over the past few years. According to The Skin Cancer Foundation, 2.3 million teenagers visit a tanning salon at least once a year.

You could blame MTV's "The Situation" for his sworn-by regimen of gym, tan, laundry. Or, like recent research conducted by Memorial Sloan-Kettering Cancer Center and the University of Albany-SUNY, you could say that indoor tanners become addicted to the act despite knowledge that it could cause skin cancer.

But the federal government decided to take action by including in the health care bill a 10 percent tax on the ultraviolet light tanning beds. Sunless tanning options, such as spray tans and tanning lotions, will not be taxed.

The tax went into effect at the beginning of this month, so the effects on the local tanning industry remain to be seen.

John Overstreet, executive director of the Indoor Tanning Association based in Washington, D.C., believes it will harm the businesses that may already be struggling against larger chains in a well-saturated market like the Philadelphia area. But he says area women will be the ones who feel the most impact.

"Indoor tanning salons are primarily run by women and they primarily employ women," Overstreet says. "And their customers are women. So, it's working women and young women—that's who the tax is going to hit."

Dr. Rochelle Weiss, head of the Department of Dermatology at the Bryn Mawr Medical Specialist Association, applauds the tax, but still feels it is just the tip of the iceberg in regards to what can be done.

"It's a great concept, but it's not going to keep people out of tanning salons who really want to go," says Weiss, who is also a partner at Weiss and Roling Dermatology & Associates in Wynnewood and Bryn Mawr and on staff at both Bryn Mawr and Lankenau Hospitals. "Just like cigarettes, there needs to be a Surgeon General's warning on tanning bed doors, but there has not been any headway on that."

While women may be the hardest hit by the tan tax, many medical professionals believe the greatest concern should be on teenage tanners.

"Part of the issue with teens and tanning is that they don't see the negative effects right away and aren't necessarily thinking about or concerned with what could happen 20 years down the road," explains Dr. Steven Greenbaum of the Skin & Laser Surgery Center in Philadelphia and a spokesman for The Skin Cancer Foundation.

Additionally, Greenbaum says, unlike smoking or drinking, you don't need an ID to get a tan. "Many teens who go to tanning salons are under the age of 18 and hence are considered minors. But, that doesn't matter," he says. "Sometimes they receive these treatments at tanning salons without the knowledge or approval of their parents. The exposure to UV radiation 'feels good' and can even give a psychological boost to many of them, which is an issue in itself."

In response, several states, including Delaware, New Jersey and California, have imposed a ban on tanning salons for teens under the age of 14. Three bills that have been introduced in Pennsylvania would require a parent or legal guardian be present and consent for anyone under the age of 18. It would also ban use for those under age 14 without a doctor's recommendation.

Hollywood Tans, a franchised tanning salon with more than 20 locations in our area, says that tanners under the age of 18 must have a parent or guardian sign a release form, regardless of state requirements.

According to Overstreet, however, tanning doesn't pose any additional risk on teens than on adults.

"They're finding rickets in children again because they're not getting enough sun," he says. "I think that as long as it's done in moderation, as long as you don't get a sunburn, there's nothing that suggests that it's any worse for any particular age group."

He adds that the supervision and restricted time limits provided at tanning salons is more beneficial to teens who would otherwise spend hours on the beach or by the pool without sunscreen.

Overstreet points to a National Institutes of Health study that determined that young women going through puberty with adequate levels of vitamin D—which is primarily produced in the body in response to minimal amounts of sun exposure—were 40 percent less likely to develop breast cancer as an adult.

"The bottom line is that ultraviolet light, whether it comes from a tanning bed or comes from the sun, is the same thing, and there are risks—which we acknowledge—and there are benefits, which you never hear about," Overstreet says.

Dermatologists like Weiss, are not too quick to find any benefits from indoor tanning.
"It is true that tanning salons will not cause a sunburn in most cases, but it is equally, if not more, dangerous, because it penetrates vapor into the skin at a shorter distance and higher rate," Weiss says. "I'm very biased against tanning salons. There's pretty much no upside, and a lot of the myths the tanning industry propagates–such as that a 'base tan' from a tanning bed will prevent a burn from the sun–are really untrue. There is no such thing as a safe tan."

According to a 2,300-person study recently completed at the University of Minnesota's School of Public Health and Masonic Cancer Center, 74 percent of people who frequently use any type of tanning bed (defined as 50 plus hours, more than 100 sessions, or for 10-plus years) were 2.5 to 3 times more likely to develop melanoma in their lifetime.

The tax replaced a 5 percent tax on cosmetic surgery dubbed "Botax" that was originally included in the bill, but was cut after heavy lobbying from the medical and dermatology industries. It is expected to generate about $2.7 billion over the next 10 years to help fund the president's health care reform bill.

Greenbaum remains curious as to how the tax will ultimately help health care reform while raising awareness about the risks of indoor tanning.

"The more expensive something is the more people will think about it and the less number of people will be able to afford it," he says, "but, it doesn't solve the problem. And although it may also serve as a reminder of the risks of tanning, how the 10 percent tax will be utilized remains to be answered."

Leigh M. Boriskin is a freelance writer based in Philadelphia.