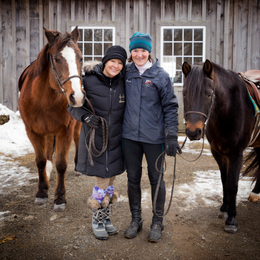 Riding to Heal
At Glenmoore's Horse Power for Life, equines help humans overcome some of life's most difficult hurdles
Becca Smith had survived a battle with "stage 3-plus" colon cancer in 2007—only to lose her husband, Walt, to brain cancer in 2012—when she got the call that helped her turn the page to the next chapter of her life.

The call came from Shiree Radie, co-founder of Horse Power for Life (horsepowerforlife.org), which began in 2007. That's the year co-founders Radie and Barbara Rosoff—both of whom had both lost family members to cancer—came up with the idea for the nonprofit organization, which is based in Glenmoore.

Smith had grown up with horses in rural Chester County and had experience teaching children pottery, and Radie wanted her to become the nonprofit organization's new riding instructor for the program. Its mission, in part: to offers tailored 16-week horsemanship programs for people of all ages battling cancer.

"It was a memorable moment," says Smith. Although she had longed to help people waging their own battles with cancer, it never crossed her mind to lend her services to the nearby organization. It has since become an all-consuming labor of love for Smith, the mother of two grown daughters.

"This is really amazing," says Smith, who teaches the classes each year from spring until the first snowfall. "I know that whole 'give back' thing is overused. I'm so happy to have this program. It's impossible for me to describe. I wanted to create something I could do for others."

Radie serves as president but takes no salary. Smith takes only a small stipend to cover costs. The board of directors is made up of volunteers.

Although lessons cost $15 per 90 minutes—a fraction of the cost for regular riding lessons (generally between $50 and $60 per hour)—exceptions are frequent. "Some pay $15, some pay $5 and some pay zero," says Radie, adding that "two major fundraisers" sustain the organization. One is Jingle Fest, held at the Greater Philadelphia Expo Center in Oaks, which last year raised approximately $4,000. The second, and larger, event is the April Gala and Silent Auction, which has raised more than $50,000 in the past, on the strength of raffle tickets and sponsorships. This year's event—featuring dinner, dancing and an open bar—is scheduled for April 15 at the Sheraton Valley Forge. Along with "miscellaneous donations," these events should help Horse Power for Life cross the finish line ahead of its $60,000 annual operating budget.

"It's rewarding, but it was scary for a while," says Radie. "A lot of nonprofits weren't making it."

Radie adds that while the program can hold up to 25 participants, currently it has only 10. "I'm thrilled that we have survived the challenge, but I wish we had more students," she says. "I want to help more people."

As for that phone call four years ago to Smith, Radie knows it gave the program the personal touch it needed.

"Our mission is close to her heart," says Radie. "[Smith] knows, firsthand, what the families are going through. We are proud to have her with us."

Shortly after Smith came aboard, the organization moved its operations to her home turf, Stone Crop Farm, which she called a "logical" decision.

"I was thrilled," says Smith. "Students and their families could come to my farm and experience the peaceful, private nature of what many call a 'piece of heaven.' The lessons at Stone Crop Farm would be customized to meet each individual's particular needs."

Examples include a woman who was interested in Horse Power for Life but requested that she bring her granddaughter so that she could watch her ride one of horses, including award-winning Nicholas, laidback Tupelo Honey (named for a Van Morrison song) and Finnegan, a rescue from Canada, as well as two ponies—Corduroy and 26-year-old pony Magic.

"[Magic] has been a teacher all her life," says Smith. "She was four when we first got her, and she is really seasoned and loves children. She would much rather have a child on her back. The others are good, but they all have their quirks."

Horse Power for Life casts a wide net, with riders ranging in age from 4 to those well into adulthood, and family members are encouraged to join. The organization accommodates a number of unique situations, including the time when Smith came in contact with a man in a grief-support group who recently lost his wife, and one of his children came to ride.

"He had four kids, but he said his daughter used to ride with her mother," says Smith, who then told him about Horse Power for Life. "She has since graduated from the program, but she continues to ride here."

Smith recalls another young family that came in the summer.

"While Levi and his little sister had their riding lessons, their mom and dad relaxed nearby in the Adirondack chairs, enjoying the view," says Smith. "I'm guessing they don't have an opportunity like that often with two small children, one of whom has been undergoing treatment for leukemia."

Every student that comes through, those who survive and those who do not, touches Smith's heart and answers the question she used to wrestle with about: What could she do to help others dealing with cancer?

Smith still remembers one of her first students, a woman with lung cancer who wanted to participate in the Horse Power for Life Program with her daughter.

"She explained that their relationship was strained, and worsened by her recent diagnosis of lung cancer," says Smith. "Her hope was that she and her daughter might ride together, and hopefully experience a mending of their relationship. This woman knew the healing power of horses and hoped to experience that with her daughter. During the next year, we became emotionally connected as the mom and daughter laughed, cried and cheered each other on. As time went on, the mother became too sick to ride. She came and watched her daughter ride with such pride and joy on her face. Four months later, the mom died.

"The daughter and I continue to be involved in each other's lives," she continues, "thanks in part to the power of a horse."


Saddle Up
Besides Horse Power for Life, a number of other locally based organizations help children and adults through the healing powers of equine therapy, including:

Quest Therapeutic Services
610-692-6362 | questtherapeutic.com
This West Chester-based not-for-profit utilizes hippotherapy, among other services, from trained professionals to assist in-need individuals from birth through age 21.
Upcoming: Quest Therapeutic Services is one of the beneficiaries of The Willowdale Steeplechase, to be held on May 15, 2016.

Special Equestrians
215-918-1001 | specialequestrians.org
A therapeutic riding program located in Warrington, Special Equestrians aims to improve "the physical, mental and emotional well-being of individuals with disabilities" through therapeutic riding programs and hippotherapy with occupational and physical therapists.
Upcoming: Special Equestrians' 15th Annual Charity Golf Tournament will be held on April 25, 2016.

Work to Ride
215-877-4419 | worktoride.net
This 501(c)(3), which is headquartered out of Chamounix Stables in Fairmount Park, runs a "community-based prevention program that aids disadvantaged urban youth though constructive activities centered on horsemanship, equine sports and education."
Upcoming: Work to Ride Annual Polo Benefit will be held in September 2016.

Photograph by Jody Robinson