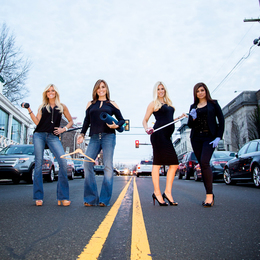 Strength in Numbers
Four Bucks County entrepreneurs have achieved prosperity through businesses rooted in service, leadership and empowerment—and they've only just begun
Meet Jen Gage, Jennifer Poe, Laura Rothstein and Meeta Sahu. Each of these four Bucks County entrepreneurs has developed a flourishing business devoted to the ideals of empowerment, leadership and service. Success aside, each woman has worked to maintain the delicate balance between pursuing her ambitions and leading a fulfilling personal life. Although each of them has followed her own passion, her own purpose, each also realizes that, by working together, they can significantly enhance their ability to have a positive influence on the world around them.

Jen Gage
Gage always had a passion for fitness. She earned a degree in physical education and exercise physiology from Temple University, to which she received a full gymnastics scholarship. After graduation, she coached the championship gymnastics team at the University of Pennsylvania. Although she had a personal-training business on the side, she ultimately became a teacher, specializing in health and phys ed. She never considered turning her passion for personal training into a full-time career.

All that changed in 2006, when a chance encounter turned into an opportunity to participate in a research study that opened her eyes to the possibilities.

"A doctor asked if I wanted to help research the effects of infrared light on the human body during exercise, and over the course of the summer, I had to get 25 clients together to get the research done," she recalls. "At the time I had about 20 personal-training clients so I had to get a few friends to participate with the research, and that helped me build up my personal training business. It convinced me I would be able to follow my passion full time, so I took a leave of absence from my teaching job."

The leave of absence became permanent. Today, as founder of Lifestyle Fitness Solutions in Newtown, Gage maintains a clientele of approximately 70 personal-training clients, built around 30-minute workouts designed to tone the full body. Among her clients, most of whom are women, Gage has a 90 percent retention rate year to year.

"I empower my clients, and they empower me," says Gage, a certified personal trainer through American Fitness Professionals and Associates. "Every client is different, and I do a personalized plan for everybody. When people decide to do commit to their fitness, they often find it becomes a turning point in their life."

Besides personal training, Gage's Newtown studio offers innovative therapies that incorporate the same infrared light technology involved in the research study that helped her gain the confidence to launch her business. These infrared fitness systems, when combined with a recumbent cycle or total body trainer, can accelerate weight loss, boost metabolism and build muscle, among other benefits.

"Besides the business, I also have three kids, ages 4 to 19, and I want to be a good role model for them," she says. "I'm lucky in that I get to train a lot of teenagers, and I get to show them that they can be strong, that their voice matters. I enjoy the fact that I can show them you can do something with your life that you really love and are passionate about."

Jennifer Poe
Poe's vision and discerning sense of style have been a boon to homeowners throughout the Greater Philadelphia Area. Through Rittenhouse Home, the Newtown-based design firm and luxury furniture and décor retailer she founded in 2014, Poe helps create beautifully designed living spaces, from complete full renovations to distinctive "palette refreshers" as a way to contemporize homes.

"I have an innately good read on people, and I've always had a creative mind," says Poe, who studied at The Art Institute of Philadelphia. "I have my own style, but style means something different to everyone, so I enjoy going outside the box and satisfying my own design curiosity. One of the biggest advances I've seen is in technology. Sometimes it might be difficult for a client to envision what I see for a space, but I now have the capability to provide a 3-D computer rendering that enables them to see what I see. My vision is in the software."

Rittenhouse Home has evolved considerably over the past year. Early on, her clients were rooted in Bucks County, but as word has spread, she has expanded her footprint to include clients from Princeton, N.J., to the Main Line. Likewise, Poe's life has evolved, too. She has a baby on the way, soon to join her three other children, ages 11, 8 and 5, and she's also planning a wedding—her second. She's the first to admit that running her thriving business while maintaining a strong family takes some doing, but she's blessed with a network of good people who provide help and encouragement.

"It's definitely a struggle sometimes, but balance is the key," she says. "I have a great support team around me, and I'm filling my world with positive, empowering people. Now that the business is up and running and doing well, my goal now is turning to more outreach and giving back. I want to empower other businesswomen, teenage girls and young women, and I'm striving to be a positive role model.

"I'm blessed and grateful for where I've been so far, and now it's time to give back," she continues. "I believe in karma; if you put positive vibes out into the universe, then that's what will come back to you."

Laura Rothstein
Rothstein credits much of her success to lessons learned from "a strong, single mother" and a West Coast upbringing that stoked her interest in spirituality. She always knew she wanted to be in business, but she also knew the importance of having a business—or, in her case, businesses—with a conscience.

Rothstein, who graduated from Drexel University with a degree in commerce and engineering, leads two prominent Bucks County businesses: Luna Chick, a two-story boutique in Newtown catering to the fashion needs of tweens, teens, college girls and their mothers; and Yogasphere, which has three yoga centers in Newtown, Richboro and Doylestown, where individuals discover a supportive, community-driven environment designed to help them realize their highest potential. Both companies have a strong philanthropic component as part of a conscious business plan.

As such, Rothstein supports a number of nonprofits serving underserved populations locally and globally, including Children of the Ganges (providing free education for the street children of Rishikesh, India), A Voice Is Heard (creating sustainable solutions for the provision of water, education and health care, among other basic life necessities, to people living in Kenya, Africa) and Living Beyond Breast Cancer (promoting breast cancer awareness and prevention). She also supports Kind Campaign, an internationally recognized nonprofit whose goal is to combat girl-against-girl bullying. As part of this, Rothstein collaborated with Barre3 Newtown owner Lauren Burt Ziel last spring to host the Bucks County premiere of the documentary "Finding Kind" at the Newtown Theatre. Their efforts helped raise nearly $1,600 in donations for the Council Rock Education Foundation.

Rothstein also established the Luna Chick Scholarship, an annual award giving $1,000 to each of two female college-bound female seniors at Council Rock School District who have a GPA of 3.0 or higher and exemplify kindness through their commitment to community service. Rothstein is quick to note that none of her philanthropic work would be possible without her Luna Chick staff and customers, as well as the yoga community of Yogasphere, including her Yogasphere business partner, Elle Kaplan. She also credits the support of her husband of 24 years and her four children (two daughters and two sons).

"Giving back is part of the fabric of who we are," Rothstein says. "We do a lot locally, but we have so much here in this area, so I believe in helping globally as well. As part of my conscious business plan, one of the messages we want to share is that positive energy leads to positive energy. Because I was raised by a strong, single mother, it really underscored the importance of women empowering and celebrating each other's successes. Someone else's success does not take away from your success; it propels you forward."

Meeta Sahu
Sahu found her calling at the intersection of art and science. As founder and owner of Bucks County Esthetics Center in Newtown, she uses her artistic eye and keen understanding of the human body to bring out the best in others.

Sahu has always had a fondness for the arts. Growing up, she was such an exceptional student that she thought she might pursue a career in medicine. She also knew she wanted to have a family. Ultimately, she decided to put her career aspirations on hold so she could raise her children in a way that would enable them to be "fulfilled human beings." Over time, Sahu felt the pull to explore new horizons. After carefully considering her options, she chose to train as a licensed medical esthetician.

"My background was in science, but I always loved beauty," says Sahu, who opened her practice five years ago. "Skincare is at the heart of what we do, but beauty is about so much more than skincare. We're all going to be living and working longer than we ever have before, so our goal is to help you look your best every day."

The center, which is located in Village at Newtown Medical Center, within the office of Joseph Kipp, M.D., offers a wide variety of medical-grade skincare services and is an authorized retailer of OBAGI products. Other services include noninvasive laser skin resurfacing, microdermabrasion and chemical peels, as well as professional makeup, laser hair removal and teeth whitening. Also, Sahu recently brought on a physician to provide complementary services such as Botox and injectable fillers. Most of her clients are women, from teenagers to septuagenarians, though she has seen an increase in the number of male clients.

"This is a business, but I also try to think from the heart," she says. "I want to be able to give back to women who are less privileged, whether it's someone in a women's shelter who needs an emotional lift or a younger girl who is distraught over her skin because she has acne but can't afford a $300 or $400 treatment. I want to make skincare accessible to everyone."

Sahu, who lives and works in Newtown, limits the number of days she spends at the office so she can spend more time with her two children, a 15-year-old son and a 10-year-old daughter, and her husband, who is an accomplished gastroenterologist. "It's all about balance," she says. "I cannot dedicate 24 hours a day seven days a week to work, but I'm able to help other people in a very dynamic field while still being dedicated to my home and my kids."


"I think all four of us are very ambitious, very goal oriented," adds Poe. "We offer each other a lot of positive reinforcement, and I think the common thread between all of us is that we're all humbled by our own successes. We admire and respect the other women around us, and we realize it takes a village, not just one person. We all have gifts, and we all have successes. Now we're going to pull our best attributes together and collaborate to use those gifts to help other people."

For more information on each of these women's businesses or their future philanthropic work, reach out to them through the contact information listed below.

Bucks County Esthetics Center LLC
Village at Newtown Medical Center
11 Friends Lane, Suite 101
Newtown, PA 18940
267-441-8289
www.buckscountyesthetics.com

Lifestyle Fitness Solutions
420 Centre Ave.
Newtown, PA 18940
215-837-8475
www.lifestylefitnesssolutions.net

Luna Chick
10 Swamp Road
Newtown, PA 18940
215-579-6110
www.shoplunachick.com

Rittenhouse Home
17 N. State Street
Newtown, PA 18940
215-579-0400
www.rittenhousehome.com

Yogasphere
Visit www.yogasphere.net for information on locations in Newtown, Doylestown and Richboro.