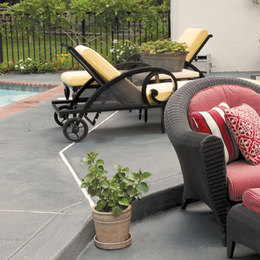 Step It Up
Concepts in Concrete transforms existing floors into attractive surfaces
Concrete is simply everywhere—whether you notice it or not is another matter.
The material that is used more than any other to provide the surface for pool decks, patios, driveways, garages and basements is typically dull, boring and in most cases an afterthought. If you want to spruce up an area like a concrete patio or pool deck, tearing it up and replacing it with pavers, stone or other materials can be extremely expensive.

However, a concrete overlay can be as exciting as your imagination will allow, with custom looks like tile, stone, slate and marble and it doesn't have to break the bank.

Just ask the team at Concepts in Concrete in Bristol, where owners John Muldoon and Rob Sattelmyer and their five employees have been doing nothing but decorative concrete overlays, epoxies and staining since 2002.

Their business transforms existing concrete surfaces into attractive, decorative and functional surfaces that will improve the look and value of your home.

With more 450,000 square feet of acid staining experience, and about triple that in concrete overlay experience, the Concepts in Concrete team does indoor and outdoor projects for both the residential and commercial sector.

Muldoon says that with flooring options like stamped concrete, micro-finishes, acid stains, epoxy quartz and chip floors the possibilities with concrete is endless—and a much better alternative to tearing out your concrete and starting over.

"Replacing areas like pool decks or patios can be messy and do a lot of damage to landscaping and other areas on your property," Muldoon says. "With an overlay, you can have a custom look without the damage and all the cost."

Muldoon says the process has been around since the 1970s and has been improved upon ever since. If you have been to Disney World, Las Vegas, or even Atlantic City you have walked on these surfaces.

It also costs 30 to 40 percent less than if you chose to rip out and re-pour your concrete and up to 70% less than replacing your concrete with pavers or natural stone.

Interior floors are extremely durable, flood and stain resistant and allergen free. They are perfect for basements, kitchens and family rooms. They can be customized to look like tile, stone, slate or the "one-of-a-kind" design. They are typically less expensive than other hard surface flooring options and the color/design possibilities are endless.

Overlay application depends on the look you're are trying to achieve, but Muldoon says the surface is usually just under 1/4 inch thick and is chemically and mechanically bonded to the existing concrete.

Outdoors the bonding process involves a good power wash followed by an acid etching that deep cleans and opens the pores of the concrete. Finally, it is coated with a mixture of hybrid polymers, silica sand, quartz, and cement called "thin-finish."

The bond is so strong that the overlay becomes part of the existing concrete after it dries and is just as strong. The materials are not affected by weather either and are specially designed to hold up against tougher climates like ours.

The services offered by Concepts in Concrete include:
Micro-Finishes, Trowel and Spray Finishes
Stamped overlays
Concrete staining, stenciling & scoring
Power washing
Concrete and paver sealing
Re-coloring and sealing stamped concrete
Epoxies, metallics, vinyl chip and quartz floors
Design and layout services
Tile, Vinyl, and Laminate installation

Maintenance is also fairly simple as outdoor surfaces can be power washed and in many cases can be cleaned just by hosing off. It is also a lot easier to shovel snow off of these surfaces. In addition to that, Muldoon says that outdoor surfaces should be resealed every few years, but this can be done by a homeowner or the Concepts team for a nominal charge.

With summer upon us, a decorative concrete overlay is perfect for around the pool and can help greatly increase your home value. Pool deck surfaces can be slip resistant, UV resistant, stain resistant, cooler than concrete, and will not be adversely affected by pool chemicals like chlorine.

Nina Kaplan owner of Beauty Land in Newtown Shopping Center has used Concepts in Concrete more than once. She envisioned the floor of her store and the Concepts team put it together. The floor features a wild hot pink and black smoke effect with spiral designs, glitter and a glass-like finish.

"People love our floor," Kaplan says, adding that it reminds her of a dance floor. "I would definitely use them again."

Concepts in Concrete
215-245-7360
www.ConceptsInConcreteInc.com

Rich Pietras is a professional writer based in Doylestown.
Kim Billingsley is a freelance photographer living in Doylestown.