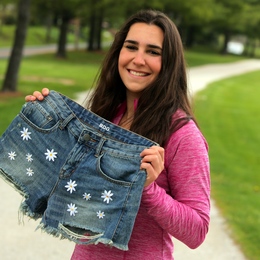 Starting Line
High school student Hailey Marcus turns to fashion and fitness as a means of helping others in need
A high school student's junior year tends to be something of a balancing act: homework, team sports and extracurricular activities, not to mention preparing for standardized tests to put oneself in a good position to get into the college of his or her choice. Any precious minutes not already spoken for are reserved for hanging out with friends or with their noses in their phones, texting and checking in on social media.

Hailey Marcus does all that stuff, too, but she also finds time to dream up fashion designs through two separate businesses, Shorts with a Cause and Charity by Design, each with its own philanthropic bent; since founding Shorts with a Cause as an eighth grader, Marcus has raised more than $2,000 for the Leukemia and Lymphoma Society. As part of her business model, she often hosts events designed to improve the lives of others in great need.

This month, rather than making plans for summer vacation, Marcus will spend the few remaining weeks of her junior year at Upper Dublin High School organizing an event to raise money for children with pediatric cancer. The first-ever Run(a)way to Fight Cancer and Fashion Show, which will include a 5K run/1-mile fun run, as well as a runway event featuring models wearing Marcus' fashions, is scheduled for June 5, from 10 a.m. to 2 p.m., at Alverthorpe Park in Elkins Park.

"People can expect good food, a show, entertainment and a nice day in a pretty park," she says. "Hopefully it will be nice and sunny."

With help from her mother, Kim, Marcus hopes to raise $5,000 through event registrations ($15 each), onsite sales of her fashion designs (shorts, tees, necklaces, etc.) and a grassroots bake sale. All proceeds are earmarked for Sara's Smiles Foundation, a locally based nonprofit started by Meadowbrook resident Jen Burke. Burke will use the funds to create and send "Inspiration Kits" to children admitted to the oncology units of approximately 30 children's hospitals nationwide. Each Inspiration Kit, which contains essential items to help family members stay upbeat and organized while a child battles to overcome his or her illness, is sent to designated families free of charge.

"I marvel at kids like Hailey who have it so together, especially at that age, when you're trying to figure yourself out and get to where you need to go," says Burke. "She puts all that energy into helping other people; I know we're not the only ones she's helped. I certainly wasn't doing anything like that when I was her age. Thanks to her, we'll have even more support for the children we're trying to help."

Burke, who is a longtime friend of the Marcus family, founded the nonprofit in honor of her daughter, Sara, who was diagnosed with a medulloblastoma in July 2007 and succumbed to the disease less than a year later. Marcus, who has had a number of family members and friends affected by cancer, says Burke's courage and strength in overcoming the hardship of losing a child "inspired me to do better."

The upcoming event isn't the first time she has organized an event designed to help others. Last year she organized a fashion show at the since-shuttered Navé Frozen Yogurt in Maple Glen. There, a number of models who have been touched by cancer took to the makeshift runway in Marcus' fashions and accessories. Proceeds from the empowering event benefited Alex's Lemonade Stand Foundation.

"I think if people come together to do a common good, it wouldn't take much money to get somewhere," says Marcus, who wants to go to the University of Pennsylvania, with an eye toward premedicine. "We won't find a cure [for pediatric cancer] with one event, but if it can inspire one other person, it can have a chain reaction that brings even more people together to do something important.

"As the years have passed, I've tried to broaden my reach and make a bigger difference," she continues. "I love having these events, and I will probably have so many more before I graduate."

To register for first-ever Run(a)way to Fight Cancer and Fashion Show, click here.