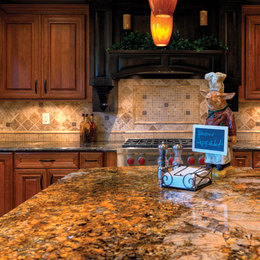 Diamond Kitchen & Bath
It's all about you
The kitchen is the heart of any home. No matter what the occasion, everyone tends to gather in the kitchen, so it should be a reflection of the homeowner's personality. Mike Reisbord, owner of Diamond Kitchen & Bath, understands that his business is all about the customer: their time, their investment and their style. That is why his company offers the convenience of one-stop shopping, the value of quality and a wide selection of options to suit every taste.

The Diamond Kitchen & Bath showroom in Langhorne features 15 kitchens and bathrooms, displaying a selection of fixtures, appliances, cabinets, tile and granite samples, plus a design studio and a home theater to entertain the kids. Mike is in the midst of building a second showroom in Montgomery County, set to open this fall. "It is like nothing else seen in the area," he says.

The enormous selection allows customers to compare products side-by-side and saves them the hassle of going to multiple stores to find just what they are looking for.

When choosing a kitchen or bathroom remodeler, Mike says it is important to look for company that can handle all aspects of the job. He warns that the biggest mistake many homeowners make is to purchase and contract installation for individual components, then oversee the job themselves. Many times, he says the customer finds they aren't familiar enough with the process to manage multiple contractors. In this case, details may not be not well done. The job can look good from a distance, but not when you know what quality really is.

According to Mike, "You get what you pay for and never anything more."

Mike and the staff at Diamond Kitchen & Bath pride themselves on their quality work and professionalism. Diamond Kitchen & Bath has its own plumbers and electricians, and they fabricate the granite to improve quality and keep costs reasonable.

As the distributor for a wide selection of brand names on a variety of kitchen and bath products, there is no middleman between Mike and the manufacturer. When customers select all their products from one source, they can also get a better deal, because Diamond Kitchen & Bath offers package pricing.

Diamond Kitchen & Bath is dedicated to exceeding expectations and giving the homeowner even more than what they ask for.

A knowledgeable design professional can maximize the worth of every dollar spent. Mike is a former pastry chef, so he understands how kitchens work and how people work in kitchens. Though their designers utilize the National Kitchen and Bath standards, Mike says it is really about what the homeowner wants.

"It is a fine balance between beauty and function," he says. Countertop and storage space are the two most critical components. Mike also follows through on important design considerations such as adequate task lighting.

The kitchen is a central feature and should match style of the home. Mike knows that trends are cyclical, so he feels that it's his job to help customers make the right aesthetic decisions.

"There are ways to make the space 'pop' with current style, but keep it changeable for the future," he says. "I want the job to be as valuable in 10 years as it is now." Mike suggests keeping the kitchen traditional and choosing a unique color or material for the island instead.

Cabinet selections run from stock models to custom construction. Semi-stock products offer the best of both worlds by allowing customers the ability to customize their cabinets with components, without the price of custom construction. A creative designer can use stock and embellish with details such as corbels and decorative inlays to improve the look. Diamond Kitchen & Baths' newest line of cabinets offers a lot for the price and can be painted in any color from the Sherwin Williams catalog at no up-charge.

Mike also recommends eco-friendly products like a new line of solid bamboo cabinets that come in many styles and colors. The efficient Everpur filtration system offers bottled water quality without the cost or pollution. Instant hot and cold water features provide the desired temperature without waste.

Mike has years of experience behind all of his decisions, so customers can feel good about trusting his opinions. But in the end, he says it all comes down to pleasing the customer. "We believe the customer is the best source for inspiration," he says. "Everyone has good ideas and we run with them."

Diamond Kitchen & Bath
2580 W. Maple Ave., Feasterville Trevose
215-752-4400
www.DiamondKB.com

Sharon A. Shaw is a freelance writer based in Doylestown.