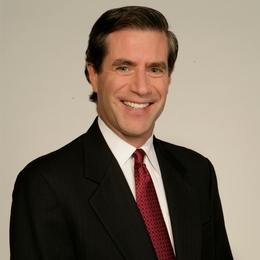 Barnes' Foundation
Peter Barnes of FOX Business Network revisits his local roots with this month's DNC in Philadelphia
Although he now spends his days in and around Washington, D.C., FOX Business Network's Peter Barnes will always have strong ties to the Greater Philadelphia Area. His first journalism job was writing for a newspaper in Montgomery County.

"I was a stringer for Today's Post in King of Prussia," he recalls. "I covered town sewer-and-water meetings. I got paid, I think, 10 bucks a story. I learned how important journalism is in our country because I'd be the only person in the room for the commission meetings for the town sewer-and-water board, and it'd be approving multimillion-dollar contracts, and not a person was sitting there except me.

"It sounds idealistic, but it's true," he continues. "I realized how important the role of the press is in our society. And I learned it first out there in King of Prussia. Small world."

Barnes was born in Rochester, N.Y., but his father was from Glenside. Barnes' father, who left his career as a newspaper photographer to pursue work in higher education, took a job at the University of Pennsylvania and moved the family back to the area when Barnes was in ninth grade.

"I ended up going to Penn State—not Penn—because I was young and rebellious and it was the '70s, and I didn't want to go to school where the 'old man' worked," Barnes says with a laugh. "The irony is, of course, after my dad left Philly and went to Tufts [University in Medford, Mass.], I ended up going back to Penn for grad school and I got into business journalism."

Throughout his career, Barnes, who earned his M.B.A. from the Wharton School of the University of Pennsylvania in 1985, has reported for some of the country's most influential media outlets—namely, the Charlotte Observer, the Wall Street Journal and the New York Times, as well as CNBC. He will soon be back in Philadelphia to cover one of the most important political events of the year: the Democratic National Convention, taking place July 25 through 28.

He took time away from the news desk to chat about the DNC, the U.S. economy and his local roots—including, of course, his favorite place to get a Philly cheesesteak.

What business matters will be of import at the upcoming convention?
It's still "The economy's stupid," right? James Carville's famous admonition from the [Bill] Clinton campaign, back when President Clinton was running, "If the economy's stupid, it's still the No. 1 issue for people." So it's very important. If the economy is doing poorly, that tends to hurt the incumbent party in the White House, so that would suggest that Hillary Clinton might have a tougher hill to climb if the economy turns south, just based on economic history and election history, but we'll see.
Right now, most of the forecasts I am looking at—and the Fed itself—are looking for around 2 percent growth for this year, which is about the same pace that we've had over the last few years. It's not gangbusters, but it's doing OK. I don't think anybody sees a recession in the offing, even with [last month's] Brexit vote.

You started in the newspaper business. How and why did you switch to television?
I was in New York working at the Wall Street Journal and had been there for three years and got a call out of the blue. It was actually from FOX itself, but it was before FOX News Channel, which was back in the late '80s. … They were starting to get into looking into doing TV news, and I had been at the Journal; I was doing a lot of TV news. I was doing "The Wall Street Journal Report," the in-house TV show for the Journal ... frequently as a guest analyst.
I was intrigued by it. I was interested. I wanted to give it a shot; I also noticed that a lot of my really smart colleagues in print did a lot of television. [Laughs.]

Was there a tangible shift in work culture moving from CNBC to FOX Business Network?
Nah, because everybody who was at FOX Business … came from CNBC. [Laughs.]

Is there an iconic Philadelphia food that you have to have when you come through town?
Jim's Steaks down on South Street—4th and South—has historically been my favorite place for cheesesteaks. I've gotten on drives up the interstate, from Washington to Cape Cod/Nantucket, to go out and see my folks, [and] I have made my wife get off in Philly so I could stop and get a cheesesteak. I know that sounds cliché, but I love them.

Photograph courtesy of FOX Business Network