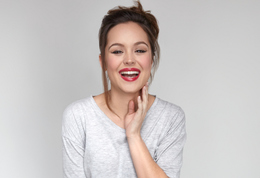 Belle Towers
Hayley Orrantia, the Texas-born star of "The Goldbergs," rises high in the worlds of music and television
The multitalented 22-year-old Hayley Orrantia first discovered her love for music during the halcyon days of her youth. From an area called Highland Village, Texas—just outside of Dallas—Orrantia began delving into music even before her 10th birthday arrived.
"Music definitely came first," says Orrantia, who came to fame as part of the all-girl group Lakoda Rayne in Simon Cowell's "The X Factor" and now stars as Erica on the hit ABC sitcom "The Goldbergs." "Acting—it's kind of a long, crazy story—but acting kind of happened to continue in my pursuit of music."
While Orrantia has never actually been to the Philadelphia suburb of Jenkintown, where the family of her fictional "Goldbergs" character resides, she has spent some time in the area—namely, across the river in Wall Township and Belmar, N.J.
"One of the girls from my former girl group on 'X Factor' is from there, as well as both of my roommates in Los Angeles; they're originally from there," she says. "I loved it. … We'd go to the beach and hang out, and I actually really love that area."
With summer drawing to a close, Orrantia's days are getting full. Following up on her well-received debut single "Love Sick," Orrantia will soon release her new single, "Strong, Sweet and Southern." Also, the new season of "The Goldbergs" will premiere in September.
She took a few rare moments of downtime to offer her thoughts on her careers in music and TV, why Jenkintown feels like home and her best advice for aspiring artists.

On her start in music …
"I really knew that I enjoyed singing. My parents heard me and said, 'Well, do you want to take lessons? Is that something you want to pursue?' and at 9 [years old] I was like, 'Yeah I do,' so we found a great teacher in the area—[Linda Septien of] Septien Entertainment Group in Addison, Texas—and she had taught … a lot of different singers who you may have heard of. I think at some point she gave lessons to Demi Lovato, Selena Gomez, she taught Ryan Cabrera, Jessica Simpson, so people that are actually from the Dallas area would go to her for music. I started out there and kind of stayed there until, I want to say I was 14, then after that, I just kind of did my own thing."

On "The X Factor" …
"My mom was the one that really begged me to try out for 'X Factor' because she knew that it was going to be a great opportunity, since it was the first season that it was going to be in the U.S., and I did an online audition tape. I sent it in—I think it was via YouTube that they had you submit—and I guess the producers saw my tape and they asked me to come to audition in front of the judges in Seattle. From there, you saw everything else if you watched the show."

On songwriting …
"I love to collaborate with songwriters. … I can write a song by myself—I've done it before—but I prefer to have the guidance of people who know what they're doing. [Laughs.] A lot of the times they would come up with some sort of melody on the guitar or something that they would play in the background, and then I would try to sing over it and we would find a melody that we liked, and then together we would collaborate and find the lyrics. I am very adamant about my songs being about a concept that is my own and something that I can relate with personally."

On her sources of musical inspiration …
"I guess a variety of things. Mostly boys [laughs], but there have been other things. I've written a song about my friend who was struggling with an eating disorder and kind of inspiring her to be happy [with] who she is, in her own body, so that was one of the songs. The other one that I wrote was about one of my friends passing away from cancer that I put out not that long ago called 'Until Then.' Those are more sad examples, but then recently I've written some songs about more of a women empowerment kind of feel—knowing what you want and going after it."

On performing …
"It was crazy because I recently opened for Brad Paisley at his show in Nevada, so that, for me, was probably the biggest step that I've taken in my career. I'm really just planning on trying to get my music out there as soon as this one song is done being mixed. I'm ready to kind of get it out there and then hopefully start performing in a lot of places. It's just little baby steps, because when you don't have a label, like myself, it's a lot harder to kind of put music out there. … I've been trying to schedule some [performance] dates whenever we have 'off' weeks to perform in certain places, but I haven't actually had any chance to perform over there in Pennsylvania or New Jersey, but I would love to because I have some friends over there."

On the ties between music and "The Goldbergs" …
"That's such a crazy story. After 'X Factor,' I just went back into acting as if nothing had happened; I went on an audition and got very lucky to get the role [of Erica Goldberg]. My character was based upon the creator's oldest brother Eric, but they didn't have that many storylines since they changed it to a girl, Erica, and so I told them, 'I know that you're kind of still developing this character, and if there's ever a chance that I could sing on the show, whether it's even me submitting a song on my own just to play in the background, I would love to do that.' And I guess they tried one episode where I sang in the talent show, and from there it just kind of became a big part of my character."

On Jenkintown …
"You know, it's funny because the one thing about the show is I'll have a lot of people come up to me and say, like, 'Oh my gosh, is this TV show based in Maryland?' Or, 'Is this TV show based in Kansas or, like, Philadelphia?' I mean, they literally will name all these different places and I say, 'No, it's specifically Jenkintown, Pennsylvania,' but they all tell me that it feels and looks just like their neighborhood and what they went through growing up. So many people can relate to it, no matter where they're from, specifically in the U.S. I kind of feel the same way—the family dynamic and the way all the kids would go hang out in the neighborhood. Even though it is specifically Jenkintown that we're talking about, it definitely feels like the way I grew up in Dallas."

On balancing her interests …
"It can be really difficult because I really do enjoy music and I really do enjoy acting, and so sometimes it can be difficult to do both, especially because whenever it comes to something creative like that … you kind of have to give it every second that you have in order for it to be successful. … I've gotten very lucky that I have a good team around me that helps me keep track of where I'm going and what I need to do, and I'm very involved in the business aspect of my career. I know there are a lot of people—artists—who just like to do the creative and arts side of it, but I think lately I've gotten really into the scheduling and the organizing and the planning and 'What is the brand going to look like?' So I guess I've gotten a lot better about it because I want to do both so bad that I make time to make it happen."

Her advice for the next generation …
"The word 'no' is going to happen a lot, but that doesn't necessarily mean 'no' to everything that you're doing. It really has a lot to do with being something that you want to do and putting in the hard work and time that needs to be put in, but there's also another part that you can't control, which is finding the right people around you that support you in what you want to do. And timing has to be perfect. It's really, as cheesy as it is, a little bit of a fate thing; all these different things kind of have to align in order for it to happen. So I guess my advice would be: Don't give up just because it seems difficult in the beginning."

Photograph by TJ Manou