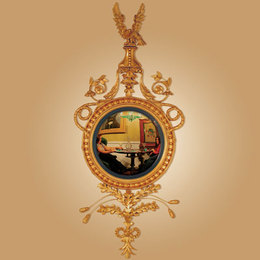 The Classic Works
At Stenella Antiques, finely crafted, high-end furniture can be yours
F. Scott Fitzgerald's The Great Gatsby has been called the greatest American novel ever written. In it we get a glimpse of a world that most of us can only dream of; the lifestyle of wealthy turn of the century dilettantes, complete with lavish parties, sprawling estates and heirloom possessions. Few people get to live in such splendid surroundings but one local business offers unrestricted access to the furnishings of the good life.

Stenella Antiques has been in the business of providing customers with luxury furniture for more than 30 years. Don't let the name fool you—Stenella Antiques is not a dusty collection of quaint knick-knacks. Stenella Antiques is a fine furniture store offering one of the East Coast's largest selections of high-quality new or pre-owned antique-style furniture. The shopping experience at Stenella Antiques is like gaining entry to a high-priced interior decorator's favorite source and the discounts that it offers.

Through contracts with numerous estate and bankruptcy attorneys, owner Jim Stenella is able to acquire unique high-quality furniture from some of America's best decorated homes and exclusive stores. Current market conditions have increased the opportunities to obtain magnificent items from owners looking to sell, bankruptcies and store liquidations. These pieces range from fine heirloom antiques to pre-owned furniture exchanged while redecorating and new collections being liquidated by high-end retailers.

Much like the literary classics, these pieces are well-designed, finely crafted and timeless investments. Stenella Antiques offers pieces from such renowned names as Stickley, Henkel Harris, Baker and Kindel. This furniture is gently used (if at all), well cared for and available at a fraction of its retail cost.

Jim has earned valuable industry contacts, including referrals from the original product manufacturers that allow Stenella Antiques exclusive access to exceptional collections. He also takes select pieces for consignment if you are fortunate enough to own a high quality item that you want to sell or replace.

They carry living, dining and bedroom furniture as well as some decorative pieces. Stenella Antiques recently became an authorized retailer of Friedman Brothers Mirrors, which are being offered at less than dealer cost. Friedman Brothers has long been regarded as the finest mirror company, producing mirrors for over 100 years. These pieces span a variety of decorating styles and can be custom ordered for specific size and finish.

Inventory in the 26,000 square foot showroom is mostly of formal traditional design—early American and English styles with some modern and decorative European pieces. At any time more than 2,000 items are displayed stacked in open rows with some featured in room settings.

Much of the stock is also available to view online. A good portion of Stenella Antiques' business is online with customers nationwide. Even when these buyers factor in shipping costs, the value of the furniture is well worth the price. Local customers have a distinct advantage though; after browsing the online catalog, they can call ahead to inquire about specific pieces they are considering, then visit the showroom to inspect them personally and arrange for in-home delivery. Of course, drop-in browsing is also welcome.

Stenella Antiques offers more than just access to high-end furniture. Jim says their knowledgeable team is "prepared to help customers select a single piece, complete a collection or put together a room." He is quick to stress though that they are not high-pressure sales people. Though all of the pieces they carry have been detailed and are ready for use, Stenella Antiques also offers refinishing, upholstery and specialization services. Customers may choose refinishing, sometimes even performed by the manufacturer, to ensure a new purchase matches their existing collection.

The upholstery service allows you to select the fabric of their choice, and Jim says the finished quality is as good as new. Specializations performed may include adding new hardware, shelves or lighting. This allows for the re-purposing of a piece. Popular trends include converting cabinets to armoires or pantries, using sideboards as consoles for flat screen televisions and buffets as side tables.

Jim says, "Families are requiring larger furniture for their needs and so they may use an item like a bedside chest as a nightstand instead."

If you are looking for high-quality furniture, consider Stenella Antiques before you go to another store. There you can purchase a piece of history, a pre-owned masterpiece or even a brand new item for less. The classics they offer are of timeless style, quality craftsmanship and will continue to age beautifully. If only Jay Gatsby had known that such quality was so easily obtained.

Stenella Antiques
104 S. 2nd St., Perkasie, 215-453-8490
www.StenellaAntiques.com
Open Tues. - Fri. 9 a.m. - 3 p.m., Sat. by appointment

Sharon A. Shaw is a freelance writer living in Doylestown.
Photography by Rob Hall and Michael Sahadi.