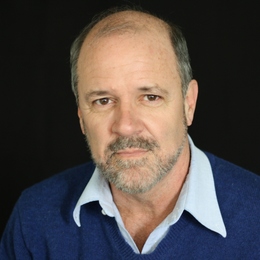 Behind the Scenes
Between drafts with "Rizzo" playwright Bruce Graham
For Bruce Graham, becoming "a successful playwright" has meant having to hone his pacing skills.

Born and bred in Philadelphia, the 59-year-old Graham is a self-taught, local literary treasure who, when he attends a performance, often stands in the back of the theater, nervously pacing back and forth. It's not that he is worried if audience members are enjoying his work; rather, it has more to do with the perfectionist in him looking for flaws.

Graham is proud that his play "Rizzo," about colorful former Philadelphia Mayor Frank Rizzo, will kick off the 2016-2017 season of the Philadelphia Theatre Co. (at the Suzanne Roberts Theatre on South Broad Street in Philadelphia), from Sept. 23 to Oct. 16. Directed by Joe Canuso, "Rizzo" is the compelling story of what made this "larger than life" man both revered and reviled. Of course, don't be surprised to see Graham on opening night, pacing in the back of the 365-seat venue.

"I really don't enjoy seeing the plays, when it comes to seeing my older work, because I don't like watching my mistakes," Graham admits. "I like to think that I get better and smarter as the years go on, so sometimes I ask myself, 'What the heck was I thinking?'"

As a playwright, screenwriter and television writer, as well as a film and writing professor at Drexel University, Graham first started carving out his career as an actor and standup comic. He quickly realized he had a knack for connecting with audiences.

His body of work is impressive. His plays, including, "Coyote on a Fence," "Belmont Avenue Social Club," "Stella and Lou," "The Outgoing Tide" and "According to Goldman," have been produced throughout the United States and Europe. He wrote the screenplay for the beloved 1997 animated film, "Anastasia," as well as the films "Steal This Movie" and "A Ring of Endless Light," the latter of which earned the Humanitas Prize for Best Children's Live Action.

Graham grew up in Delaware County, near Philadelphia International Airport. Despite his many successes, however, Graham never heeded the call to leave Philly for Hollywood. He now lives in South Philly with his wife, Stephanie, and his daughter, Kendall.

We sat down with Graham at his three-day playwriting course at The Philadelphia Writers' Conference to talk about his writing journey.

Why did you become a writer?
I've always wanted to be an entertainer; it really came about quite naturally. Even as a little kid, I was the class clown, so I knew I was going to go into that direction.

Did you have formal training to become a professional writer?
No. My training was as an actor. By the time I finally took an actual playwriting course I'd already had two plays off-Broadway. I skipped a lot of it and got a B.

Tell me about "Rizzo," currently at the Philadelphia Theatre Co.
I had read Sal Paolantonio's book and wondered: How do you write a play about something that everyone already knows? I used his book, "Rizzo: The Last Big Man in Big City America," as a basis for the play, but there were also so many people I wanted to talk to and flesh the story out.

Such as?
I went to his bodyguard's house in West Philly, and meeting him just totally threw me; he was the black version of my father. He was dressed just like him and had the same physique. He also had a shrine to Frank Rizzo in his living room; he clearly loved the guy. I met the man twice and, by listening to him and incorporating my own personal history, I started writing the play.

Your first career was as a teacher who wrote on the side.
Yes. I was a school teacher (grades six to 12), who wrote during my spring and summer breaks. The Philadelphia Festival Theatre for New Plays, a professional theater, was looking for material, and its second or third season I sent them "Burkie," my four-character family drama that takes place in South Philly, which secured me an agent. I also gave them my dark comedy, "Early One Evening at the Rainbow Bar and Grille," and both of these plays went off-Broadway. So every year for some 10 to 12 years, I had my plays produced, and that was my self-taught MFA.

How do you view your writing career overall?
My greatest fear as a child was growing up and having to get a real job. I've managed to avoid both those things. I am the luckiest guy I know.

What advice do you have for your students and other aspiring writers?
Be obsessed with it! You have to really want it. Be immersed in it. Read plays. Read good writing. You have to go out and develop a thick skin. It's not something you can want casually.