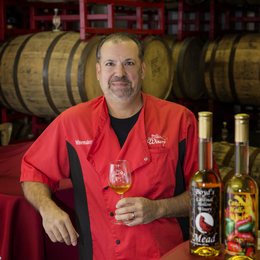 Crushing It
Boyd's Cardinal Hollow Winery celebrates 10 years of crafting some of the region's most distinctive wines
From the very first batch of wine he produced, Christopher Boyd was fascinated with the science behind the transformation from fruit to finished product. At the time, in 1995, he thought he might be able to shape his newfound hobby into a "retirement job" once he finished his time in the figurative salt mines.

Slowly, his one-gallon batches turned to five-gallon batches, which, in turn, graduated to 55-gallon barrels. His skill, and his flair for the original, grew along with his inventory. One day, when he looked around his basement and saw how his hobby had outgrown, if not overtaken, his home, Mr. Boyd decided to obtain his federal alcohol permit and make it official: He would turn his hobby into a legitimate business.

The resulting venture, Boyd's Cardinal Hollow Winery, celebrated its 10-year anniversary in August. Although he considers it a small boutique enterprise, the winery has grown to include three local tasting rooms—with a fourth on the way—to showcase his lineup of approximately 30 painstakingly handcrafted wines.

"Patience and cleanliness—that's what it takes to be good at winemaking," says Mr. Boyd, who also maintains a "day job" as director of sales for a wastewater equipment manufacturer. "All too often I see or taste wines I can tell are way too young and should never have been in the bottle. In the world of winemaking, a year is nothing. If you can put it in a tank and not touch it for two years, you can do a winery.

"[Winemaking] is a lot of work in very small windows," he continues. "I'll spend 12, 14 hours a day crushing grapes, sweeping, making sure everything is clean and safe. You're watching it every hour—constant touching and watching for a week to 10 days—and after you get the juice into the tank, you don't touch it again for a year. You have to let the wine do what it needs to do."

Boyd's Cardinal Hollow Winery offers a lineup of wines made from the fruit of grape growers throughout Pennsylvania, from Erie to Reading—namely, Cabernet Franc, Cabernet Sauvignon, Riesling, Sauvignon Blanc, etc. The winery's signature wines, however, include distinctive varietals guaranteed to excite the palate of even the most adventurous oenophile. This includes award winners such as Whiskey Mead and Jalapeño Wine, as well as a number of non-grape fruit wines—everything from blueberry and peach to mango and pumpkin.

"Grapes ferment naturally, but when you're making [non-grape] fruit wines, it's more like following a recipe for cooking," he says. "You can ferment just about anything if you add sugar, but it requires a lot of help to get it where it needs to be. It's a lot of note taking—I have a log book that's three inches thick—and you have to have an analytical mind. I got my B.S. in mechanical engineering from Widener University, and I minored in chemistry, so I think that background has helped me bring out the best in each bottle."

Of course, not every varietal has proved out. There was the dandelion wine that, although quite tasty, was so labor intensive—Mr. Boyd spent two weeks harvesting the 6,000 dandelions needed to produce a six-gallon batch—he would have had to sell each bottle for $100 in order to turn a profit.

"If you hit 12 wineries in Napa Valley, you'll taste some great wines, but you probably won't remember where you got this great Cabernet or that great Pinot Noir," he says. "With something like my Jalapeño Wine, even if you don't like it, you'll remember where you got it. That is the unique part of what I'm doing."

Boyd's Jalapeño Wine, which has earned multiple awards, including a silver medal at the 2011 San Francisco Chronicle Wine Competition, has achieved cult status. He began bottling it, almost as a dare, approximately nine years ago. He remembers one busy weekend at the tasting room in West Point, where guests were busy tasting some of his many fruit wines. One patron asked Mr. Boyd if he had ever tried making wine out of jalapeños. Mr. Boyd asked, "Who would drink that?" The patron responded, "I would."

"I started doing research, bought 10 pounds of jalapeños and I made a batch," Mr. Boyd recalls. "My first reaction was, 'It's hot,' so I put it in a jug behind the bar for people to sample, just to get their reactions. Everyone who wanted to try it loved it, so I made a big batch—100 gallons or so—and aged it and bottled it. I sold all of it in two months. Now I make it in 500-gallon batches. With every single show we go to, word spreads. People come over and say, 'I just had to come over and taste it.'"

Jalapeño Wine aside, Boyd's personal favorite is his Whiskey Mead, made from 100 percent Pennsylvania wildflower honey fermented in Kentucky whiskey barrels for more than a year. His affinity for mead is understandable; he appreciates how incredibly difficult it is to make, and he also treasures the rich taste. Furthermore, mead is what got him into winemaking in the first place.

"Grape fermentation takes seven to 10 days," he says. "Compare that to honey fermentation, which takes a year. If you try mead six months in, it tastes like gasoline. If you wait till 18 months, it's delicious. It's a lot of time invested, and it's expensive—honey costs about $3 a pound—but the result is unmatched by any other fruit."

Ten years into his grand experiment, Mr. Boyd hasn't yet taken a paycheck from his winery. Despite revenue growth, which has far exceeded projections of 5 to 10 percent per year, every penny Mr. Boyd earns goes right back into either the product or the tasting rooms.

In the near future, Mr. Boyd intends to open his fourth local tasting room—in Flourtown—to join the existing locations in Lahaska, Skippack and West Point, which is the flagship. The Flourtown location could reinvent Mr. Boyd's business model by offering a restaurant with a thoughtfully prepared menu, with plenty of seating, as well as a full tasting bar.

Another recent development that stands to dramatically enhance Mr. Boyd's business went into effect on Aug. 8. Pennsylvania House Bill 1690, signed into law by Gov. Tom Wolf, enabled Mr. Boyd to sell beer and liquor legally manufactured in Pennsylvania in his tasting rooms. This essentially means patrons who rent out one of his locations for catered special events now have expanded options, beyond his housemade wines, in terms of libations for onsite consumption.

Mr. Boyd's next goal: taking the show on the road, so to speak. At present, his business is 100 percent "direct to consumer," meaning bottles are sold only to Pennsylvania residents at his tasting rooms and at special events throughout the region. He hopes to expand not only to other U.S. states but also to international destinations, such as Europe and Australia.

"I'm making wines that no one else is making," he says. "When I first started doing this, I said, 'Maybe in 10 years I can retire.' We just hit the 10-year mark, and the winery is growing 30 percent a year. I've having too much fun to retire now."

Boyd's Cardinal Hollow Winery
215-801-2227 | cardinalhollowwinery.com

1830 West Point Pike
West Point, PA 19486

4010 Skippack Pike
Skippack, PA 19474

5860 Lower York Road, Suite 8B
Lahaska, PA 18938

Coming soon: a new tasting room and restaurant at 700 Bethlehem Pike in Flourtown.