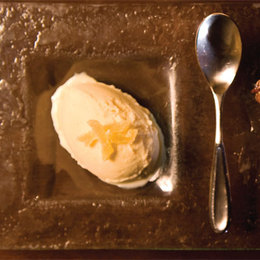 Chef Q&A: Honey
Revolutionary yet comforting dining in Doylestown
Every once in a while, a restaurant comes around that changes the way people think about a town. Le Bec-Fin did that with Philadelphia several decades ago. Blackfish did so with Conshohocken more recently. And now, we should add Honey to the list. Though Doylestown has, of late, been a destination for excellent dining, Honey seems to be the one that will finally make the denizens of Center City willing to brave Turnpike traffic in order to get to the heart of the movie-set-quaint town.

When it first fired up its burners a bit more than two years ago, Honey generated some serious buzz around the region. Word on the street was that Chef Joe McAtee's food pushed the envelope without falling victim to the pitfalls of so much avant-garde cooking out there, and that, even more importantly, it was utterly delicious. Since then, it has just gotten better.

This fall, he and his wife and partner, Amy, took their restaurant a step further and introduced "Surrender," a wholly original take on the tasting menu. (McAtee details it below.) Still, for all the creativity at Honey—a recent Surrender menu included a coffee-braised Wagyu short rib served over house-made pappardelle with black truffle and a red winepoached duck egg—it is still one of the most comfortable, appealing restaurants in the area, with service every bit as warm and professional as the food is delicious.

I recently spoke with Chef McAtee about the restaurant's evolution, the kind of experience he and Amy aim to give their guests, and the Surrender menu concept in particular.

BF: It seems like Honey has been able to generate a lot of buzz around the region since it opened. What do you think makes Honey so unique?

JM: Just like our tag-line…it's inspired American dining. So it goes beyond just cuisine; it's a total dining experience, and we want people to feel like they're on a little vacation, or on a little culinary adventure as soon as they walk in the door. You know, you walk into this humble little shoebox of a building and you're quickly transported by the music, by the ambience and by the service. We want people to feel comfortable and at home; we want to drop all the pretension of a lot of different restaurants. And we just basically do comfort food that's reimagined. And I think that that's what makes us unique.

BF: Honey has been open for just more than two years. Tell me how both the restaurant and your customers have evolved during that time.

JM: This is my first time doing small plates; I hadn't cooked that way in the past, and I was very much more used to doing composed dishes. And it took me a little while to find my stride. I was used to doing things that were multi-presentational on one plate, and I needed to separate those ideas into smaller plates for lower prices so people could sample more dishes instead of getting a large plate that was $30, that was, [for example], a study in beef or something like that. And I think that in the beginning, our customers had a hard time grasping that concept of sharing and ordering multiple plates. But as time goes on now, I think that the larger plates don't sell so much…and I'm happy to see that.

BF: Is it possible that some of that is because diners in general are becoming more adventurous these days, and are more willing to put their fate in the hands of a chef that they trust?

JM: I think so, absolutely.

BF: So from there, then, tell me a little bit about the Surrender menu.

JM: Surrender is the tasting menu that Amy and I always wished we had experienced when we've ordered tasting menus at restaurants. We started to get the feeling that a tasting menu wasn't so much for the customer, but more beneficial for the restaurant sometimes. It was not very inspired, it was just things off the menu. Maybe some of the things I really wanted to try as an adventurous diner…I didn't even get those things. I got very pedestrian choices sent out to me. So Surrender is meant to be for people who are serious foodies, serious diners, who aren't afraid of different ingredients, and who want to be dazzled. And I think that for people who have dietary restrictions, or if they're vegan or vegetarian, this is not the tasting menu for those folks because its meant to be the most exciting ingredients, the most exciting combinations that we have in the restaurant that day, and sent out in a way that makes sense as a progression. And we basically send out the food until the customers are satisfied. So there's really no end to it until the customer is happy, and willing to stop.

Brian Freedman is a food and wine writer from Philadelphia. www.brianfreedmanphiladelphia.com.