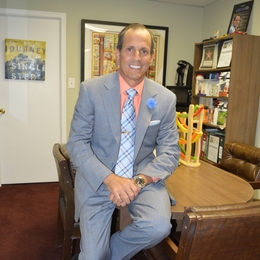 A Light in the Darkness
The law firm headed by Gregory P. LaMonaca takes a technology-rich, team-based approach to leading clients through the difficulties of divorce, custody and other family law issues
Divorce is a serious matter, meaning it deserves serious resources. No one understands this better than Gregory P. LaMonaca, one of the most experienced family law attorneys in southeastern Pennsylvania. It's not unusual for him to receive an email from a client at 4 a.m. and have a thoughtfully crafted response in their inbox by 4:05. In other words, he's committed, highly responsive and ready to lead.

He also knows he's just one man. This is why he has cultivated a diverse team of skilled attorneys and support staff, all working toward a common goal: to help clients in the throes of divorce and child custody, among other pertinent family law matters, move forward with their lives focused on the prospect of a bright future.

"All we do is family law," says LaMonaca, founder of the Law Office of Gregory P. LaMonaca P.C., which is based in Media. "One of the things I most enjoy and that I am truly proud of about this firm is our diversity. As family law attorneys, we are practiced at being aware of and being sensitive to gender differences, either real or perceived. Beyond that, though, there is an entirely different reality that may be experienced by people of different backgrounds. Be there racial, religious, ethnic, financial or other different experiences that our clients or opposing parties bring to a case, the diversity in our firm has become a great advantage in working effectively to appreciate our client's background, and to serve our client's interest, within budget and attentive to any special needs.

"Having attorneys and team members ranging in age from under 20 to over 70 is also a great advantage in working with clients across generations," he continues. "Based on the client's goals, we match them up with a team that best represents them. With the majority of law firms, you have one attorney who is assigned to someone's case, and if that person is in court or on vacation, they're the 'be all end all.' With us, we understand that problems don't always happen Monday through Friday, between 9 a.m. and 5 p.m., and that's why every client of ours has a team, with a bullpen of individuals devoted to helping them."

Each of these teams is led by a supervising attorney—namely, LaMonaca, Christopher Casserly or Alicia Fastman—with as many as three more attorneys and other staff members providing additional support within each team. This allows for seamless representation, according to LaMonaca. In addition, the firm has two divisions designed to lead clients in more specialized matters: a Forensic Support Team, helmed by Lawrence Welsh; and an Appellate Unit, headed by Melissa Towsey Rich.

"When somebody comes in seeking a divorce and the two parties to the marriage are straight W-2 wage earners, it can be fairly straightforward," says Welsh. "But when you have cases involving trust funds, businesses, stock options and overseas accounts, the financial affairs are much more involved, and that's where the Forensic Support Team comes in. Whether we eventually settle the case by agreement or litigate the matter, the end is easier to achieve when we make clear what the facts are, essentially, when we clearly define and value the marital estate and the incomes of the parties so there is nothing hidden or mysterious. Taking the fear and mystery out of the mix and making everything transparent is the great advantage our Forensic Support Team brings to bear."

The Appellate Unit, meanwhile, provides information and services to the public on appeals, according to Rich. It also serves as an added benefit to existing clients to provide them with the most up-to-date law for their cases.

"Normally you'll see something like this in some of the bigger firms that have multiple departments, but it's rare to see it in a firm our size that focuses only on this area of law," Rich says. "It shows one of the greatest strengths of our firm, having this amazing group of people working together to help clients in this sometimes difficult, emotionally charged area of the law."

To accommodate the firm's steady growth, LaMonaca has had to branch out. Rather serendipitously, two buildings adjacent to the firm's Delaware County headquarters became available, and LaMonaca jumped at the opportunity. Now the firm and all its people and resources are housed in three buildings on three successive streets in the heart of Media.

The firm's team-based approach is consistent with LaMonaca's comprehensive "Brutally Honest" process, which is designed to help clients analyze their past, assess their present and develop a narrative for a compelling future. In 2009, LaMonaca co-authored the "Brutally Honest Life Management Journal," a book which takes the reader on a self-guided journey to reconnect them with the things in life that matter most. Once the client establishes this connection, he or she feels empowered to move forward.

LaMonaca's follow-up book, the 62-page "Brutally Honest Pennsylvania Divorce & Custody Survival Guide," offers resources to alleviate the fears and concerns of individuals who are, as he says, "awake at 3 a.m. and scared to death because of something their spouse did." He decided to make the book available for free download through his website so people can visualize and understand the immediate path to a healthier future.

LaMonaca is currently working on the final edit of his latest book, "The Brutally Honest Guide to Sur-'Thriving' Generation Now." With an expected release date in early 2017, the book is geared toward people of every generation who are on the cusp of a significant transition.

Resources, Strength, Resiliency
One of LaMonaca's most innovative distinctions is use of a technology known as VAKOG, an acronym for visual, auditory, kinesthetic, olfactory and gustatory—essentially, the five senses. The system involves analyzing and invoking each sense as a way to help clients understand how they are presenting themselves to the outside world. Utilizing state-of-the-art video equipment, audio devices and Skype technology, among other tools, the VAKOG approach enables LaMonaca and his team to effectively prepare clients for cases going to trial when the client will have to appear before a judge.

"When an individual has to testify in front of a judge, it could be one of the most stressful yet one of the most important things they'll ever do, because the outcome could determine the custody of their child, the distribution of assets and many other significant, life-altering decisions," he says. "It's incredibly important to know what you're giving off to that judge, so that's why we do these intensive mock sessions of direct questioning and cross examination, all under real-life conditions.

"We record each session, and once we're done, we go back and show the client the results," he continues. "This is perhaps the first time in their life they get to see what they are giving off to the world. Almost always, they look on in shock and disbelief, because they never realized they were making certain gestures or involuntary movements of the face, or using a certain tone of voice. Our goal is to help them amplify the good traits and correct any negative traits. Really, we're working together to have them fully prepared, so that when they do appear before the judge, they can do so with confidence."

From the ever-growing team to the ancillary services to the innovative technology designed to help clients put their best foot forward in the courtroom, LaMonaca has created a flexible, comprehensive firm with one defining purpose: to help clients thrive.

"With our firm, clients see resources and strength and resiliency," says Welsh. "With us, they know there's no place they can't go, no chance of running out of options. It comes from Greg's leadership on down. There's never a question of if we can do something; it's a question of how we get it done."

Law Office of Gregory P. LaMonaca P.C.
341 W. State Street
Media, PA 19063
610-892-3877
www.lamonacalaw.com

Photograph courtesy of the Law Office of Gregory P. LaMonaca P.C.