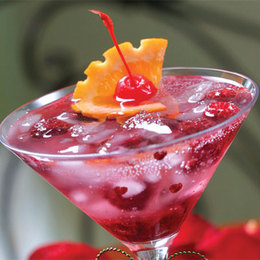 Cheers: Bubbly brightens holiday cocktails
The holidays just aren't the same without some bubbly. And as we all know, a lot of it is often necessary when faced with night after night of big family dinners. And while there's some remarkable Champagne, Prosecco, and Cava out there, try something different this year: Sparkling cocktails.

From the classic to the contemporary, the options are limited only by your willingness to experiment with new ingredients and clever combinations. Honey serves an excellent Champagne Nor'easter, which is made with 1/3-oz. each of Canton Ginger Liqueur, cranberry juice, Root Liqueur, and Goldschlager, 4 oz. of light sparkling wine, and 3 cranberries as garnish.

And sometimes, a little bit of bubbly can even make your food taste better. Chef Joe McAtee is fond of Black Velvet Oysters, a nearly miraculous combination of oysters with Champagne hollandaise and a Guinness reduction. It's enough to make you hope the winter sticks around for a while.