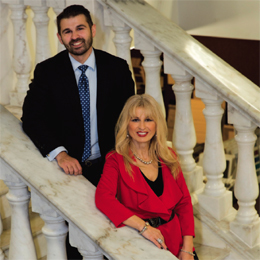 Always Improving
For James Freeman, the COO of Colonial Marble & Granite, even the slow time of the year is a busy one. On the Friday before the final three-day weekend of summer, for example, colleagues interrupt him three times in course of a 20-minute phone interview.
It is to be expected. Clients want answers, after all, and a lot of other people—from the big national builders with hundreds of jobs to the independent contractor looking to complete a small residential job—wait to see what the industrious, ever-expanding company will do next.
Approximately eight years after completing its first project, Colonial Marble & Granite has grown to install 100 countertops a day. Compare that number to the productivity of 95 percent of the company's competitors, which, on average, install five to 10 countertops per week, according to Freeman's estimates.
The nonstop pace is fueled by increasing demand, which, in turn stems from the company's commitment to "pushing the envelope and trying to provide innovative options for customers that have never been presented before," he says.
It's a business model far too complex for most competitors to copy. There's the staggering variety—6,000 stone slabs (marble, granite, quartz, etc.) available in excess of 600 different colors for bars, kitchens, and bathrooms. There's the company's use of CNC (computer numerically controlled) technology, which enables skilled technicians to machine cut a client's chosen slab to their exact measurements. There's the company's broadening footprint, from the 150,000-square-foot showroom at its headquarters in King of Prussia, to the sales center and showrooms in Harrisburg and Philadelphia, to the newest branch in New Castle, Del.
Then there is the company's devotion to service beyond commerce. Colonial Marble & Granite partners with philanthropic and community organizations such as the Upper Merion Mother's Club, Alex's Lemonade Stand Foundation and local youth athletic leagues. It is also an ardent supporter of the area's professional sports teams, including the Philadelphia Flyers and Sixers.
Setting the Standard
From the start, Colonial Marble & Granite has stressed simplicity without sacrificing quality. Instead of having to estimate square footage, customers could come in, discuss their expectations and have the company meet them one on one. The price of all the stones had a set price up to a certain square footage, which allowed for imaginations to roam freely. Most stone companies take two to three weeks to fulfill an order and install it. That's not the case with Colonial Marble & Granite, which completes all that work inside of a week.
Setting such a high standard and continually finding new ways to maintain it has kept customers coming back. At the same time, Colonial Marble & Granite has sought new ways to grow its list of satisfied clients, even in the face of stiff competition.
In several months, the company will take its boldest step yet to better serve independent contractors, architects and homeowners. For now, however, plenty is happening.
Over at its King of Prussia headquarters—yes, those Saturday afternoon cookouts are still a year-round staple—Colonial Marble & Granite features a newly renovated space for viewing a wider array of high-end faucets and plumbing fixtures. There, Freeman says clients should expect "a much warmer experience," complete with "better lighting and more space." Also, the company now has the ability to display full slabs of quartz, instead of the 12-inch-by-12-inch samples it had been offering. More importantly, the increase in options "allows us more of an opportunity to be one-stop shopping" for customers." Sinks and faucets, after all, go hand in hand with the purchase of a countertop.
After all, browsing the Internet or paging through a catalog only goes so far.
"We have a lot of the options available for them to see live in our showroom, so they can actually see the finished product," Freeman says. "It's a whole different experience when you go from looking at a picture as opposed to being able to walk up to the countertop and experience what it would look like in front of you: how it would function; being able to touch it and feel it to get a better gauge of what you want and what you don't."
In addition, construction is nearing its end on another key feature at the King of Prussia location: two 4,500-square-foot design centers that include samples and meeting rooms "where you can sit down and get inspiration," Freeman says. The company will also use the design centers for educational sessions with its staff and collaborators.
Growth and expansion aside, an even more remarkable change is in the works.
In the coming year, Freeman reveals, Colonial Marble & Granite will rebrand itself as Colonial Home Services. If the name sounds broad, it's no accident. Freeman says the rebranded company will feature a variety of services, including those available through Colonial Generators, which was introduced last year, as well as windows and doors, entertainment installations and security upgrades. More services will be added over time.
The reason behind the shift, according to Freeman, is that a house is more than just a kitchen or a bathroom. Yes, the countertops need to be replaced, and so does the backsplash, but it wouldn't hurt to put in new floors. And, by the way, the sliding glass doors leading out to the deck need to be replaced. And so on and so on.
"Ultimately," Freeman explains, "people are looking for a more condensed shopping experience. That's why everybody loves Amazon. We're trying to create a local home solution for customers."
Embarking on this kind of endeavor is merely the next logical step in Colonial's evolution. "When we came into the business, we didn't offer plumbing services," Freeman says. "We went out and we procured the relationships with plumbers to be able to offer that service. We, in a lot of ways, are a large marketing organization. It's just a matter of understanding the need of the consumer and what they're looking to achieve with their projects and hiring the right people."
As the list of services offered increases both in number and complexity, Colonial aims to keep things simple for its customers: Be fair; offer quality products; treat customers like family. The formula has allowed Colonial to help homeowners make their mark on their homes, one room at a time.
Visit www.colonialmarble.net for more information on showroom locations, hours and more.
Published (and copyrighted) in Suburban Life Magazine, December, 2016.