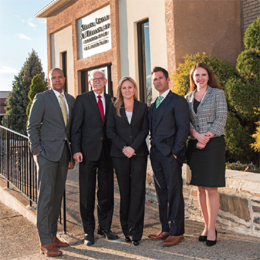 Protect and Serve
The legal world is one rife with subtlety, with nuance. Put another way, navigating this complex world requires the skilled touch of a seasoned expert. For this reason, among many others, the most informed clients turn to the attorneys of Keller, Lisgar & Williams for their wisdom and experience in everything from criminal law and intellectual property, and from family law to personal injury.
Keller, Lisgar & Williams' staff of legal experts includes Darryl W. Shorter, an attorney who specializes in the complex world of intellectual property law. Shorter graduated from North Carolina State University in 1994 with a degree in electrical engineering. In other words, he knows a thing or two about invention. Shorter uses his background in technology to help clients with all matters of innovation, from processing patents to copyrights and trademarks. He is a licensed patent attorney and has prosecuted many cases before the United States Patent and Trademark Office.
Shorter says he "always" wanted to be an attorney. He was ecstatic to join Keller, Lisgar & Williams for a number of reasons—notably, the reputation of the attorneys in the firm.
"Robert Keller, Scott Lisgar and Valerie Williams are very well respected in the area for their practices," he says. "They are people of high integrity, and people that I enjoy working with, and learning from."
Keller, senior partner, shares his colleague's sentiment regarding his fellow attorneys' virtues. In fact, Williams and Lisgar were Keller's law clerks. He notes that their "intellect, drive and professionalism" set them apart from the pack.
"You also must have a sensibility towards people, and recognize that people have problems that need addressing," Keller says. "People need someone respectful and sympathetic to their cause and Scott and Val are clearly of that mold."
Keller, a graduate of the Temple University Beasley School of Law, specializes in criminal defense. He is a member of the American and Pennsylvania Bar Associations and the Delaware County Bar Association. Keller, a Delaware County native who previously served as president of the Delaware County Association of Criminal Defense Lawyers, notes, "I feel proud of what I do and I work as hard as I can to protect clients."
This, certainly, is an example of the dedication underpinning every case the firm of Keller, Lisgar & Williams undertakes.
Keller worked as a county prosecutor for nearly 10 years. Under the watchful eye of his mentor Joseph F. Battle Jr.—the former mayor of the city of Chester—he honed his skills, and made weighty observations.
"When I moved to the defense side, I realized the system doesn't always work for those charged of a crime," he says. "I made it my business to get to the truth of the matter."
Williams, who has been managing partner of the firm since its inception in 2003, sympathizes with those who wish to get to "the heart of the matter."
"Clients come to me at a time when they are in pain, stressed out, and unsure of what to do next," says Williams, a graduate of Widener University School of Law. "Most of them are missing time from work and buried under a pile of medical bills. They often accept low settlement offers from insurance companies because they are desperate. Once I step in, I allow my clients to focus on getting healthy, while I devote my concentration on getting them the financial compensation they deserve."
Founding partner Lisgar, also a graduate of Widener University School of Law and a professor at the University of Delaware, says, "I simply have an attention to my clients' needs." This is said succinctly but embodied wholeheartedly.
"Our primary goal has always been to obtain justice for our clients," says Williams. "I became an attorney because I wanted to help people. I became a litigator because I needed to protect people."
Indeed, the attorneys of Keller, Lisgar & Williams put the protection of their clients at the forefront. As a "boutique firm" dedicated to certain niche and vitally important aspects of the law, the attorneys of Keller, Lisgar & Williams excel.
"I personally select and handle each and every case, from the beginning to the end," notes Williams. "I get to know my clients, making it so much easier to represent them. Oftentimes, the bigger law firms assign lawyer after lawyer to a single case, which prohibits the development of a personal relationship."
This is never the case at Keller, Lisgar & Williams. Each attorney works tirelessly, hand in hand, with each client to work toward the best possible outcome for every case.
In addition to dedication to clients, the attorneys of Keller, Lisgar & Williams are deeply committed to the communities in which they live. For example, Keller is president of the Pennsylvania Academy of Ballet Society and is a board member and secretary for CASA (Court Appointed Special Advocates) Youth Advocates Inc., an organization that provides advocacy for children in legal matters.
Lisgar, in turn, volunteers for his son's high school, assisting young people in developing interview skills they can use in college admissions settings.
Yet, even though the attorneys of Keller, Lisgar & Williams continue to give back, their primary focus remains on their clients.
As Williams says: "When clients come to our firm, they are entrusting us with the utmost responsibility to protect their future and obtain fair and just results. That is precisely what we do."
For more information on Keller, Lisgar & Williams offices throughout the area, visit www.klwllp.com.
Published (and copyrighted) in Suburban Life Magazine, December, 2016.